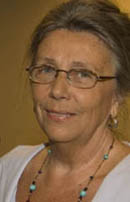 Happy New Year to everyone! We truly hope your holiday season was an enriching and enjoyable one, and we wish you all a very happy, healthy and prosperous New Year.
To bring in 2012, we are spotlighting someone whom I have known for some 30 plus years. She is Ms. Lynn Brantley, and she is President and CEO of the Capital Area Food Bank, located here in Washington, DC. The Capital Area Food Bank is the largest nonprofit food bank in the Washington DC area and processes between 20 to 30 million pounds of food per year which helps to feed hundreds of thousands of needy residents in the DC/Metropolitan area. We will talk with Ms. Brantley about her life before the Capital Area Food Bank, and as well about what she has been doing up to now with the Food Bank, and some of her future aspirations for herself and the Food Bank.
Destiny – Pride: Good afternoon, Lynn.
Ms. Brantley: Well Rufus, it's so nice to be here with you. Thank you for coming.
Destiny – Pride: Please accept our gratitude for giving our visitors the opportunity to get to know you and the work you have been doing with the Capital Area Food Bank. The last several months were probably a very busy time for you, especially with the condition of our economy, and we truly appreciate your making time for us. I'm sure that a lot of people in this area have heard about the Food Bank and the wonderful job it has done and is doing to supply food to those residents that are in most need of it, but they may not be aware of the mammoth operation that it actually is. This will give you an opportunity to tell us about it. But before we get to all of that, let's find out — as it has been our usual practice – a little about your earlier life. So please tell us where and to whom you were born and a little about your family background.
Ms. Brantley: Well, I was born in Pennsylvania Dutch Country — York, Pennsylvania. My grandfather was a Quaker — a farmer – and he and my grandmother [George and Annie] had a wonderful farm by the Susquehanna River. My father was a dentist, so I had quite a wonderful life growing up; a pretty secure life, very connected to the earth, through my grandparents, and to growing and the reality of what produces and sustains human beings. I witnessed the magic of a seed going into the ground, and helped to grow peas in a garden. That enriched my life from early on; so, it was a good life that I had.
Destiny – Pride: Did you have any siblings?
Ms. Brantley: No, I was an only child. My father died when I was quite young. His loss was a tremendous loss to the whole family, but my mother [LouAnn Snyder] came from very close-knit family and everyone wrapped their arms around me. I benefited in countless ways, although my father's death was a huge loss to me. He was an incredible man.
Destiny – Pride: What is his name?
Ms. Brantley: Richard Snyder. He was German.
Destiny – Pride: What about your marital status? Are there any children?
Ms. Brantley: Well, I'm divorced. I was married to a UCC Minister – a United Church of Christ minister. We were very active during the civil rights days. We have two children, and five grandchildren. Though painful some of the times, with Larry I did so many different, exciting things. The Civil Rights Movement was happening in the '60s. Larry was very involved in Hagerstown at marches and in the Poor People's Campaign – he organized the northeastern leg before it marched into the city. I was very much a part of all that.
Destiny – Pride: So is that where your activism comes from?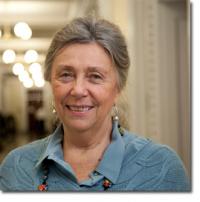 Ms. Brantley: Yes, definitely. I did have two young children, but I was still very active and learned so much, which is what brought me to the Food Bank. When Larry was organizing the northeastern leg of the Poor People's Campaign, back in those days it was hard. People from the south side of Chicago mostly came into the city from the northeastern section. We had to find housing for about 3,000 people. Even getting churches to open their doors during that time was sometimes difficult. We ended up, anyway, having 50 kids stay at our home. While I had a sense of justice from my family and Quaker background, when I met people who were living in poverty, I learned so much more. I had a young woman who was part of the group and she talked about how, at the end of the month, she'd have crackers and dried milk to feed her children. Here I am with two little children and I'm complaining about what I'm going to make for supper. It just showed the dichotomy and inequity of life, and that's what brought me to the Food Bank.
Destiny – Pride: What are your children's names?
Ms. Brantley: Lance and Laurissa. Lance was named after a football player and Laurissa came from Doctor Zhivago. The heroine in Doctor Zhivago is Laurissa.
Destiny – Pride: What form of higher education did you have?
Ms. Brantley: Well, I didn't graduate, but I went to a two-year Concordia College up in Westchester [County], New York. I was planning on being a teacher, but Larry came along. I got married and left school. I was planning to finish school, but he was still in the seminary and we just didn't have the money.
Destiny – Pride: In your upbringing, what do you attribute to shaping you into the person you are today?
Ms. Brantley: Well, my family. My grandfather and my grandmother; my mom and my dad, although I don't remember a whole lot. There was always a sense of involvement in the community, understanding, outreach, compassion and passion to be involved in helping to make the world a better place, although it was much narrower than here in Washington. York County is a little town compared to DC, but there were many issues. My great grandfather was part of the Underground Railroad. He had an inn in Hallam, Pennsylvania. My grandfather used to take me to show me the inn and he talked about many of the things that happened there. There is a book in our family that records the families that came through the inn. In the basement, there was a hidden wall. He used to take me down to show me that. There was a huge room with beds and candles and desks, and there were three exists from the room, so that, in case it should ever be discovered, people couldn't easily tell which way they went – it would be harder than just with two choices.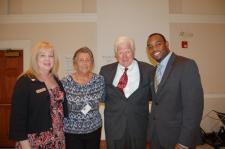 Destiny – Pride: So that was a part of the Underground Railroad with the slaves coming up.
Ms. Brantley: Yes, in Hallam, Pennsylvania. It's seven miles from the Susquehanna River. What happened is that people would come up the Susquehanna River, and if they were heading west, Hallam was west – on old Route 30. It was the inn that my great grandfather had there, in Hallam.
Destiny – Pride: Are there any museums there?
Ms. Brantley: No. One of the things I'm going to do when I retire is to get a marker there, so that people will know what transpired there.
Destiny – Pride: Who in your life can you say have had the greatest impact upon you and your life choices?
Ms. Brantley: Oh, my! There have been a few. Certainly my family. My grandfather and grandmother and mother, certainly throughout life. My mother was a very nonjudgmental person. She was a teacher. She always had the highest expectations but was never judgmental. My grandfather always had such great patience and would read endless stories to me. But it was Dr. Martin Luther King, as I got older and got into the Civil Rights Movement, who was a huge influence in my life – who he was and what he stood for and how he gave his life. It was monumental, in terms of moving me in the direction that I took.
Destiny – Pride: Did you ever get a chance to actually meet him?
Ms. Brantley: No, but I heard him speak. We brought a bus-load of folks down when the "I Have a Dream" speech was happening here in Washington. We were living in Hagerstown at the time, so from a very far distance I saw that. But I was here for Obama's Inaugural, and it just brought tears to my eyes to think of from where we've come. I never dreamed we'd see an African American President, and it was a profound thing to see.
Destiny – Pride: Tell us a little about what you did before your involvement with the Capital Area Food Bank. You kind of spoke on it, but there's a big gap there.
Ms. Brantley: Well certainly, with Larry, we were very deeply involved in Civil Rights issues and the church, and education within the church. But as my children got older, I began to volunteer part-time with community ministries and was partly driven into food because of this young woman that I had met.
Destiny – Pride: Community ministries?
Ms. Brantley: Community ministries in Prince George's County.
Destiny – Pride: Is that still active?
Ms. Brantley: It's still active, but it's not active the way it was. I got involved in food stamp outreach, and we got volunteers. We tripled the number of people on food stamps when we were out there. But then the cuts came.
There was a huge recession in the late '70s, and then came the cuts with food stamps – you probably remember that time.  I began seeing what was happening to people and started going to the Interfaith Conference down here in Washington.  There was a group of us with the Hunger Task Force and we started talking about what was happening in the communities.  I had read about the Maryland Food Bank starting, and I brought the subject up to the Hunger Task Force.  Rabbi Lichtman said we were going to do it.

So we got $30,000 from the Mayor.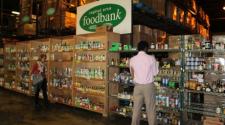 Destiny – Pride: Who was the Mayor at that time?
Ms. Brantley: Barry – Mayor Barry. We also got money from the Methodists and we had two Mennonite volunteers. And so the Food Bank started – on a wing and a prayer.
Destiny – Pride: So that's how it started.
Ms. Brantley: Yes, that's how it started. I wasn't working here in the beginning, but later Rick asked me to come on board to help find food, and when he left, I became Executive Director.
Destiny – Pride: And who is Rick?
Ms. Brantley: Rick Stack. He was the first Executive Director of the Food Bank when it started on Martin Luther King's birthday – January 15 – in 1980.
Destiny – Pride: I see that you played a role in the creation of the Capital Area Food Bank. Please talk to us about its structure and explain to us how it operates.
Ms. Brantley: Well, we are a large holding facility. It's a big warehouse – we have 48,000 square feet here, and we have 12,000 square feet in Northern Virginia. We go after large donations and we bring them in. We have over 700 food programs, throughout the Metropolitan Washington area, that come to us. They pick up the food and then they take it out to their various agencies like soup kitchens, church box programs, low income senior centers, low income child centers, drug and alcoholic treatment centers – anyone that's a 501(c)(3) can become a member agency of the Food Bank.
But then we do many things around that core operation, which is the distribution of food. Of the 30 million pounds that we put out, almost 15 million of it is fresh produce; so we have a heavy emphasis on nutrition and good food going out into the community – especially in the neighborhoods where it's so lacking, and health is such an issue with diabetes and heart disease and that sort of thing. We do nutrition education. We do outreach with food stamps with our agencies – it's called SNAP now. We teach people that with $16 of food stamps – the minimum that one person can get in a month – they can eat for a whole week on that $16, and it is good food! Jodi Balis does a terrific job here.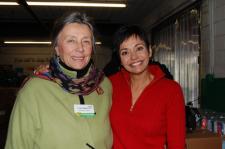 We try to bring a whole composite of programs around the core of our operation. We know the Food Bank can only do so much, so we teach people how to grow their own produce; how to maximize their dollars; how to do all the things to keep life and limb together; trying to bring an array of programs together that will strengthen people.
Destiny – Pride: How do people become partners?
Ms. Brantley: Agencies?
Destiny – Pride: Yes.
Ms. Brantley: Well, they may call Marian Peele or our Agency Relations Department here. They have to show that they are 501(c)(3) tax-exempt. Most churches are tax-exempt. They have to have a board of directors with accountability, and they have to have a bit of a track record in terms of service to the community. We have to know how many people each group is serving. Then we do an inspection to find out where the food will be held so that it's stored safely and healthfully. That's all it takes to become a member agency.
Destiny – Pride: Is there a cost or anything?
Ms. Brantley: Well, there's a $50 initial fee for filling out all of the necessary paperwork. And there is something called "19 cents a pound shared maintenance fee." About half of our product – maybe not even half – goes out at 19 cents. That 19 cents is to help us bring in over 700 tractor trailers a year; it's to help us keep our large refrigeration and freezer storage space going. Of our $14 million budget, it's about $500,000 that we get, and this is the way our agencies and we work together collaboratively to have a large holding place, so that we don't put this food into a landfill; that it comes here to the Food Bank and goes out to be put to good use.
Destiny – Pride: How has it progressed over the years from your earlier years in operation?
Ms. Brantley: Well, when the Food Bank first opened, we were doing about less than a million pounds of food a year; now we're doing about 30 million. We've had a transition to fresh produce. That's been a huge transition because it's much more difficult and more expensive to handle, but it's very necessary to do that.
We didn't have programs. We now work with the Chesapeake Bay Foundation and we grow organic vegetables on a farm out there. They have a farm in Upper Marlboro [Maryland], because of sustainability with the Bay and the impact of urban sprawl. But they use that farm in a very productive way and on about 30 acres out there we grow organic vegetables and then bring them back to the inner city. It's the connection of urban and rural – an environmental group and a hunger group – and how those things are so intertwined and interconnected and interdependent. I think it's a wonderful relationship to have, to show those connections and to bring people from our Kids Cafes or our senior sites out to the farm. So many seniors in this town have come up from North Carolina and South Carolina, and their background is farming. They know so much, and to be reconnected with that. And then our kids, to see where their food comes from – that it doesn't come from a grocery store; that there's hard labor that goes into it.
Destiny – Pride: You mentioned it, and I was going to ask you about it. Just explain to our visitors what the Kids Café is.
Ms. Brantley: The Kids Café is a program that was started a number of years ago. Capital One gave us the initial grant to get it going. We provide afterschool snacks, or a hearty meal to about 60 sites throughout the Metropolitan/Washington Area. These are not our sites; these sites belong to other groups, but we provide the food – free of charge – to those sites, so that they can feed those kids. Oft times kids at nighttime don't get anything to eat. They might get school lunch and school breakfast, but sometimes an evening meal is very much missing. Kids are eager to get that food, so oft times that brings them into the program, and then they can get the mentoring and all the different activities that a group has to offer. It keeps kids off the street.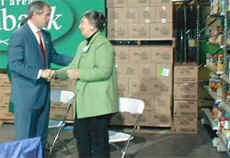 Destiny – Pride: What types of organizations receive services from you and what is the procedure for them to register for your services for their client base?
Ms. Brantley: Well, again, they have to be tax-exempt. They have to be feeding hungry people; like a church can't come here to get food for a church dinner to raise money. The food has to go directly to someone who's hungry. But it's a church box program; it's a soup kitchen; it's a drug and alcoholic treatment center; it's anyone that is feeding hungry people and has 501(c)(3) tax-exempt status.
Destiny – Pride: How does someone contribute to or volunteer with the Capital Area Food Bank?
Ms. Brantley: Either give us a call – (202) 526-5344 – and talk with Nicole Durante, who's our Volunteer Manager, or go online. You can contribute online. You can also sign-up for volunteering online through our webpage – http://www.capitalareafoodbank.org/. It's very easy to connect with us and we'd be delighted to have anybody contact us.
Destiny – Pride: The next question is a profound one and relates to what's happening throughout America: The faces of the homeless, the underprivileged, and the working poor have changed dramatically over the years; not just here, but nationwide. What are your thoughts on that and the impact that has upon you and the Food Bank?
Ms. Brantley: Well, the impact upon us has been horrific. We have been deluged. Last year, our agencies were seeing anywhere between 20 percent to 200 percent increases. This year, Marian [Peele] did a study of about 40 [agencies], and on top of that, they're seeing yet another 10 percent to 75 percent increase. So you can see what's happening in our community.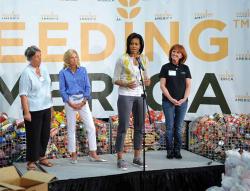 Prince George's County has a foreclosure rate of 40 percent. One in two children in the District of Columbia doesn't get an adequate diet. Fifty thousand manufacturing companies in the past ten years have left this country. Eight million jobs have gone away. Technology and robots are changing the way the workforce is working. So the impact with the economy and what has happened in the economy in the housing market, and then you couple that with the transformation that's happening in the workplace with computers and technology and the impact that's having, it's monumental on people's lives.
The median income from 1980 to 2008 – two professors did a study from USC [University of Southern California], and they used tax records. From these tax records they learned that middle-class income – this is in constant 2008 dollars – had only gone up by $300.00. But from 1950 to 1980, for nine out of ten people, it went up by over 75 percent. So you can see that the middle class is being squished out of existence.
Destiny – Pride: Where do you see this leading us?
Ms. Brantley: I think we're in a transformative time right now and I think we have to be creative. Number 1, I think we have to get the economy rolling again in construction, for example, and get those sorts of things going. I think our infrastructure is very poorly served – bridges and roads and all those sorts of things. I think that can help to "bubble-up" the economy, but then I think we have to think in terms of change, in terms of what's going to be creating the jobs of the future – like energy – and where those jobs are. What can they be and how do we transform this country? There's a new world coming and there are people who are far wiser than I that can see what that vision is, but I think it's exciting. I don't think we should give up. I think this is a transformative time. I think it's a horribly painful time, but I think we can come through it if we work together. And I hope and pray that Congress can work together.
Destiny – Pride: The Capital Area Food Bank has been visited and applauded by a number of US Presidents, elected officials and prominent personalities. Please tell us about some of them and give your thoughts on why you think they chose your organization.
Ms. Brantley: I don't know why they choose us [laughter].
Destiny – Pride: Oh, you're being modest!
Ms. Brantley: No I'm not, but the first George Bush didn't eat broccoli, so we got his broccoli. And then he came to see us; I guess he wanted to see where it went [laughter]. After that, President Clinton came; that was kind of at the end of his tenure of his second term. That was exciting. The ladies – we had a lot of women who were volunteering in the back – when they saw him, they just lit up the room! And then George, the second George W. Bush came. He came with his wife, and stayed for several hours working and talking with folks. That was delightful. And then President Obama brought 60 of his family members – his wife; his mother-in-law; Mr. Robinson, who coaches the Oregon State basketball. The whole team came! It was just so uplifting to see this whole family! And the two daughters – Malia and Sasha. It was quite an event to have them here, the whole family.
Destiny – Pride: I can see it on your face!
Ms. Brantley: Oh, yes! It was the highlight of my tenure here, I'll tell you that! [Laughter]. But they were all wonderful. Each and everyone of them in their own unique and wonderful way. I appreciate that they were lifting up the issue of hunger and that they cared about that. Cared enough to reach out to say we need to make changes; we need to make sure that every human being has a right to eat.
Destiny – Pride: Again, just a follow-up question. What do you think about the attitude of people that really sometimes cannot empathize with the people that you are serving? Do you feel that there is the same level of commitment and involvement with this issue now as there was before?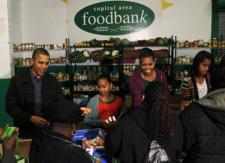 Ms. Brantley: You are asking why do some people have empathy and others not, I suppose?
Destiny – Pride: Right. Because we live in a different culture.
Ms. Brantley: Yes, we do, and you know it's an American culture that there's a sense that you have to pick yourself up by your own bootstraps. And that's easy to say when you have the resources that you need to live. You know, my father was struck by lightening when he was just a seven-year old boy. You never know when lightening is going to strike. Growing up in a farm community, I saw my grandparents when there was a barn struck by lightening and it burned to the ground. The whole community came together to ensure that farmer would have that barn. In one day it was up and working.
So it's the same way. We never know when lightening is going to strike, and to be there for people when things do happen, I think is essential. One of the things my aunt said: "Give 'us' this day our daily bread." It's not give "ME" my daily bread, but give "US" our daily bread. My granddad also used to say, "If the rain doesn't rain and the sun doesn't shine, nobody's going to eat – whether rich or poor." So it's a gift, and there's gratitude that we all have to have for that gift; and that gratitude needs to translate into other human beings so that they have a right to sit at the table with their family the same way that we can sit at our tables and eat with our family.
Destiny – Pride: In my travels over the years that parallels with your journey, I have watched the transformation, especially after the black middle-class was formed – practically by Marion [Barry], because he had so many terms in office.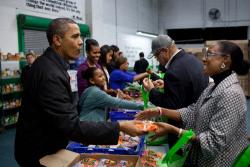 Ms. Brantley: He did great things, yes.
Destiny – Pride: When the black middle-class deserted the city for Prince George's County, they left most of the disenfranchised blacks stuck here in the city.
Ms. Brantley: Take this book [Poverty In Urban America: It's causes and cures (2000), by David Hilfiker]. It talks about that very thing [Heading: The War on Welfare] [Heading: Justice].
Destiny – Pride: And so the challenges become greater because when you siphon off the middle-class of any group of people and leave only the disenfranchised, why are we surprised that the schools are the way that they are? "Separate but equal" at first was ruled as constitutional [Plessy v. Ferguson, 163 US 537 (1896)], but it was subsequently ruled as unconstitutional [Brown v. the Board of Education, 347 U.S. 483 (1954)]. So we created our situation when we siphoned off the best and brightest and left the most challenging individuals to fend for themselves. And now as we go through gentrification, we see nothing but these pockets of schools. Just recently in the Washington Post, there was an article about the gap in education between whites and blacks . . .
Ms. Brantley: And in income.
Destiny – Pride: And in income, and I know that has to be challenging for you.
Ms. Brantley: I don't think it should be just a black issue. This is a human issue and all of us need to be involved, whether we're black, white, Hispanic, Asian; whatever we are. It's all of us together, in this together.
Destiny – Pride: I agree with you 100 percent, but we as the middle-class have forgotten that we, too, passed through that other portion during our journey. And then we have not the empathy to look back. As you mentioned about your family having come from a Quaker background, and with the barn example that you gave earlier, everybody rallied around that family. But when you then take away that middle-class.
To give a good example, when the gentrifiers took over in Dupont Circle [located in Washington, DC], there was an incident where a police officer had shot and killed a dog. That whole area got together and held a candlelight vigil for that dog. But then, they can hear about a tragic shooting on South Capitol Street . . .
Ms. Brantley: And there's no vigil. Yes, I mean the injustice of it all. Every human life is precious and in today's world, sometimes as connected as we are – more than ever connected – somehow we seem more disconnected. I think that it behooves us all to remember that we are community; we're in this together; and we shall rise and fall together.
Destiny – Pride: What would you say has been your biggest accomplishment? And don't be modest, because I know you.
Ms. Brantley: Oh, no; I know what I'll say. I just went to Germany this year, and biked from Passow to Vienna – and that was 353 miles. At 69, biking 353 miles – when I was biking three or four every other day – it was a true accomplishment. But also my children, my grandchildren, and the Food Bank – the wonderful people that are here at the Food Bank. There have been so many good things in my life.
Destiny – Pride: When did you bike?
Ms. Brantley: Just this year!
Destiny – Pride: Go ahead!!
Ms. Brantley: Yes, yes. At 69, I did it! [Laughter].
Destiny – Pride: And how many miles?
Ms. Brantley: 353 miles. 33 to 42 miles a day!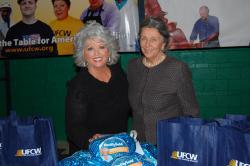 Destiny – Pride: Oh my gracious!
Ms. Brantley: And it was not flat! It was along the Danube, and it was up and down, through cities. Oh, God!
Destiny – Pride: Do you bike a lot?
Ms. Brantley: No! I don't bike a lot! No I don't!! No! That's what made it so amazing! [Lots of laughter].
Destiny – Pride: Oh my gracious! [More laughter] Okay, let me get myself together. What about your biggest disappointments?
Ms. Brantley: Disappointments? Well certainly the fact that my marriage didn't last. That was huge, and it's still painful to think about that, because whenever you disrupt family life, I think that's painful. Disappointments that there even has to be hunger. That people don't have decent paying jobs and a living wage and health insurance. And to think that back when we started the Food Bank, that we're worse off now – in my late years that we're worse now than we were in the '70s when we first began in 1980. That's a big disappointment.
Destiny – Pride: I can hear in the tone of your voice that I wish our visitors could hear, that the Capital Area Food Bank really in some way is also your family.
Ms. Brantley: Oh, in so many ways. The people here, and Hannah Hawkins [Children of Mine Youth Center], and Rev. Settles, and Rev. Wiley. I mean, just amazing people that I've met – like you – throughout the years. It's enriched my life in ways that if I never would have been here, I'd be a far poorer person. But I'm much richer for having been here, personally.
Destiny – Pride: What do you do to relax?
Ms. Brantley: I ride a bike. I love to read. I love to cook. I like to be with my grandchildren. I love to hike; I like to be outside. I love to bird watch. But I love to read.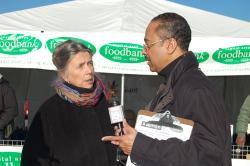 Destiny – Pride: So you love to bird watch. How did you get into that?
Ms. Brantley: Well, I had a friend many years ago. When my kids were little, we used to get up real early in the morning – because it was about the only time we could have to ourselves – and we'd go out and go bird watching. That's how I got involved. We used to monitor 36 bluebird boxes, and we'd see the little babies grow up.
Destiny – Pride: Well, if you have any influence on birds, please tell them to do their business when they are walking on the ground instead of waiting until they're flying or sitting in trees and then bombarding our cars. [Laughter]
Ms. Brantley: I have no influence, believe me! [More laughter]
Destiny – Pride: What are your future plans, both for yourself personally and for the Capital Area Food Bank?
Ms. Brantley: Well, I hope that the Food Bank can continue to provide the service that's needed and be a catalyst for change, and to be a reminder to this community that there should be no hunger. That there doesn't have to be hunger. That there's enough food in the world to feed everybody. So hopefully we can be a catalyst for that.
My plans for the future is to eventually retire. But I want to travel – maybe go into the Peace Corps. I have a nun friend in Panama, and I may go down and work with her for awhile; just try to be of service but not have the whole weight of an organization on my back.
Destiny – Pride: Also, you are in the process of making a transition from this building . . .
Ms. Brantley: Yes, into a new building.
Destiny – Pride: Do you want to talk about that?
Ms. Brantley: Yes. The city was very gracious, providing over half of the money to get into the new building. Maryland gave us $3 million and Virginia gave us a little bit. Don Graham, Bill Marriott, Bill Conway, Abe Pollin – they very much led our capital effort to get into the new building; to raise the additional funds that we needed. So we raised about $16 million – this is from private funds – in addition to the city and state monies that we got. We'll be opening in June or July 2012. It's coming fast, and we'll be able to do so many more creative things.
Destiny – Pride: Have you any last and final thoughts that you would like to leave with our visitors?
Ms. Brantley: Well, Justice Douglas said "Jump into the stream and paddle like crazy." So, jump in – wherever you are – and get involved. Do something. It's so rewarding!
Destiny – Pride: Ms. Brantley, thank you so much for taking the time to share your life's story with us and to give us an inside view of how the Capital Area Food Bank operates. We are in awe of the magnitude of its operation and as well are impressed with your staff's energy and your leadership ability to produce so much for so many and for so long. We also applaud your commitment to our residents. On the one hand we wish there were no need for the kind of service that you provide; but on the other hand, we are thankful and most grateful that you, in fact, are able to address those needs and we wish you and the Capital Area Food Bank all the best in the New Year and the many years to come.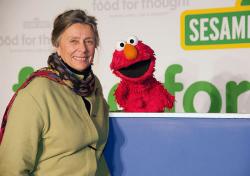 Ms. Brantley: Thank you, and thank you, Rufus, for what you do!
Capital Area Food Bank
645 Taylor Street Northeast
Washington D.C., DC 20017-2063
Phone: (202) 526-5344
www.capitalareafoodbank.org