Chairman Thomas Hale Boggs, Jr. and Secretary Rodney E. Slater
1940 – 2014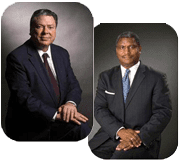 For our November Spotlight of the Month, we have the law firm of Patton Boggs, which is one of the most prestigious law firms in the country, and Destiny – Pride is honored with the privilege of interviewing one of its early partners, Mr. Thomas Hale Boggs, Jr. In addition, we will converse with Secretary Rodney E. Slater, who is also a partner of the firm, and who formerly held the position of Secretary of Transportation under the Clinton Administration, which is also an honor and privilege.
Destiny – Pride: Gentlemen, Destiny – Pride thanks both of you for accepting our invitation to be our November Spotlight, thus spending a little time with us to talk about your work at Patton Boggs, and also about your life's journey and the people and experiences that have helped to get you to this place and time in your lives. I would like to begin with you, Mr. Boggs. What was the genesis of Patton Boggs?
Mr. Boggs: The Genesis of Patton Boggs goes way back to 1962, when Jim Patton and a couple of other people started the firm. Jim Patton was a partner of Covington and Burling, which is a major Washington law firm. The other two partners came from the United Nations. Basically, it was to be a Washington/international type of law practice. That was its beginning. We still maintain a very active international law practice, but it's certainly not our dominant practice. Our dominant practice is regular law practice in Washington, DC. We do have offices in a number of other places in the United States, including Northern Virginia, New York, New Jersey, Anchorage, Denver, Dallas, and overseas in the Middle East – Abu Dhabi and Doha, Qatar. We're now about 82nd or 83rd on the list of law firms in the United States. It's called the Am Law 100 List.
One of the things that we are very proud of is that while we're in the 80's in terms of size on the Am Law list, we're 14th in terms of the amount of time, effort and percentage of our income that we devote to pro bono work. So we're very proud of the fact that we do a great deal of pro bono work, particularly here in the District of Columbia, and particularly for Catholic Charities and other major charities in Washington, DC.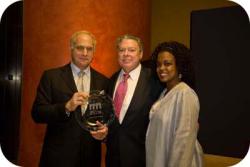 Destiny – Pride: Mr. Secretary, when did you join the firm and tell us a little about your area of expertise.
Secretary Slater: I joined the firm in April 2001, a short time after I completed my service in the Clinton Administration. The span of time there was really a period in which my wife and I were deciding whether we would continue to stay in Washington or return immediately to Arkansas. We decided to stay and, upon making that decision I then started to think about what I'd like to do next.
Interestingly, I remembered a wonderful experience I had with Tom and his family as they hosted an event for Senator Kennedy. During the course of that dinner, I got a chance not only to see him in that kind of environment, but also to visit with him and his family at the time to see Senator Kennedy very, very comfortable with them. You could tell that they had known each other for a good period of time. The evening was most enjoyable as we reflected on the importance of politics, and also the importance of the law. Frankly, it was an occasion for me to think about how I could combine experiences – a love of the law, but a real love of politics as well, and public service.
Also I had the experience of seeing a number of my future colleagues come to the Department of Transportation and make their cases for their clients. I noted that they were always very well prepared – not only in making an introduction, but also in engaging in the substantive discussion of policy with an eye on the important role that the federal agency had to play in protecting the public's interest or in providing opportunities for business. They made the case for their clients from a purely business perspective as well, and then looked at how the policy could be considered in a light that would be of benefit to all concerned. I just thought that was quite professional, and quite interesting.
I then had a wonderful conversation with Tom, had an opportunity to meet other partners in the firm, and decided this was the right place for me. I've been here now almost ten years, and I'm very excited about getting a chance to experience, first hand, actually some of the things that Ron Brown – a distinguished member of the firm – shared with me many years earlier, when he talked about his own experiences and he talked about the joy of working here and also the support he had from the firm, in not only doing pro bono work, as Tom has mentioned, but also doing other things that were important – not just for the clients, but for the country as well.
Destiny – Pride: I would like to follow up on that. Mr. Boggs, we are going to get to you in a moment. Mr. Secretary, in the history of Cabinet appointees as it relates to African Americans, everyone had been appointed to positions usually in the human capital area – i.e., the Secretary of Health and Human Services [Patricia Harris], and Secretary of Housing and Urban Development (HUD – Robert Weaver). President Clinton, however, broke that "glass ceiling" by appointing Ron Brown, a former partner of Patton Boggs – whom you mentioned above – to the position of the Secretary of Commerce. He later named you the Director of the Federal Highway Administration – making you the first African American to hold that post – and subsequently appointed you as the Secretary of Transportation – making you the second African American to hold that post – President Gerald Ford named William Thaddeus Coleman, Jr., the first African American to hold that position. I'm sure those were awesome moments for you. Please tell our visitors how you felt as these events unfolded for you?
Secretary Slater: Well actually, there are some connections here, because you mentioned Ron Brown. I can tell you that I was very, very excited when he was selected as a member of the Cabinet, especially – as you alluded to in your question – to play a role that was quite different from the roles that had been played historically by African Americans in a President's Cabinet, in particular in this instance with an Administration that had been elected, or had come into the office on the claim that it was going to get the economy going again. To see that the President would actually reach out to him and say, "Look, this is going to be an Administration about job creation, about lifting people up and improving their quality of life, and business is central to that. I want you, Ron, to be my face and my voice for business." I thought that that was quite a selection on his part; a very positively received selection, as well. But I also think that Ron was very well able to carry out that responsibility. I mentioned Senator Kennedy in my earlier comments – as you know Ron worked with the Senator on Capitol Hill – and I've also mentioned Tom – as you know Ron worked here, and he had an opportunity to work in all kinds of very interesting, challenging and politically sensitive areas. Tom tells a story about some of the Far East activities that he was engaged in as a representative of the firm, really pursuing business and serving clients, not only in the United States, but around the world. So Ron was prepared. He was ready to assume that role, and as you know he served with distinction and we continue to honor his service.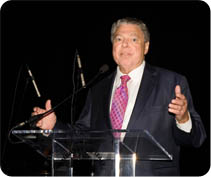 Now, for me, it was just great being a part of that team and to have an opportunity to play a "small" role. I have to tell you that initially I was not coming to Washington. Initially, I was going to stay in Arkansas because I was the Chairman of the Arkansas Highway Commission and I was thinking political opportunities for me there. But I decided to come with the encouragement of a number of people – in particular Ambassador Andrew Young, who shared with me that very few people ever have an opportunity to work in a President's Cabinet; and even fewer have an opportunity to work for someone they know. So for me, it was a continuation of a very positive relationship that I had developed with, first, Governor Clinton, then later ex-Governor Clinton [laughter]. Fortunately he was re-elected in 1982, and everything else is history. But it was a very exciting time to watch unfold and to look at people who had been a part of making it happen. Ron was such a person, and to see him rewarded in the way that he was, was something that was very gratifying.
Destiny – Pride: Mr. Boggs, what role do you now play with Patton Boggs?
Mr. Boggs: I put out the fires [laughter].
Destiny – Pride: And what does that mean?
Mr. Boggs: It's very, very difficult to manage lawyers [laughter]. We have roughly 600 lawyers in the firm, and I'm the Chairman of the firm. What I primarily do is handle disputes among lawyers – sometimes well; sometimes not so well. That's primarily my job. It's also my job to be sort of the face of the firm, in terms of public appearances and meetings of the firm. That role has gotten less complicated, frankly, as we've gotten bigger because we've departmentalized to some degree, and we now have department heads and practice group leaders – a structure that we certainly didn't have when we were 25 or 30 lawyers, but we have to have now that we're 600 lawyers. But it's a fun function in the sense that, as we've grown, we have the ability to attract the best and the brightest kids out of law schools. It's become something we've been very good at, and it's very enjoyable to us because people want to come work for us. So we have a really good opportunity to hire very, very bright and very good kids.
One of the things that Rodney does for us very, very well, is that he chairs our Diversity Committee. We are proud of the fact that we are very committed to diversity. Now I have to tell you we're committed to diversity for two reasons: one, it's the right thing to do. The second is that clients are beginning to insist on it. No major law firm is going to do very well unless they do what we're doing and what a lot of other law firms are doing, and that is having a very active diversity program.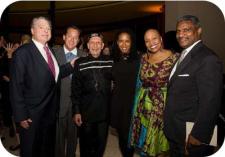 Talking about Ron Brown, Ron came in January of 1981, right after the Republicans had won the White House and the Republicans had won the United States Senate. We had just had a relatively new client, which were the Japanese manufacturers of electronics. These were the Samsung's, the Sony's and the Hitachi's. They had a problem with the copyright laws. This was the time when we were having a fight between Betamax and VCR. They wanted someone to go to Japan to meet with them. I said, "Ron, why don't you go over to Japan?" Well, I get a call from my Korean counterparts who said "Mr. Boggs, you know there is prejudice somewhat still going on about African Americans." I said, "so what?" He said, "Are you sure you don't want to send some good white Republican over here?" [Laughter] Ron comes into my office and he's ready to go. I said, "Ron, these guys are paying us X dollars a month. I don't expect you to blow that when you get over there" [more laughter]. So Ron comes back about two weeks later, and he says, "Well, I got the retainer increased." [Laughter] He became their chief counsel for a long time. When Ron died, one of the really nice memorials to Ron – which is a lasting memorial today – are the cherry trees around the Department of Commerce, which were planted by the Japanese Electronic Association.
Destiny – Pride: Now let's get personal and look at the journey of both of your lives. Mr. Boggs, tell us a little about yourself: Where, and to whom were you born? How many siblings? Tell us about your wife, children, etc.
Mr. Boggs: Well, I was born on September 18, 1940, which was eight days after my father was elected to Congress – he was age 26, from New Orleans – and I moved to Washington, when I was about 5 days old. I grew up half my time in Washington and half my time in New Orleans because Congress, in those days, was a 6-month job; it wasn't a 12-month job like it is today. So I grew up in both places. I went to Georgetown and Georgetown Law School. I worked on the Hill while I was at Georgetown and Georgetown Law School. In Law School, I worked for Paul Douglas who was a Senator from Illinois, and whom I learned a lot from. He was a great advocate, by the way, for economics and jobs while he was in the Senate. He was also a great advocate for civil rights. My youngest son, Douglas, was named after Paul Douglas. I worked on the Hill for Joint Economics for a year for Paul Douglas, and I worked for President Johnson for a year at the White House.
In 1965, I decided that, if I was going to practice law, I had better start practicing law. I went in to tell the President that I was going to leave, and I was scared to death to tell him. So I went in and told him "I think I'm going to go practice law, Mr. President; I'm 26 years old," and he said, "Well, I think you should, too." [Laughter] I was expecting him to say, "Don't leave." [More laughter] So I began with Jim Patton in 1966. We had six lawyers then. We've grown from there – we've grown from six lawyers to 600 lawyers.
Destiny – Pride: Mr. Boggs, you have a very rich history. Your father [Honorable Thomas Hale Boggs, Sr.] was the US House of Representatives' Majority Leader and your mother [Ambassador Lindy Boggs] was appointed by President Clinton to be an Ambassador to the Vatican. This includes your sister as well – Cokie Roberts, a journalist and news commentator. You have a very rich history.
Mr. Boggs: Well, I have a lot of important women in my family [laughter]. My other sister [Barbara Boggs Sigmund], who is deceased, was the Mayor of Princeton, New Jersey, and she was a terrific person. I used to always be introduced as my father's son; now I'm introduced as my mother's son and my sisters' brother [laughter]. I do have a lot of great family members.
Destiny – Pride: Mr. Secretary, I ask of you the same. Where, and to whom were you born? Do you have siblings? If married, tell us about your wife and children, if any.
Secretary Slater: Well, I was actually born in Mississippi, in a small community called Tutwiler. It's in the Delta region, in Tallahatchie County. It was at a very interesting time. It was February of 1955. You'll recall that later that year in Tallahatchie County, Emmett Till was actually murdered. Well, my family moved from Tallahatchie County into Lee County, Arkansas. That's where I grew up. I have two brothers, two sisters; I'm the oldest. I went to Eastern Michigan University and I played football.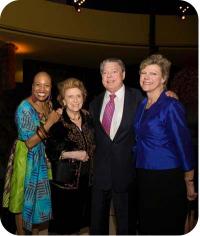 Destiny – Pride: What position?
Secretary Slater: I was a running back.
Destiny – Pride: Go ahead!
Secretary Slater: You should know that. "You call it, I'll haul it." [Laughter] "The goose is on the loose." [More laughter] You know. We could talk about that [laughter]. Actually, one great experience I recently had this year was that on the same weekend, my law school [University of Arkansas School of Law] was playing the number one team in the nation – Alabama – and my undergraduate school – Eastern Michigan – was playing Ohio State, number two in the nation. We lost both of those games [laughter].
But I had had a wonderful experience. My athletics really paid for college. I made a commitment to my mother in the seventh grade that if she allowed me to play football, I'd win a scholarship; and so I did.
I've always had an interest in the law, so I went to law school. I was introduced to the Clintons during that period – Bill Clinton and Hillary "Rodham" at the time. They were part of a threesome called the "Mod Squad." The third gentleman involved in that group was George Knox. They were always talking about how you could actually use the law to shape policy – to influence decisions on a broader scale. In that sense, I was beginning to get what you [Thomas Boggs] talk about as you were growing up. When you would look around your family room, or around the dining room table, you would see all of these wonderful people who were there talking about the issues of the day. Well, I started to get that experience with the Clintons as I was in law school. Now, they had interestingly moved on to Little Rock at that time; so they never taught me, but they had had a significant influence and impact on the law school in a very short period of time. Again, the use of the law to impact policy was something that interested me.
It was also at that time that I met my brother-in-law – first – who would introduce me to his sister [Cassandra Wilkins]. We were in law school together. I remember running for president of what was called the "Black Law Students Association." My wife was the secretary of a similar organization in Texas; she was at the University of Texas Law School. By running, I got a chance to call her and ask her "how do you run for these offices?" [Laughter] We, shortly thereafter, started dating. She became a lawyer first – actually, she became a member of Bill Clinton's Cabinet first. She was head of Disability Determination [Social Security Administration] in Arkansas. We are now the proud parents of a daughter – Bridgette – who's a senior.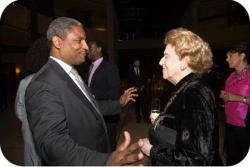 Destiny – Pride: A senior in high school?
Secretary Slater: A senior in high school. So we're looking at colleges.
Mr. Boggs: I'd tell you about my children, but I have three of them [Thomas Hale III, Elizabeth and Douglas] and eight grandchildren.
Destiny – Pride: You can give us the Readers' Digest version.
Mr. Boggs: They're all doing well. My oldest grandson [Andrew] is a junior at Georgetown.
Secretary Slater: I saw him the other night. He's . . .
Destiny – Pride: He's buff?
Secretary Slater: Oh, yes. [Laughter]
Destiny – Pride: To the both of you: Who would you name as individuals in your lives who have had the greatest influence or have made the greatest impact upon you and the choices you have made in your lives?
Mr. Boggs: Well there are a lot of political figures. Sam Rayburn was a very close friend of my father. When he was a bachelor, he used to spend a great deal of time with us. We would go over our friends' houses and see antiques and paintings on the walls. You'd come to our house, and our "antiques" and "paintings" on the wall were Sam Rayburn, Lyndon Johnson, Ted Kennedy. I was influenced by a lot of people and learned to really like the Congress and what the Congress does, and I respect the people that do it. Paul Douglas had a big influence on my life. Lyndon Johnson had a big influence on my life. My mother and father had a terrific influence on my life and my mother still does.
Destiny – Pride: You mentioned regarding your outreach to the community that you did a lot of things with Catholic Charities. Is that also your faith?
Destiny – Pride: I am Catholic – some times a good one; sometimes a bad one. [Laughter] I've been Catholic for a very long time. Catholic Charities, as you know, in Washington, is not "Catholic" per se. It does a heck of a lot of social work. So while I am Catholic, the activities we engage in are really not very "Catholic," but it also does a lot of social work.
Destiny – Pride: Mr. Secretary?
Secretary Slater: Well first of all, I'm glad Tom shared that story about the pictures and what that meant, because that's a beautiful story. But I'm going to say something that I just thought about. I remember when I was out of the Administration and either the decision was final that I was coming here, or shortly thereafter. I was in a taxi cab, and I was telling a gentleman that I was going to be at Patton Boggs, or I was already here. I can't remember who it was, but it was someone who knew your family and who talked about how he had actually worked some of the parties. He talked about just how wonderful those experiences had been. This was someone kind of on the outside looking in. The thing that was so beautiful about it was that he talked about how all of the family got in there and that you all were really the host – I mean in a real sense; the kids, your parents, everyone. I think that just adds another layer to this picture that Tom was painting, but from someone who was outside.
Mr. Boggs: Dad had an annual garden party. We had everybody – from the Speaker of the House to the waiters who waited in the House restaurant at the garden party. Mother cooked. It got to be about 1200 people. I said "Dad, we've got to call this thing off. It's getting way out of hand." It was always the third Monday in May. So we called it off, and about 300 people showed up. [Laughter]
Secretary Slater: For me, growing up, figures who really influenced me, some on the national level were clearly Dr. King and Thurgood Marshall. Thurgood Marshall's work – Justice Marshall as a lawyer – probably second to Perry Mason, gave me sort of the sense of what a lawyer did. There were no African American lawyers in my hometown or in my part of the state during that period, so I had to see it from that vantage point. Then, clearly my parents, but really through their work ethic and the fact that they emphasized education and wanted all of us to have an education.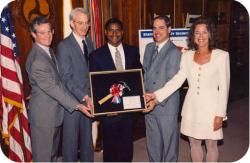 Then there was Mrs. Mamie Nelson. She was the head of our NAACP [National Association for the Advancement of Colored People]. She used to take a select group of kids on outings. It wasn't always the same group, but I was generally always in the group in some way. She would always take us to places like Little Rock to look at the State Capitol. Early on, you couldn't just go through like you wanted to, but you got a chance to see it. She would take us to colleges just to visit the campuses, which was very interesting – homecomings and that sort of thing at historically black colleges and universities.
One thing in particular I remember her doing was taking three or four of us to an event much like the one Tom was describing, but this one was hosted by our governor then, Winthrop Rockefeller. The thing that struck me about that was that it was an integrated event. Most of my experiences were not integrated. That's not to say they didn't have situations where you were coming into contact with one another. That happened. But, generally you were going through different doors, or you were in the balcony and the bottom level was for whites only – the balcony was for African American blacks, etc.
That was the experience. This was different. I can still see and hear the people laughing as they shared barbeque and lemonade – just the trimmings of a wonderful picnic. It was something that I saw that was magical, and to me that became my definition of "politics" early on: That a person could actually do this through his relationships – or hers – and bring people together. Now I don't know that I focused on the fact that he was a Republican at the time, which was all the more significant later, once I figured that out. I just saw him as doing it, and I don't remember if I ever talked to him during that period – I can vaguely see him in his khakis from a distance. It wasn't necessarily seeing him that was important to me – it was interesting in that sense – but it was seeing what he was making possible and what he was making happen. So that really became my definition of "politics."
It was layered later with stories from my Aunt Betty Sue Mitchell, who actually worked for Wilbur Mills. She worked for his family for probably 50 years of her life. She passed just last year. Interestingly, she was telling the story of how they had the same Sunday dinner for 22 years that she prepared, if you can imagine that. But she also would talk about the people who would come to Kensett, Arkansas, to see the Chairman. That, too, was something that was very interesting. I didn't know him at the time. I just knew him from a distance through her. Later, through Arkansas history, I got an appreciation for him. But the fact that they would come to Arkansas – and the least of all "little Kensett" – was something that struck me as something significant that I needed to take note of.
So I had people like Mrs. Nelson and Aunt Betty Sue Nelson. Again I mention Dr. Martin Luther King. Actually, I should mention even Malcolm X, with some of his speeches, but clearly Dr. King, principally. And Thurgood Marshall. Later on, probably the most significant political mentor I had before President Clinton was my father-in-law [Henry Wilkins, III]. He was elected to the general assembly in the early seventies – like '72 – in the first sweep of African Americans being elected since Reconstruction. I had the good fortune of meeting him when most of his sons were out of the state. So I became the surrogate son and the person who would volunteer to drive him around, to carry his bags, or whatever. It gave me an insight at the politics that were quite unique. Later, he introduced me to then Governor Clinton. I started to work for him later and, clearly, he has been a significant mentor for me. There were others after that, but these were at the core.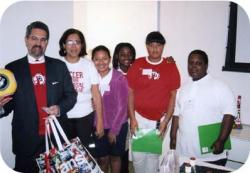 I should have also mentioned Ambassador George Haley. I mention Ambassador Haley, but I want to mention a group because it's one thing to know that you can become a lawyer. My situation was a little different. I met my first African American lawyer in 1972; I was a junior in high school. Basically, he was coming to represent a group of students that included me because we had been involved in a school boycott. I saw him in action; his name was John Walker, and he is still very much a revered lawyer in the state. Now I knew Marshall [Justice Thurgood Marshall] from a distance, and I knew that King could turn an audience and turn a phrase and lift the spirit, but I had never met them. I met John Walker, and I was in sessions with him. So I could see then the work of a lawyer, and I liked the way he moved in a courtroom. For me, it was much like the way I would move on a football field or around a track – with a high degree of confidence and a significant degree of preparation. You could tell that it was there for him.
And then, while I was in law school [University of Arkansas School of Law], I met this group of six pioneers. George Haley was one of them, but also it included Wiley Branton, who was then the dean of the Howard Law School, who had been a friend to Justice Marshall, and who actually was the person who would introduce us. Then Jackie Shropshire, who was the City Attorney in Chicago, but he was a graduate of the Law School; Christopher Columbus Mercer was a graduate of the Law School; and Judge George Howard, who had been our first black federal judge.
I met them on the 30th Anniversary of Silas Hunt's admission to the Law School [Silas Hunt was among the six pioneers; the first to be admitted]. Before then, I really didn't know of this history, but as a student leader, I was selected to speak about Silas Hunt. What it revealed to me was that Arkansas – and some of this I knew, but not to this degree – had been at the forefront of southern states to integrate their professional schools. Silas Hunt actually was admitted to the Law School on February 2, 1948. He was a World War II veteran. He died before he graduated. Schropshire was the second [to be admitted]; George Haley was the third, and then on down. It was at this event that I met the five living graduates. At that point, I took a renewed interest in not just the law, but my law school and my connection to that legacy. That was a very important turning point for me, as far as the law was concerned, and that meant getting into law school, getting out, and doing something with the practice.
Destiny – Pride: I would like to ask both of you what have been some of your outstanding accomplishments as well as your biggest disappointments?
Mr. Boggs: Regarding accomplishments, when I was a very young lawyer – thirty something years old – we handled the original bailout of the Chrysler Corporation, which kind of put the law firm on the map as the "go to" law firm to get something done in Congress. Back then, "the Big Dig." [Laughter]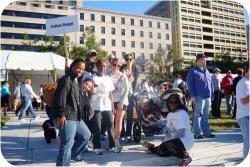 Secretary Slater: That was an accomplishment! [More laughter]
Destiny – Pride: That's right, and you were . . .
Secretary Slater: The Secretary of Transportation at the time. That was one of the things the Senator was talking to us about. But that was probably the most significant infrastructure project we've completed since the interstate.
Mr. Boggs: The Tren Urbano was a big deal, too.
Secretary Slater: That's right.
Mr. Boggs: The Puerto Rican high speed rail.
Secretary Slater: That's right.
Destiny – Pride: And what is the Puerto Rican high speed rail?
Secretary Slater: It was the rail system in Puerto Rico and it was a big multi-billion dollar project.
Mr. Boggs: Just like our subway.
Secretary Slater: I enjoyed that experience as Secretary. We passed a lot of major legislation. We did good work. I'm trying to think of that one thing, from a career perspective. [Talking to Mr. Boggs] Do you know Judge Bill Wilson?
Mr. Boggs: No.
Secretary Slater: He's a distinguished trial lawyer in Arkansas. My experience at the Attorney General's Office was great. I had a lot of responsibilities at an early age. My case with him went all the way to the Eighth Circuit. Someone once asked me, "Well, who won?" because he was one of the best lawyers in America. My point to them was that you never lose when you're in the arena with the best. I believe that. And that's what I have always tried to do, just "punch up."
Mr. Boggs: One of the real accomplishments of the firm was the 9/11 Victory Fund [September 11th Victim Comprehension Fund]. We represented the Trial Bar and were approached by the airlines. They asked, "Can we make a deal with you guys?" and in thirteen days a bill was passed which created the Victims Fund for the 9/11 victims. I don't think anybody else could have put together the business' interests and the trial lawyers' interests any better than what we put together. /
Destiny – Pride: Patton Boggs has had a long history of supporting community-based programs and initiatives that help to uplift the lives of the residents not only in the DC community, but in the corresponding communities of its other office locations. Let me also at this time inform our visitors that Patton Boggs has been very supportive of Destiny – Pride by providing us with pro bono legal assistance, and I would like to say that we are grateful and we thank you for your support. Now, please tell us why the firm chose to get involved with these types of community service programs and name a few of them for our visitors. Mr. Secretary, you serve on the board of a number of organizations who commit a lot of time towards community service programs and initiatives. Please tell us about some of them.
Secretary Slater: Just echoing comments that Tom made earlier about the firm's commitment to pro bono, that when it comes to size we are in the 80's, but in pro bono we're 14th, that says a lot. Regarding some of the things that we've done, there's a special program in the City called the "College Success Foundation," that seeks to help disadvantaged kids across the District get into college. It's a wonderful program, but they need help. They need pro bono assistance, and so we're going to do that. When Stephanie Peters was here, we did a lot – and we still do a lot – with entities that have interests in Africa, because she was doing a lot of work in that regard. There's the Black Bikers case in South Carolina – we won that case.
I think, though, that the thing that speaks to the commitment of the firm most significantly in that regard was the case – and Tom might want to expound on this – that lasted more than two decades that lead to a settlement that allowed the firm to establish the Foundation [Patton Boggs Foundation].
Mr. Boggs: It was a case involving protestors on the mall, and we represented the protestors. We ended up with a settlement of about $800,000 in legal fees, which we put into the Patton Boggs Foundation. So, it was the genesis of the Patton Boggs Foundation. The Foundation now gives awards to 15 different schools each year – around $5,000 a school – primarily to encourage somebody to spend the summer in public service.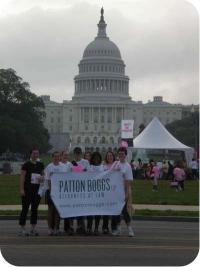 Secretary Slater: Yes, and they can do it anyplace.
Mr. Boggs: It's a very, very successful program.
Secretary Slater: They've been in different countries and they're working with different programs.
Destiny – Pride: As to Washington, DC – what are your feelings about the state or condition of our City?
Mr. Boggs: Well, I think the City – compared to the rest of the country – is doing a lot better than the rest of the country. We've still got a ridiculously high and difficult poverty rate, but in terms of its bond rating, in terms of its reduction in crime, in terms of its somewhat improvement in education, it's doing pretty well for a major city. The other city that I watch very closely is New Orleans, and New Orleans is beginning to do better. It's had a tough time after Katrina, but it is, like Washington, struggling to do better, particularly in the crime area – which is much more proliferate in New Orleans than it might be in Washington – and in the education area. I think those are the two key areas to a successful city. Combine that with a bond rating which enables you to borrow money and do those things, then we'll have a successful city. And Washington is doing that.
Secretary Slater: I agree with all of those points.
Destiny – Pride: Are there any last thoughts you would like to leave with our visitors?
Secretary Slater: We appreciate the opportunity to be interviewed by you.
Mr. Boggs: And we appreciate what you're doing in this City.
Destiny – Pride: Mr. Boggs and Secretary Slater, Destiny – Pride thanks the both of you for sharing your time and insights with our visitors, and for giving us a glimpse into your life's journeys that ultimately produced the individuals that you are today. We thank Patton Boggs for its overall support to our communities as well as to Destiny – Pride directly, and we wish you continued success both in your future as a world-renown law firm and in the impact you are making in the lives of so many with your Community Service efforts.
To find out more about Patton Boggs' pro bono work, click here.
To find out more about Patton Boggs' community service initiatives, click here.
Photos courtesy of: Patton Boggs; DC Jazz Festival; and Safety Costs Improvements.