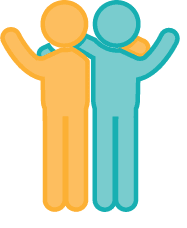 Destiny-Pride has been operating on small but consistent sources of funding. We have extensive partnership with other non-profit organizations which operate under similar commitment and visions for serving families and youth. It is through our partnership with these organizations that we provide peer support to our families and youths. We have peer support workers who visit the families in their homes rather than having them travel to us.
The Peer Support Program is an initiative aimed at improving compliance with follow-up care after an acute or sub-acute hospitalization for mental illness. Peer support workers provide case management services to each client. They provide follow up and advocacy support for medical appointments, mental health appointments, court proceedings, discharge meetings from acute care and educational meetings with parents when discussing educational options for their respective children.
Destiny-Pride provides peer support and services to children and families by being available at non-traditional hours and weekends. Our peer advocates are family members who have lived and experienced navigating the mental health and education systems. These family members provide peer support to other families that are navigating the system.
If you are interested in finding out more about this service or other services we provide, you may contact us by phone at (202) 547-0202 – or fill out the contact form here – and someone will get in touch with you.