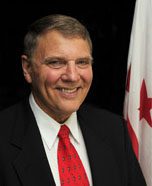 Our spotlight for the month of February is Mr. David A. Berns, the Director of the DC Department of Human Services. Mr. Berns graciously honored Destiny – Pride recently by participating in our 2011 Toys for Tots Holiday Toy Giveaway Kickoff on last month. There, he shared with us, and others who were there, his vision for the Department of Human Services and his plan to bring that vision to fruition. We will ask him to share that vision, as well as other facets of his life, with us.
Destiny – Pride: Good morning, Director Berns.
Director Berns: Good morning.
Destiny – Pride: Thank you so much for accepting our invitation to be the Spotlight for February 2012. We are truly grateful for your time and willingness to introduce yourself to our visitors. There are many who are connected to the Department of Human Services in some form or manner, and our conversation today will give them an opportunity to get a total picture of how the Department works on their behalf. We'd first, however, like to start off by getting to know a little about you and your upbringing, so please tell us where and to whom you were born and a little about your family background.
Director Berns: Okay, great. Well I'm from Flint, Michigan – born and raised there – and spent all of my time in Michigan for the first part of my career. My parents lived there. My dad worked at General Motors. I have three sisters – one older and two younger.
Destiny – Pride: Okay, do you want to share their names?
Director Berns: Carol Lee is my older sister, and Nancy is just a little bit younger than me; and then one that came 17 years after I was born, Tracy, who lives is Texas. The other two are still in the Flint area. I was the one that went off to college. I came from a family where college wasn't a normal path for folks, but they've been very successful in their own lives. We had a real strong mom. My dad had some issues, but we made it through with him as well. [Laughter] Mom is 91 years old and is still going great.
Destiny – Pride: Go ahead!
Director Berns: Yes. She just recently retired from the church choir after 50 years.
Destiny – Pride: Oh, my gracious! And what church was that?
Director Berns: That was the Lutheran Church that I was confirmed in and the family was raised in.
Destiny – Pride: Okay, so you're a Lutheran.
Director Berns: Yes.
Destiny – Pride: That's good. What about marital status? Are there any children?
Director Berns: Sure. My wife and I have been married for 44 years.
Destiny – Pride: What's her name?
Director Berns: Colleen. She's from Michigan as well. We met at Michigan State University. We have two children – Christine and Matthew – and each of them have two children. They're both married and live in Michigan. So our roots are very tied to that area.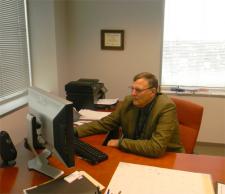 Destiny – Pride: Okay. So you are a proud grandpa pa.
Director Berns: I am, with the four grandkids ranging from 14 down to 2.
Destiny – Pride: Briefly describe your life before coming to the District of Columbia.
Destiny – Pride: Well I started out at General Motors as a welder. Got into the business here after I went to school while working at General Motors. Got a degree in psychology. We went out on strike and they needed somebody to take the old AFDC [Aid to Families with Dependent Children] applications mainly for all of us strikers. That's how I got involved in the Department of Social Services in Michigan. We were out on strike for two-and-a-half months. I decided to stay at Social Services after the strike was over. I made a lot more money as a welder, actually [laughter].
Destiny – Pride: How did you make that quantum leap from a welder to AFDC?
Director Berns: Well, like I said . . .
Destiny – Pride: I know it, but . . .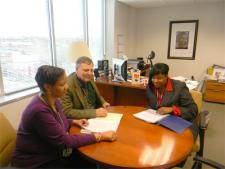 Director Berns: I had been going to school. I got the undergraduate degree and so I was expecting to move into something like personnel or labor relations at General Motors; they just didn't offer it. It was kind of an accident but it was really a "fortunate" accident; and I'm just so pleased that I've had this opportunity to have a career that's now lasted over 41 years.
Destiny – Pride: What and/or who would you say have had the greatest impact on you in terms of the person you are and the position in which you are today?
Director Berns: Well, as I'm thinking about it, my sister – my older sister [Carol Lee] – was one of my big mentors. She got me connected with a teacher, when I was going to high school, that saw that I was just a shy and lonely kid.
Destiny – Pride: You were shy?
Director Berns: I was! [Laughter] But he saw some hope for me and actually asked me to join the debate team at the high school. So, I got involved in public speaking at school, an involvement that was fun and interesting. I think that kind of shaped my career and got me out of my introverted self and more into really understanding issues. One thing about debating is the really big and complicated issues you have to study and really find out all sides of the issues, and why you should do public policy one way or another. I think that shaped my early career.
Then when I got into social services, the big thing that happened to me was that I realized that what I loved to do was to work with the community and to find new ways to help people – not to solve their problems for them, but to really learn what people wanted and needed to trust them and to be able to bring in the community to support them and wrap around all of the services and supports they needed in order for them to be successful. That's really what I learned as a frontline caseworker that I continue to carry into my work for today.
Destiny – Pride: Please explain to our visitors your vision as it relates to the role of the Department of Human Services in the lives of the thousands of individuals who are serviced by it?
Director Berns: The Department of Human Services in the District is just a wonderful agency. It used to be a much bigger department. It had child welfare and developmental disabilities and a lot of other services, but our focus right now is on the TANF [Temporary Assistance for Needy Families] and other welfare and financial assistance programs as well as supports to the homeless; and then some other services like adult protective services, refugee assistance and a number of different programs. But our big two are the homeless programs and the welfare programs for the City. I have worked in the field for 41 years. Mainly I worked in Michigan. I then went to Colorado and Arizona; and most recently to a private foundation, working in the child welfare area. But, again, what I've really loved and found over the years is that if we can find ways to strengthen the community and to strengthen families, they don't even need the supports of the governmental agencies. So my job isn't just to run this organization but to work with the communities and the families we serve to help them to have the strength and supports necessary in their own neighborhoods so that they can be economically secure and have strong families to support their own success.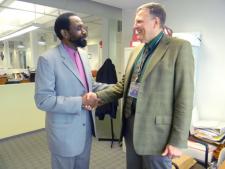 Destiny – Pride: You've only been on the job for approximately a year?
Director Berns: Eight months, actually.
Destiny – Pride: So how close are you now to accomplishing that vision – putting that into fruition?
Director Berns: Well, the big thing that I was asked to do, and I should say that I came here not from another job, but from retirement. I had been working at Casey Family Programs out in Seattle as the Executive Vice President. It's a very large child welfare foundation. I loved the job, but I had the opportunity and I had reached an age where I thought I would just be out on my motorcycle touring the world. I was retired for about three weeks when I was reached out to by the Gray Administration to see if I was willing to come out of retirement and help them to re-design mainly their TANF programs here and also to work on some new approaches to homelessness. But the idea, in talking with Mayor Gray and Bebe Otero and others, was not to eliminate welfare, but to eliminate poverty in the District.
Now I know it's a big, lofty goal and certainly we are nowhere near reaching that goal in eight months, but having a big, broad vision of that nature is really the important aspect and what excited my passion for accepting this job. We came in, and one of the first things I did was to look to see what are the strengths, what are the opportunities within our system in order to really help families to get something other than welfare. It's easy to reduce the number of people on welfare – you just make the system very punitive and repressive; give them all sorts of rules and regulations that they can't meet and then you cancel them from assistance; and then we declare success. Well, if that's what they wanted – success in the District – I would have never come back. But the Mayor expects me and all of our Department and all of the community to find ways for families to support themselves so that we eliminate the poverty rather than eliminating the welfare.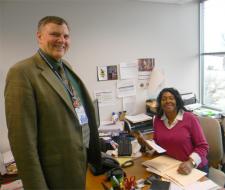 One of the things that we've started doing is to just meet with our clients, meet with our communities and see what's worked for you in the past. What more do we need to do as a community – not just as an agency – in order to have you be successful? That discussion has started. We've done thousands of additional assessments of families. Before, we weren't doing any assessments upfront when people came in or before we sent them off to various services. Now we have a new assessment process and that's already been implemented. We have new contracts with employment-related services and support services that are really tailored around the individual needs of families rather than some generic approach of "This is your plan, by gosh, Joe. Do what we say." We've decided that the plans would not be written by us, but by the families and also came to the conclusion that anybody that has to leave welfare should leave it not because they're sanctioned or punished off, but because they have something better for themselves and their families.
Destiny – Pride: I just want to put an addendum there, but first, how long have you been riding a motorcycle?
Director Berns: [Laughter] Oh, I think I started in my late twenties. I have two bikes actually and I just love getting out on the road.
Destiny – Pride: Well, I used to ride a bike for many years and I went down in Baltimore. One thing no motorcyclist likes is when it just begins to rain . . .
Director Berns: Oh gosh, those oily, slippery roads, yes.
Destiny – Pride: . . . and I was coming out of Baltimore, and when I downshifted, my wheel just spun out. I began sliding and I thought I never would stop. They took me to shock trauma. The worst thing that happened to me was that I burst my bursa sac [elbow]; but I felt so bad being in shock trauma with all of those other people that were really, really ill. And I felt so bad being in shock trauma for my poor little elbow. I road several years after that and I was contemplating getting another bike not too long ago, but I took the attitude that at my age, we don't mend well [laughter], we don't mend well [more laughter].
Director Berns: I think you're a brighter man than me [laughter].
Destiny – Pride: So I said no, I can't do that [more laughter]. Because if we go down, we're down!
Director Berns: Yes, that's for sure!
Destiny – Pride: You have renamed the former Income Maintenance Administration to the Economic Security Administration. What was the reason for that change?
Director Berns: Well, the first thing is that one of the parts of the interview that I had with the Mayor was that he said "I hate that name" [laughter] because it just sounds like we're keeping people down; we're giving them some income maintenance, but never an opportunity for them to become self-sufficient and economically secure. Because if you're on TANF, you're living at 40% of the poverty level and your family's still poor. So he wanted us to come up with a name that would talk and give some hope and direction that families would truly be out of poverty. And that's what the name, to me, signifies. We had actually a little contest within the Agency to name it and selected the name, as proposed by some of our staff members, of "Economic Security Administration."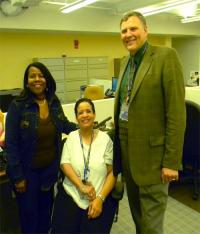 Destiny – Pride: Wasn't that also the name that was in Arizona?
Director Berns: It was. That was an agency that was under Governor Janet Napolitano at the time; of course, you know, she's now the Director of Homeland Security. She shared a very similar vision and mission as the Mayor. Our goal isn't to emulate or to be just like that department in Arizona, but we did like the name and we'll borrow or steal their name without any regrets at all [laughter], because we just think that the name conveys something that we want to really move forward.
Destiny – Pride: Truly I concur. In preparing for our conversation with you, we came upon an article of yours that was published in the Journal of Family Strengths, an online journal produced at the University of Houston-Downtown and the Texas Medical Center Library. The article is entitled "Is Our Business Family-Centered?" and I think you made some very interesting and insightful comments that I would like you to expound upon.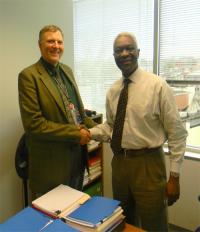 Director Berns: Well one of the main things that I was trying to convey with that article is that agencies often think that they're "family centered" simply because they put themselves in the center and bring the family with them and then try to bring other agencies to help them to be successful. What we're trying to do is to say the family doesn't necessarily even need our agency or the government's support. Especially if we do our job right, they may be able to get what they need from their employers – once we get them an employer – and from their families, from their local school district – maybe that's government, but it's not the same type of a government organization as an economic or a welfare department. But the idea is to have the family in the center to see that we're just tangential at best; that we're there because they need us right at this time and that we strengthen all of the systems for the families that are closest to them. That's their nuclear family – mom, dad, kids – their school districts, their friends, their families, their extended families and the business community. Everything that all of us that are working depend on everyday, and we don't even think of that as a social services system, but that's how we get by when we have a job and when things are going well. So if we can strengthen those, and then also see that an agency like the Department of Human Services is there – although we're deep-end and we're only helping families when they're in crises. There are other agencies that serve families that are even in more crises and that are much, much more expensive, like Child and Family Services Administration, youth corrections kinds of programs, even prisons and those kinds of systems where people are really in deep trouble. And they are so expensive! And nobody wants to be involved in those programs.
So our job at the Department of Human Services isn't just to run a good TANF program, but to make sure that we're providing the economic supports and services for families that prevent them from having to go into those deeper-end services, and then to strengthen schools and businesses and neighborhoods so that they prevent the families from ever getting to us. That's what makes it "family" centered: you start with the family at the center and then you wrap these natural supports around them and strengthen those, rather than always trying to beef up and get more money for human services or for the deep-end supports.
Destiny – Pride: You stated that, as surprising as it might sound, there is an abundance of human service resources that is available for "prevention" services, as opposed to "deep-end" services, which is what the general wisdom has been. Would you please explain what you meant by that? I think you touched on it somewhat, but on the front-end, about the prevention funds.
Director Berns: We have hundreds of millions of dollars coming in for programs like TANF – actually billions of dollars going in for Medicaid and food stamps and those kinds of services right here in the District. When you look at what families need, there's a lot of money that's coming in and it's coming in because people are poor. Now if we could have a lot less poor people by giving them jobs, giving them the skills and the opportunities to be taxpayers rather than tax receivers, then we could use that abundance of resources, that's going into maintaining them now, for supporting the networks and the supports that make them actually successful. That's what I'm saying. We shouldn't talk about spending money in human services. I've pledged to various legislators that I work for, and even the City Council, that I won't come in and ask them to spend one more cent on human services. I'll only ask them to invest in better outcomes for people because, if you look at it in an investment strategy, the poor outcomes that we're getting from families right now are much more expensive than the good outcomes that we'd get if we would have educated them right in the first place and got them jobs right there at the beginning.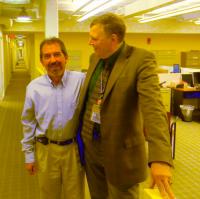 Destiny – Pride: You also used the Avis Car Rental Company as an example of "redefining business from the private sector." Would you share that example with our visitors and explain how it relates to your vision for the Department of Human Services?
Director Berns: Yes, I've always found this as an interesting example. I read it in an old management book a decade or two ago. It was about Avis, who's the second largest car rental car company in the country – maybe in the world. They were losing money because they weren't getting their fair share, they thought, of the car rental business. But somebody in the company – I think it was their CEO – said, "You know, half of our money, or a lot of our profits and income, comes not from the number of cars that we rent out, but what we do with those cars that we use as our rental cars and then sell them at the end." He said, "We're not just in the car rental business; we're in the used car business," because they were really the world's second largest manufacturer of used cars. They took new cars, turned them into used cars and started selling them, and they were selling those at a loss.
So they said, "Well, let's redefine our business to not only be in the car rental business, but in the used car business. They found out, when they asked why they weren't getting very good money on their sales of the used cars once they had a certain number of miles on them, that it was because they didn't have the options that people wanted – they didn't have automatic locks; they didn't have cruise control; they didn't have automatic windows; they were just the stripped-down models. So they started equipping the cars that they would use as rentals to the satisfaction of what they would be able to sell on the market as a used car and, lo and behold, their profits started soaring on the used car side and, as another element of it, their business of being a car rental company increased because people liked the options, even on the rental cars, that they were including in those models.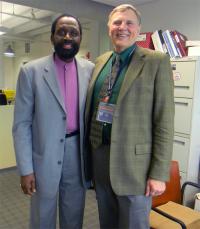 So that's the model. Then I said, "Well, what business are we in? Are we just in the business of running the TANF program?" That's where I go back to when I said, "No. We are the 'prevention' program for child welfare and for youth corrections; and for the correction systems, all of those deep-end services." And so I don't just have to run a good program for TANF that keeps people at 40 percent of poverty, I have to design the programs here that actually support families and keep them from going into child welfare. You know, a family that's poor is 22 times as likely to be in child welfare as a family that's not poor, so if I can get a family to be "not poor," their chance of going into child welfare is 22 times less than it is if they remain poor. That's part of the redefining of our business.
The other part is that I don't want more welfare recipients. My job and my agency isn't – or shouldn't be – dependent on having all sorts of people that are dependent on giving welfare benefits. Our job should be to certainly run a good and progressive welfare system, but also to keep families from even coming in. So if I can strengthen the schools and be a good partner with the schools; if I can work with private providers and with the nonprofit and the faith-based community to provide supports for families to keep them from ever coming in, then I'm running a much better welfare agency than one that has great law and low error rates in TANF and gets money – as small a check as it is – out the door quickly. We have to do all of that. But our business is really more about keeping people from coming in and preventing them from going to the more deep-end services.
Destiny – Pride: Just a quick follow up on that. How has the state of the economy impacted your Agency? I've seen it greatly impacted across the country as more people are entering into food stamps and the like. How has it impacted you as the Director here?
Director Berns: Well certainly the minimal number of jobs makes it very difficult. It really is not even the number of jobs, because actually, statistically, we have a lot of jobs in the District of Columbia. It's just that they're for college graduates and those with law degrees. We find that our clients often have second-grade reading levels and all. So in order to really solve this, we have to concentrate not just on getting somebody that's reading at the second-grade level into some nursing position or computer programmer position – they're just not ready for that. But we can support and help them through part-time employment; through a wraparound approach of working not just on their current job, but making sure they're in adult education; in adult literacy; English as a second language for some; high school completion, and then the skill development. So our mantra now isn't just get this $25 an hour job – most of our clients aren't going to be able to step immediately into that – but get a job; get a better job; get a career, and we will be, along with the community, there with you all of the way while you develop the skills, talents, background and work experience necessary to be able to move up that career path.
Destiny – Pride: You later mentioned that the tradition of human service organizations is to focus on "agency-centered" services, rather than "family-centered" services. You have already expounded on this . . .
Director Berns: Yes, but I would say that we still tend to be "siloed." When this is both the worst and the best of times is when there's a budget crisis, because the traditional administrators, when their budget is being cut, start looking at: "Well, who am I contracting with?" "What are some of those other services that were giving money to other agencies?" "What are some of the outside things?" We come into running just our "core mission" kinds of services. We will run our TANF, our welfare, our food stamp programs, and forget about all of these other things. Well that's "stinkin' thinkin.'" That's the kind of approach where you just don't get to the outcomes by becoming much more agency-centered. That is the crisis of the budget that says "We have to do something different." We have to improve the schools. I have to go in and ask for the school district to get more money – not less – in order for me to be successful, and maybe even be willing to accept cuts in some of the things that I'm doing in order to have other partners be able to be successful.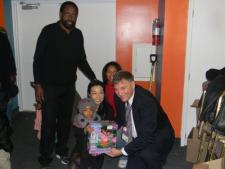 Destiny – Pride: You also mentioned some of the lessons you learned in your experiences in Michigan, Colorado and Arizona: (i) client's voice; (ii) hope and abundance; and (iii) doing the right thing as well as doing things right. Please expound.
Director Berns: Well, let's start with "doing the right thing" as opposed to "doing things right," because that's what the Avis example was all about. Maybe if we're just running the TANF program and I concentrate on error reduction, on payment accuracy, on getting checks out in a timely manner, those are all things that are very important. That's doing things right. But if that's all I concentrate on, doing the right thing is to make sure that families don't need our services. If a family is going to be losing their assistance, it's easy for me to cancel them off and to show success because they're sanctioned off of welfare and my budget goes down; and then the child welfare budget goes up by a few hundred thousand dollars because they have to put these kids in institutional placements. So we're doing the "wrong" thing, even though we might be doing it "right" according to the manual.
I've told my staff, just as an example, if it's the right thing to do, if you haven't been told not to do it and if it's not illegal, then go ahead and do it. Don't wait for me to tell you, or don't look to your manuals to tell you how to serve families. Manuals tell you what you "have" to do and what you "can't" do. It doesn't tell you the right thing to do in order to serve the family. So, again, if it's the right thing to do and not illegal, and you haven't been ordered not to do it, then find the creative way in order to be successful with your families.
Destiny – Pride: I'm acutely aware, with this next question, when we moved from AFDC to TANF, only a couple of jurisdictions initially got waivers – the District of Columbia was one – from the five-year limitation. I think West Virginia was another. The District of Columbia started picking individuals up using local dollars. In the article mentioned earlier, you stated that the District of Columbia did not fully implement the TANF program and in an effort to protect poor families it disregarded the five-year time limit, which ultimately lessened the sense of urgency for families to become self-sufficient. What steps have been taken to re-ignite that sense of urgency and are you seeing positive changes as a result?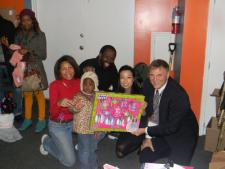 Director Berns: That change happened before I came into the District, but back in 1996 when the TANF legislation passed, the District, for all of the right reasons, and for a very humane approach, said we will not impose the time limits because our citizens, it was believed, had too many barriers to employment. Well, again, it was for the right reasons but what's happened is that now we have about six or seven thousand of those families that are still on assistance. They're still living at 40% of poverty. I say nobody deserves to be on TANF – not because they're not deserving families, but nobody deserves to be raising their kids at 40% of poverty. It wouldn't be good enough for your kids or for my kids. It shouldn't be good enough for anybody's kids. The idea of the time limit isn't to punish people off, but to give that sense of urgency that is very important for you and your family to have more than what you have when you're on welfare. Let's find a way, a plan – your plan – in order for you to be successful. What we've said to clients is "You design the plan. We're not going to worry about you going out and doing this number of job contacts or participating in this particular program," but rather we'll design the plan as maybe you working with your school district, working both on your educational attainment and your kids'. Working on substance abuse or mental health issues. A whole lot of our clients are depressed. They're depressed because they're poor; because they're unemployed. We need to work on that. We need to work on their housing. All of that counts towards their plan – whatever it's going to take for them to be successful.
We didn't really have a waiver from the Federal Government back in '96; we just said that we'll fund what we can with the federal block grant and everything else we'll pick up with local money. Well I think that Marion Barry, our renown Councilmember from Ward 8, came to the conclusion that we really needed to focus more on that sense of urgency. He's the one that proposed it. So we put in this time limit – not to cut people off, but so that we can all serve them. So we're moving that forward. Having these individualized plans, we have a long ways to go, but it really is based on the philosophy, and much more of a philosophy that our people can be successful. We have to have hope. We have to have a sense that they can have a better life because if we, as the helping profession, don't think they have any chance, they're probably going to live "down" to our expectations. But I know from my experience – I was an employment counselor and all – that people have a chance. I started out carrying out groceries and delivering newspapers. I didn't start out as an agency director. If you haven't had any work experience, maybe you have to get a little work experience and at the same time be working on your education. Let's see this as a long-term development, but you've got to start now.
Destiny – Pride: As you look back over your many years of service, what would you say have been your major accomplishments so far?
Director Berns: You know, I look back, I helped implement the new TANF program in Colorado back about 14 years ago. We started out in the county that I was working in with about thirty-eight hundred families on welfare. Within a year we were down to about twelve hundred. But that's not what I was proud of. I was proud of the fact that of that reduction, none of them left because they were sanctioned off. We had a full family sanction policy, and we never had to apply it. Everybody that left, left voluntarily because they had something better to go to. Because it was their plan, and if a plan wasn't working we didn't immediately cancel them off. We brought them in and we said, "The plan's not working and it's your plan. Is there something else that you didn't tell us?" That's when we found out about domestic violence, mental health issues, substance abuse. We said, "Well that needs to be your plan," and we'd engage them in their own success. So I'm most proud of carrying that forward – it starting out in Michigan – taking it to Colorado; implementing it in Arizona; and then helping the Mayor and the community to bring that same philosophy here in the District.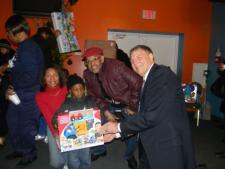 Destiny – Pride: Okay. Any disappointments?
Director Berns: Regrets. I've had a few. Certainly, there's disappointments. I was involved in writing the TANF legislation back in 1995-96 when it was first being implemented. I was proud of the accomplishments of getting more flexibility, but I was disappointed that we didn't have a more universal approach; that it was implemented in some jurisdictions in a very punitive fashion, and in other jurisdictions because of the potential for a punitive aspect. Like in the District, it wasn't implemented at all. So I'm disappointed that we haven't, nationally, had more of an emphasis on truly making people successful; but I'm proud that we at least have the opportunity to correct those mistakes and to move forward.
Destiny – Pride: Do you have any last thoughts or words of wisdom that you would like to leave with our visitors?
To see the video of Director Bern's response
To read his response, continue below.
Director Berns: You know, I was thinking. I've been in welfare offices around the country in many, many states. I've seen so many people that have been presented as victims – but not the clients. Often, it's the staff and the agencies, because we know that our staff is underpaid, overworked, under-appreciated. So one of the things that I like is to get the message out – not just for our clients but for everybody. It's a message that I heard from a management consultant. She said, "Dave," and she had some good news and some bad news for me. The bad news was that, no matter where you are in the organization – if you're a caseworker, an eligibility worker, a social worker, supervisor, program manager, director – 85 percent of what is required of us is controlled by somebody else. For staff, it's their manuals, and for me it's the City Council and the Mayor and various laws. But the good news is that 15 percent of whatever we do is controlled by ourselves; and that's what really makes life worth living, and the job worth doing. It's the way we treat each other; the way that we go the extra mile and support others and it's that sense of hope that we really can accomplish a lot. It's that same sense of hope that we share and have with our clients.
I like to think in terms of the "Serenity Prayer." It says, "God grant me the serenity to accept the things that I cannot change." I look at that as the 85 percent of things that we cannot do. "And the courage to change the things we can." I think of that as the 15 percent, and even though it's not much, it really gives us hope that we really have some things that we can be working on. Finally, "the wisdom to know the difference." That really is that hope in the sense that we can move forward. Regardless of the barriers we have, we know that, working with our families and our communities, we will be successful in eliminating poverty – one family at a time.
Destiny – Pride: Mr. Berns, Destiny – Pride again thanks you for being our Spotlight for February 2012. We have learned a lot about how the Department of Human Services works and what it has to offer, and we look forward to the actualization of your, and its, vision to strengthen families by assisting them to become "safe, secure and economically independent." We thank you.
Director Berns: Thank you. It was my honor!