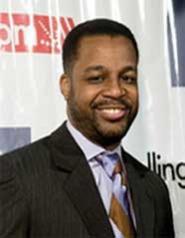 Our Spotlight of the Month for the month of May 2011 is the Honorable Kwame Brown, who was first elected to the At-Large seat of the District of Columbia's City Council in 2004 and is currently serving as its 7th Chairman. We will talk with Chairman Brown about his life's journey, his personal interests and his vision for the District of Columbia.
Destiny – Pride: Good morning, Chairman Brown. Destiny – Pride thanks you for accepting our invitation to be the spotlight for the month of May. We want to afford you an opportunity to share your life's story, as well as your dreams and aspirations for yourself and for the City with our visitors. Let us begin by your telling us a little about yourself, including from where and to whom you were born, your childhood and your family upbringing.
Chairman Brown: Just tell you my whole life's story, right? [Laughter]
Destiny – Pride: That's what I'm talking about [more laughter].
Chairman Brown: Well let me just say how honored I am to be interviewed by you. I have a tremendous amount of respect for you. You go back a long way with my family.
I'm a native Washingtonian, a graduate of DC public schools, and of course, the Chairman of the Council of the District of Columbia. I come from a small family. I'm a son of a civil rights activist [Marshall Brown] and the son of a Pentecostal minister, which is my mom and which is an interesting combination, to say the least [laughter]. They divorced when I was four years old, so I have the honor and integrity of God as well as the heart and soul of someone like Stokely Carmichael, which is an interesting combination to have as a kid. I have a brother named Che, a sister named Njeri, and another sister named Kim. Njeri, Che and Kwame. Clearly that tells you what was going on in terms of a revolution of our household [laughter]. I was named after Kwame Nkrumahand was actually born on Saturday ["Kwame" is an African name which means "Born on Saturday"].
I'm married to a wonderful woman – Marcia. We've been together since 1989 – that's 20-something years. We've been married going on 17 years in June. I have two little ones – Kwame the second – who was also born on a Saturday – is seven years old; and my daughter, Lauren, who's nine years old. Both of them attend DC public schools – one in the third grade and one in the fifth grade. My wife was a teacher for a number of years, and she's still in the profession of what I consider still teaching.
My mother and father divorced when I was young. I spent time with mom and I spent time with dad as we grew up. My mother remarried. I guess my story will tell you a little bit about why I care about the issues I care about. I probably was not the brightest kid, so I was told that I was being punished because I was going to DC public schools. I had to live with my father and my punishment was that I was going to be the product of DC public school system, which was supposed to be worse than anything. That's why I'm so proud to be the product of the DC public schools, because it showed that DC's a place that gives people hope for those who don't have hope.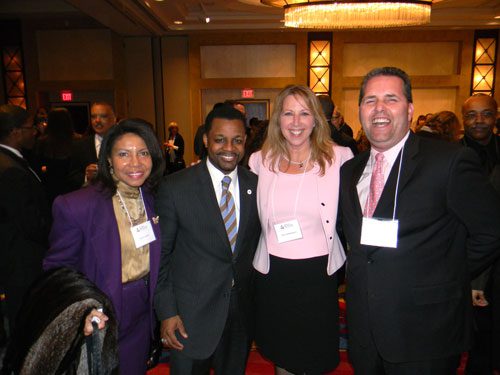 Growing up, I spent half the time with mom and half the time with dad. I also had a phenomenal stepmom. My father didn't have a car until I was in the 11th grade. No, he didn't own a vehicle. My dad used to come get my brother and me every weekend in a cab, which, when you're young, you don't really understand what that really means. Like today, I'm clear on how much it would cost, but more importantly, how important it was to have family stick together, and have a father that actually cared about his kids, because, to catch a cab to Virginia every weekend to get your kids, that's a huge statement. That's why I'm so close to my kids.
As you know, my dad was part of the [civil rights] movement, giving folks like myself an opportunity to sit in this seat. I believe it was my father's fight and my mother's prayers. My mom was a Pentecostal preacher, so anyone who knows about the Pentecostal church, knows that they go to church. They're in church Monday, Wednesday, Friday, Saturday and Sunday; so I'm a God-fearing man, and I believe in prayer. I also believe in doing what's right. So, as a kid, growing up and experiencing that, and then realizing that I also had a phenomenal uncle who graduated from college made a huge impact. My mother and father both attended college, but neither one of them actually graduated. I didn't graduate from high school at the top of my class; I graduated at the bottom.
One day I was at a buddy of mine's house and I was forced to go with him to hear from a school that was looking to recruit DC residents. There, we filled out some paperwork. It was for place called Talladega College. I didn't know where Talladega was on the map, let alone knowing there was a college there. They made us fill out the paperwork so they could verify that they had recruited some DC students. Afterwards I went back to school. The only letter I got in the mail was from that place called Talladega College. The two schools that I applied to were Talladega and Morehouse. I didn't get accepted to Morehouse, but I just hired some people who actually did graduate from there.
So I ended up going to Talladega. My father told me, "That's where you're going." That was the big thing: "You're going to Talladega," but no one knew where Talladega was [laughter]. It actually was in Alabama. No one knew it at the time, but they said, "You're going to Talladega." My brother went to the University of the District of Columbia and then transferred to Morgan State University [Baltimore, MD].
I didn't really think I was going until, honestly, three days before it was time to go. I was just having fun in DC. And he [his father] said, "Now you do realize you are going to college, don't' you?" and I'm like, "yeah, yeah, yeah." He said, "In three days you're going. You've got to pack your stuff. You've got to go to college.
So we packed all this stuff along with some water – we put all my stuff in a suitcase the night before. And we got in the car to go to Talladega. I didn't realize it was so far away from the District of Columbia. It took – it seemed like – two days to get there. Once there, I was dropped off. I pulled out a map, and I remember my father driving away. It looked cool then. I figured I could go home the following weekend, so I pulled out my map, and I then realized that Washington, DC was up here, and Alabama was way down there [laughter]. I realized that was a problem [more laughter]. That's when it hit me that I was in college.
That same hour that I got dropped off, I went to orientation, and I met my wife the first hour, and first day that I was in Alabama. We've been together ever since.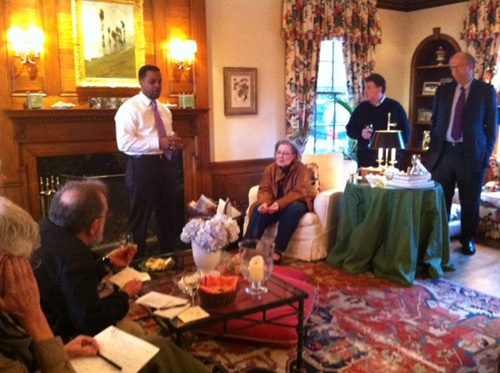 In Alabama, there was no place for you to intern, so I worked at Domino's [Pizza]. I worked at Pizza Hut. I worked at Captain D's. I worked everywhere because I had to pay for my own college. After awhile I said, "This is not going to work. I'm a city boy; this is Alabama. I love it, but it's not going to work for me." So I applied for a job at MCI in Baltimore, Maryland. They hired me, so I worked there. Then I decided I had to go to school. My brother was at Morgan, so I figured that was a good location. I applied to Morgan, got in, transferred [from Talladega] and started to work at MCI. I graduated from Morgan, paying my way through college. I did get one scholarship, and that was from the United Negro College Fund; so for people who ask me why I support the United Negro College Fund, it's because they were the only people that ever gave me a scholarship. I received an eleven hundred dollar scholarship from the United Negro College Fund, which helped me to stay in school. Then I transferred to Morgan and paid my way through college from there. I graduated [from high school] with a low GPA, and in the first semester [at Morgan] I made the Dean's list. I thought I was the smartest person ever walking the planet! [Laughter].
Destiny – Pride: I think you've answered a lot of my next question regarding the schools of higher education you attended, but what were your majors?
Chairman Brown: Okay, I attended Morgan State University and I graduated with a degree in marketing. I left Morgan State and went to work for the Walmart Corporation. I worked there for a couple of years. I left the Walmart Corporation but I thought Walmart Corporation was a phenomenal place. If you want to know how to run a business, and you want to know how to run a company, you need to work there. And that was the idea because I thought that entrepreneurship would be great; that's what I wanted to get into. I left Walmart to work for CitiBank because I wanted to understand how to get the money. It's good to work for someone, but how do you get the money to actually move forward? And then I went to work for First Union on the investment side of the house, because I wanted to understand the investment side of the house.
I left there to work in the Clinton Administration, and I worked at the US Department of Commerce. While there, I was given a scholarship to attend the Amos Tuck School of Business, their Executive Program. They said, "We want to give you this scholarship to attend this program." So I did, and when I finished the program, we spearheaded an effort at the Department of Commerce to create an Advanced Business Executive Program at the Amos Tuck School of Business for those entrepreneurs that were doing a $100 million or more in revenue. They created the Advance Program, and I attended that also.
I then left, and I ran the Minority Supplier Development Council for the state of Maryland and DC. But then I decided to run for Council of the District of Columbia. I also had an opportunity to attend the JFK School of Government at Harvard – their Senior Executive Program.
Destiny – Pride: What in your upbringing would you say has helped to shape you into the person you are today?
Chairman Brown: Oh, just my belief in God and prayer. I think that's probably the number one thing that helped shape me. Of course, my mother, who always taught me that it's about actually caring about something and having a sense of integrity and pride. And my father just believed that you should always "stand for something or you'll fall for anything." So in terms of shaping who I am and molding my thought processes, I have to say it was a mixture of being a young kid where you had H. Rap Brown at your house – when my brother was five, which means I had to be like two years old – and having a mother that went to church every day at a Pentecostal church. Those two things – the power of God and the power of yourself and believing – I think that have helped me to go a long way in being true and being genuine.
Destiny – Pride: Give us some of the names of individuals – you've already named your parents – in your life who have made the greatest impact upon you and the choices you have made.
Chairman Brown: Name some individuals: God, for one. And besides my mother and father, I'd have to say Duke Green, who was an entrepreneur here in DC. He used to, back in the '80s, own the world's largest African American computer company, when people didn't even think about computers. I knew his son; we went to Wilson together. I think that he had a serious impact in my life to help me understand that it's okay to be wealthy and it's okay for us to see the African Americans that were on the move and that still had a conscience – that really cared about those that weren't. He wasn't self-gratifying, although he was someone that was at the top of his game and the top of the industry in '87, '88. He probably had the biggest influence in helping me break the mold – to say, yes, you can be a successful entrepreneur outside of what you see in BET, Jet Magazine and Ebony. He was a real live person who wasn't scared to share his knowledge in terms of helping you think through how you could create economic parity in your own mind. He was clearly very influential in some of the things that I've done.
Also, I'm a huge Muhammad Ali fan, as you well know. While Muhammad had his flaws, I lived by some of his ideals. One, that he worked very hard – he was one of the hardest workers in the boxing era – and, two, that he stood for something. It's hard to find anyone that can be at the top of their game and still decide that they want to stand for something, no matter what the consequences.
Destiny – Pride: You have already stated what faith you are. How, if at all, has it impacted you in your life's journey? You talked about your faith – your mother was Pentecostal. Do you associate yourself with a denomination?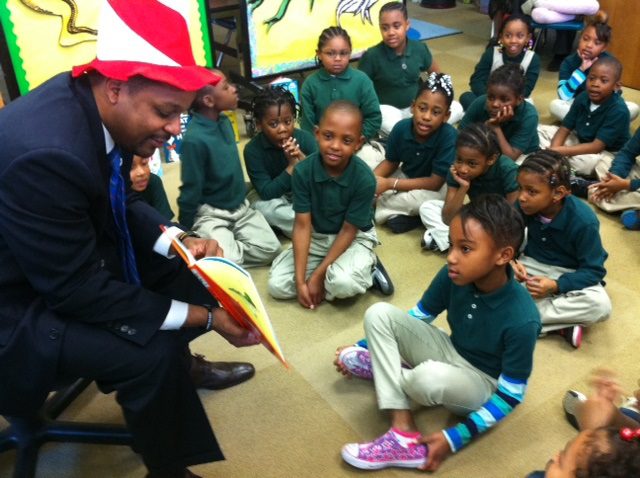 Chairman Brown: Well I attend From the Heart Ministries, with John Cherry. I've been there since 1992. Of course I fellowship with churches here in the District of Columbia also. My faith is steadfast in terms of what I believe. What shapes your character is what you believe. I'm a Christian to the heart.
Destiny – Pride: You did talk about what you did before you became a public servant. Is there anything else that you want to share that you might have left out?
Chairman Brown: Do you mean in terms of what I did before I became a public official?
Destiny – Pride: Yes.
Chairman Brown: Well, things that have happened cause me to fight. I fight hard for kids and for parents to be involved in the lives of their kids, because I realize how important that is. I fight hard for domestic violence victims because my mother was abused by my stepfather for too many years. I think that is unacceptable and I was proud to be able to have gone – after I graduated from college – to get her out of that situation and put her where she is today. So many people are "stuck" in their situations. We need to continue to fight to make sure that we end domestic violence in our community.
I do college tours every single year, where I take children to North Carolina. So far we've gotten over 350 kids accepted to colleges – on the spot. They're in school right now, and they're the kids from the bottom – they're not the kids from the top or the middle – because that's how I got into college. Someone made me go somewhere; I filled out the application and I got in. I believe that for 80 percent of the kids that I've helped get into college, no one else in their families has ever been to college, one. And, two, the only time they have applied to a college was the time they went to North Carolina with me.
A lot of things that you see that I do as it relates to small businesses, and having an opportunity to grow comes from what I've seen in the past and how successful businesses help create communities, help employ residents, and help give people a sense of pride. Growing entrepreneurs can help that spark in a kid's brain that says, yes, they can do that, too! That's why I drive the conversation. I believe that growing up was more social, and how do you change that social agenda?
I honestly believe to this day that this is an economic revolution. So how do you economically change people so they're able to better take care of their families? By using the same methods of people that are smart, people that are bright, people that have a cause, people that have a heart, but economically helping them to free themselves so that they don't participate in social services, but rather you give them a "hand up" where they're able to create wealth and really be able to help their families. I think that's the direction that we need to go as a country – not just in the city, but as a country. That's where we need to go.
Destiny – Pride: You came from a family, especially on your father's side, with a long history in politics. Did that influence contribute largely to your desire to seek a political career?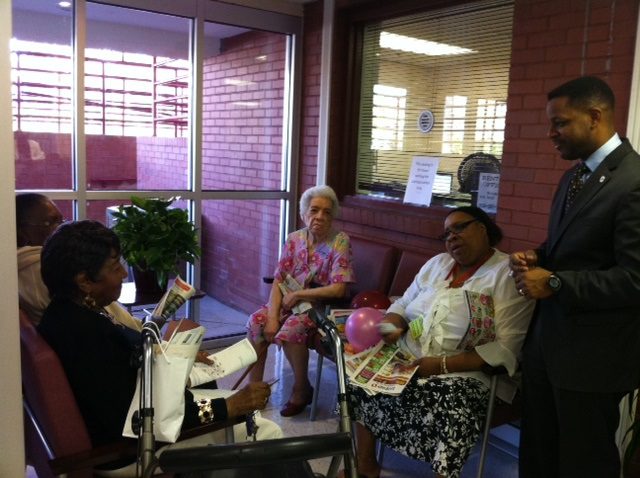 Chairman Brown: No. Not at all. My father was always involved, as you know. He's worked for every president that's ever run. He's worked for every mayor who's ever run. Every person who's ever run in the city, he's worked for, for the past 40 years plus. I never thought that I would be sitting here; this was not my plan. My plan was to buy a $50 million company; grow it and then sell it. I'm a big Reginald Lewis [] fan. I believe in the "Reginald Lewis" model. I believe in being a student of Reginald Lewis in how he was able to become successful in the '80s. It's almost embarrassing and a crime that his being a billionaire in the '80s has not been replicated by anyone today. You do have Oprah, Tiger and people that are in sports, but from a "business" perspective – outside of Bob Johnson, there has been no one that has had that same formula for success as Reginald Lewis.
Destiny – Pride: Would you please tell our visitors who Reginald Lewis was?
Chairman Brown: Reginald Lewis was the first African American billionaire. A very smart guy. He went to Virginia State University. Then he went to college. He didn't fill out a law school application. He went and talked to, I think, the Dean of the law school and talked his way into going to Harvard University Law School. Then he went out and built a company. Then he bought a couple of companies and he grew them and sold them and he built them. He created the assets by really creating economic prosperity. That's what my model is; that's how you help free people. You give them the economic resources to get out of their situation.
So I'm a huge Reginald Lewis fan as it relates to that, and that's what I thought I was doing. But then one day I was watching TV, and I saw a gentleman on TV. I just got tired of the old politics of the past where people were more interested in cutting ribbons to the library than making sure that people get jobs and people participate in "building libraries." And I just said I wanted to run and that's who I'm going to run against. So I called my father and I said, "Hey, man, I'm going to run against this guy that I just saw on TV." He said, "What's his name?" I said his name was Harold Brazil. I like Harold now, by the way, but that's what I decided to do.
People told me, "You can't run because you have to be a school board member and you've got this chain of command that you have to go up." Then people said "You live East of the River and no one has ever won At-Large in the history of the District of Columbia that lived East of the River." Some people said, "Yeah, you can run, but you should just use 'Brown'; you shouldn't use 'Kwame.' It's going to sound too African and you've got to get folks all over the city." People were saying "He's [Brazil] going to have a million dollars and you don't have any money." And people saying "You've got to deal with the political scrutiny and stress and are you prepared to do all of that?" We just decided to get out there and run, and we ran a citywide campaign. All we had was money for yard signs. That's why you saw Kwame Brown yard signs everywhere –we only had enough money to knock on doors and talk to the residents.
We started our first citywide campaign by knocking on doors throughout this entire city – two times – putting up yard signs and talking to the voters as a grassroots campaign. We won. We had a little bit of money running against a millionaire. I believe that if God has it for you, then that's what it's going to be. You can't stop that. I was just blessed to be in a position to actually win and really open the door so that people who live in certain sections of the city can see they can be whatever they want to be and they can be smart enough and intelligent enough to represent the whole city, not just be boxed in one particular area.
Destiny – Pride: Well I think that my next question includes some of what you have already done. You've taken us on a journey of your political achievements and told us how early that journey began, but what then inspired you – after you had become a councilmember at-large – to take the next step?
Chairman Brown: Well, I was happy as an at-large member. I was able to chair the Committee on Economic Development. We were able to create equity participation for local businesses. We were able to make sure that, legislatively, local businesses were able to get contracts and be able to grow. We changed the dynamics on three things: One, domestic violence is part of the conversation that people talk about now because I've changed that. Two, we've built two emergency shelters for women. There used to be 47 beds and now there are over 200 beds in transitional housing for women who are being abused so that they can have a place to go. Three, we were able to bring vocational education back. Vocational education used to be a thought of the past, but we opened the Phelps Architecture, Engineering, and Construction High School. We opened Carlos Rosario. We opened Hospitality High School. So we're changing the dynamics by giving people a place so that they can be trained, so they then can get jobs. If there's no training, there are no jobs. If there are no jobs, you can't get affordable housing because you don't have a job because you don't have any training. So we need to change that cycle that's been plaguing this community for a long time.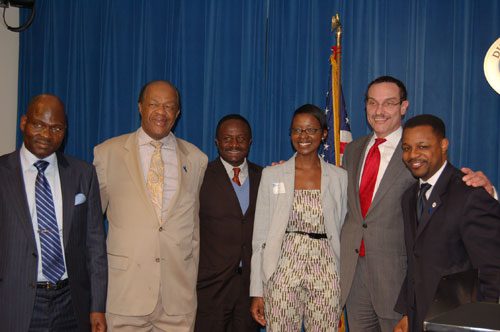 When we looked at running for the Chair of the Council, a number of members came to me and asked me about the opportunity, and I was honored to be able to do it, just to bring the City together. I mean, we're dealing with some tough, difficult times, and tensions are very high. The real question is how do you create a win-win situation as Chair of the Council and bring people together towards a common goal? Being Chair of the Council is not the person who's the smartest legislator. It's not the person who runs the fastest or throws the ball the hardest. It's the person who can work together with their colleagues to actually get something done and to move the City forward. That's what really inspired me to run for Chair.
Destiny – Pride: I think you have also answered part of my next question: What have been the greatest difficulties that you have discovered so far between being a councilmember and now being the Council's Chairman?
Chairman Brown: Well you're number two in the City, so it comes along with the territory that people are able to take cheap shots. That's just what politics is all about, I guess. I also learned that everything is not what it always seems to be and sometimes peoples' agendas are just bigger than yours, but it's also given me the sense to continue to fight. To continue to fight to make sure these kids are educated here in the District of Columbia. To continue to fight to make sure that we hire local DC residents. To continue to fight to make sure that those who don't have a voice actually have one. To continue to fight because it's not about me; it's about the next generation that's coming up, and how people view me is how they view the next generation. Giving someone else young an opportunity to be Chairman of the Council of the District of Columbia is really important to me, and I know that this is not about me; it's about future generations coming behind me. I've had the generation that came before me that allowed me the opportunity to be sitting here. It is now my responsibility to now put others on my shoulders to carry them. It's a big responsibility, but I know exactly what it requires: never giving in, never giving up, never giving out – and really standing for something and fighting for what you actually believe in.
Destiny – Pride: Of all of your life's accomplishments, what would you consider to be among your greatest?
Chairman Brown: Oh, my two little kids. My kids I think are one of my greatest accomplishments. Having an opportunity to really give them everything that they need so they can be productive citizens in this society. My daughter is nine years old; she's going to the sixth grade. My son is seven; he's going to the fourth. They both are excelling and skipping grades – and they're in DC public schools. That's an accomplishment as a father. They're healthy. That's an accomplishment, something I don't take for granted. My ability to shape and mold them – and to be the example that I say other parents should be – is an accomplishment.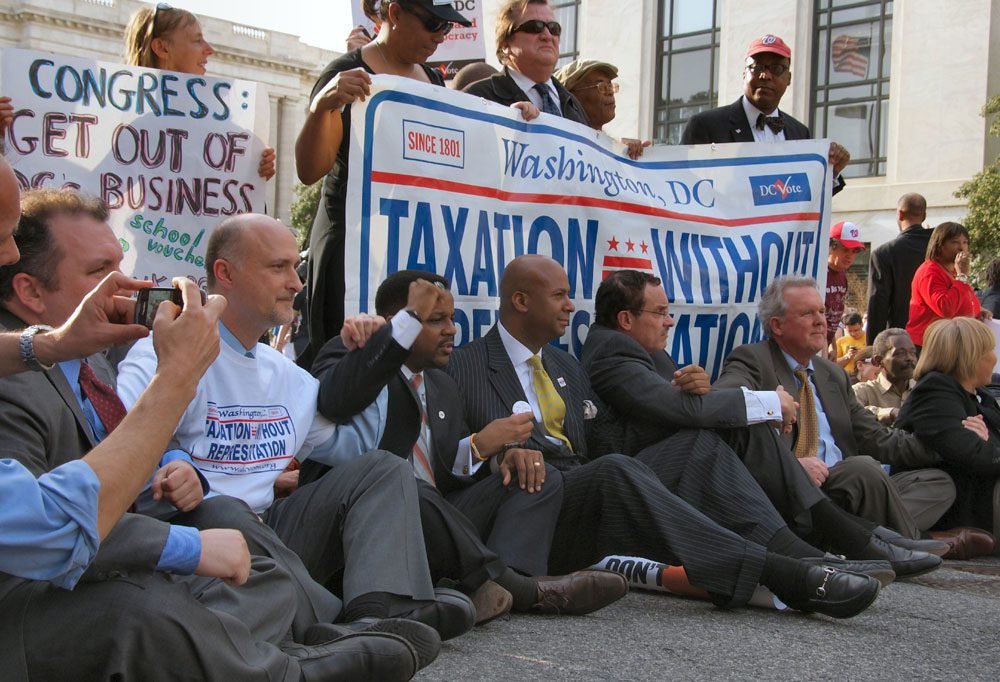 Destiny – Pride: What would you say would be your most disappointing moment?
Chairman Brown: My most disappointment moment. . .
Destiny – Pride: Well you know you're still a young man [laughter]!
Chairman Brown: I know. At the age of 40 [laughter], what's my most disappointing moment? My disappointing moment as an elected official, is that what you mean?
Destiny – Pride: As a human . . .
Chairman Brown: As a human? Probably my disappointing moment was during the last campaign. I spent so much of my time – I'd go to two to three meetings a night. As an at-large Member, I was probably the most visible Councilmember – you know that. I was everywhere, and what was disappointing is that I spent so much time helping others, that I didn't spend the same amount of time on my personal self as it relates to some of the financial issues that came up that were controllable. It was because I was spending too much time trying to help everyone else. You know charity starts at home. So you learn from those moments and you learn from those types of things and you make the adjustments accordingly.
Destiny – Pride: What is your vision for the residents of the District of Columbia?
Chairman Brown: Well, the vision I have for this City is that this City is, I think, at a point where it needs to decide where it wants to go. When I say "where it wants to go," I mean the City is on the move; it's flourishing. The economy is growing. We've got development taking place in the neighborhoods finally. But we're not where I think we need to be in making sure that every child gets quality education. My vision for the City is that a lottery system is "not" your ticket to a quality education. My vision is that no matter where you are, no matter who you are, whatever school building, when you walk in that front door, you get a quality education; that we do everything we can to improve our middle schools. But we must also do everything we can to energize our residents. They should be just as frustrated about the test scores, where 92 percent of our kids are not reading at grade level as they are about not having voting rights in the District of Columbia. I want people to get "fired up" about our kids not being able to read, write and subtract – no matter who you are, no matter where you are. I think education is the key to getting out of the situations that we're in, and as we continue to move forward, I'm going to continue to make sure that economic prosperity reaches all. But as well, every single adult must be accountable with the responsibility to not settle for anything less than quality education.
Destiny – Pride: You raise the issue about frustration. All of you – the Council and the Mayor – just became frustrated about how Congress has put riders all onto our budget. Did you want to speak on that?
Chairman Brown: Yes. I'm clearly frustrated that we don't have full statehood, full representation, a vote in Congress – all of that is very frustrating. You know we just recently held a protest where the spirit hit people and we just got arrested. It was that experience where we, sitting there in a jail cell, thought about every single person that has been involved in the movement that never gets recognized; that sat in a cell so that I can sit in a cell, because if I wasn't an elected leader, we wouldn't have gotten the attention. The only reason why I'm Chairman of the Council is because someone sat in a cell for me. The only reason why I was able to work for the President is because someone sat in the cell for me. The only reason why I was able to work for First Union and CitiBank, on the investment side of the House is because someone sat in a cell for me. That really energized me more, not just about the vote or getting the vote in Congress, but it energized me to stay the course, to continue to fight, because I might have been in that cell so my son could have an opportunity to see something different. So it was bigger than just a voting rights issue for me. It relates to what's taking place in our having budget autonomy here in the District of Columbia, which we need.
Destiny – Pride: What hobbies or things of interest do you enjoy doing that help you relax from the day-to-day stresses that confront you?
Chairman Brown: Do you want the truth or do you want me to make you feel good?
Destiny – Pride: You can do both [laughter].
Chairman Brown: You know, I'm an interesting type of person. I like to do a lot of things. I'm a runner, so I love to get out there and run. I'm a black man, so you know I play basketball – I've got to get my basketball in. I actually go four-wheeling, which is unique and different for a brother. I love to do that. It's something I really enjoy. We go to Pennsylvania and West Virginia.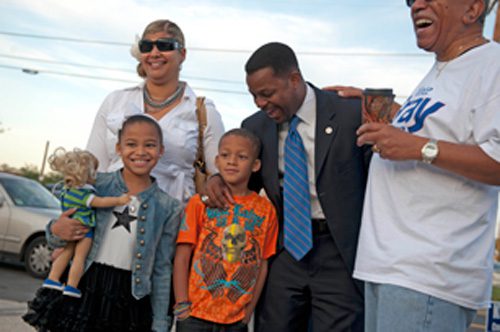 Destiny – Pride: Well I'm black, too. What is four wheeling? [Laughter]
Chairman Brown: It's like ATV riding. You get on four wheelers and go ATV riding.
Destiny – Pride: Okay.
Chairman Brown: I enjoy that. But the thing that I enjoy the most in terms of how I get relaxed is when I'm with my son and he's playing football or basketball. When my daughter is cheerleading, playing the violin or in a spelling B, or I'm going through the spelling B with her. Or when I'm just sitting in my backyard or shooting hoops with my son, I'm probably the most relaxed. To me, any time I can spend with my kids at their young age is relaxing for me. And of course with my wife – except I have to go to the grocery store and take out the trash. Sometimes that's not the most relaxing [laughter]. But really, anytime that I spend with her. We've been together 17 years, so anyone who can put up with me for 17 years and – I have to say – anyone who allows me to do what I do is phenomenal. It takes a real woman to be able to share her person with so many other people. I could not do this without having a phenomenal wife at home who allows me to do what I do every single day, because the day she gets tired, I'm gone.
Destiny – Pride: Or she's gone [laughter]!
Chairman Brown: Well she's not going anywhere [laughter]. I'm gone! I'm not having any of that. I just would have to go. Giving up my family? I would have to go. Nothing personal. I love everyone. I just love them more.
Destiny – Pride: Have you any last thoughts or insights that you would like to leave with our visitors?
Chairman Brown: I am very honored to serve the residents of the District of Columbia. Very honored to be in a position to be able to fight for people that can't fight for themselves. Quite frankly, to fight for people who "are" fighting for themselves. It's an honor to wake up every single day trying – which is my prayer every night and as I get up: "help me help someone else." We have the ability to do that where I'm sitting, and to be 40 years old and to be Chairman of the Council of the District of Columbia – and still standing – I don't take that for granted. I don't take for granted, one bit, what I do, and I wouldn't change it for anything else at the moment because anytime you're blessed to set policy that's going to change the lives of so many people you never see, I just thank the residents for giving me every opportunity to continue to serve them. You know, the interesting thing is that I talk to residents, especially now, and I'm probably the most investigated person. I've been in the media how many times? I mean, I'm out there. People spend all their time on Kwame Brown. But you never give up on the people, because the people still like what you do every single day. What keeps me going is that people know – even when they disagree with me – that my heart's in the right place and that I'm trying to do the right thing for them. That's very rewarding.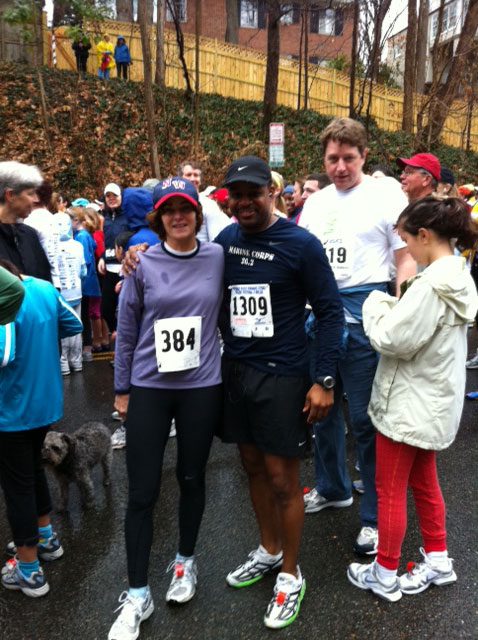 Destiny – Pride: Mr. Chairman, Destiny – Pride is truly grateful that you have taken time out of your hectic schedule to give us a glimpse into your thoughts and your life. We wish you well in your efforts to make life better for all of the residents of the District of Columbia. Again, many thanks.
Chairman Brown: Well, I want to thank you and whoever's going to be editing this tape and correcting all of the verbs I've split. I'd like to know who the editor is, so I can send them some "fruit on a stick" [laughter]. That's one thing – you've got to have fun up here! If you're not having fun and enjoying what you're doing then you don't need to be here. But, thank you. I appreciate the interview, and I'm open to talk anytime.
Destiny – Pride: Thanks, and I'm truly appreciative. The person who will be doing the editing is Nancy Carter Mayfield.
Chairman Brown: Okay. Hey Mrs. Mayfield!
Destiny – Pride: So Nancy, you have some fruit coming.
Chairman Brown: Fruit on a stick – or Ben's Chili Bowl. Take your pick!
Destiny – Pride: Thank you.
Chairman Brown: No. No. You know what? Let me thank you because, when you have these interviews, what you're able to do is to continue to inspire me for why I'm doing this everyday. It just brings it home on what you do and why you do it – why it's so important to continue the struggle.
Destiny – Pride: Well, what we try to achieve is to make sure that this is "your" story, "your" vision. A lot of times, reporters want to put "their spin" on it.
Chairman Brown: Oh, my goodness! Do they? [Laughter]
Destiny – Pride: Yes, they want to put their spin on it. This just affords you an opportunity to say "This is who Kwame Brown, Chairman of the Council, is," and I thank you for that opportunity.
Chairman Brown: Thank you. And talk to you later, Nancy!