Our spotlight for the month of July 2012 is Ms. Ella McCall-Haygan, a community activist and the Founder and CEO of "From Streets To Skills Social Services Inc.," a nonprofit organization located in Washington, DC. "From Streets To Skills" is, among other things, a literacy program, which also provides a myriad of other social services programs that benefit a diverse group of individuals, from the homeless population to disenfranchised youths in our various communities. Ms. McCall-Haygan has both an interesting and insightful history which we will get her to share with us. We will also talk with her at length about "From Streets To Skills" and about her reasons for its creation.
Destiny – Pride: Good morning, Ms. McCall-Haygan.
Ms. McCall-Haygan: Good morning, Mr. Mayfield.
Destiny – Pride: Thank you so much for your willingness to be our Spotlight of the Month for July. Because there are probably a number of our visitors who are not familiar with you or your work, before we talk about your "work," we would like you to introduce yourself to them and give them a little background about yourself, beginning with your early life. So let's start off by your telling us where and to whom you were born and your family makeup. Then please give us a synopsis of your early life experience.
Ms. McCall-Haygan: Well, I was born in Washington, DC. My mother's name is Alma Matthews. I have two brothers and one sister. I grew up in the Shaw Cardoza area. I attended Cleveland Elementary, Grimkey Elementary, Shaw Junior High and Cardoza [Senior High], but I dropped out of school in high school.
Destiny – Pride: You mentioned your brothers and sisters, but what type of childhood did you have.
Destiny – Pride: My mother was a single parent. I met my father when I was an adult some years later, but she raised us. We lived on 9th and P Streets, NW. She worked everyday. We didn't receive any subsidies, like food stamps or any of that. She worked everyday and she took care of us to the best of her ability. She was from the south – she was from Florence, South Carolina. She had a lot of different skills and beliefs and she raised us. She was kind of strict, but she raised us to the best of her ability, and I think she did a good job.
Destiny – Pride: You said that you dropped out of Cardoza. Did you go back to finish?
Ms. McCall-Haygan: No, I didn't go back to finish school. I became a teenage mother and wasn't able to go back to school. They didn't have the support then that the have today when you go to school. I couldn't find a job here, so I babysat. I washed dishes. I did everything that I could to generate money because my mother did not believe in welfare. I wouldn't have gotten it anyway because she worked. I ended up moving to New York and I got a job there. Every time I see "The Help", I think about that I was a live-in maid in New York; in Long Island. I was able to send money home every week to my mother for my child.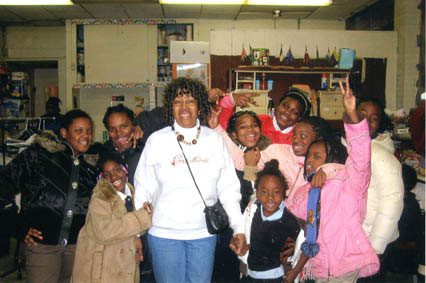 Destiny – Pride: What is your marital status? You mentioned that you had one child. Are there any others?
Ms. McCall-Haygan: Well, I've been married twice. All together I have eight. I have seven biological children and I raised a stepson. So I have eight. And I'm married to my second husband; we've been married for 30-some years. The last of my babies are twins – identical twins.
Destiny – Pride: What are their names?
Ms. McCall-Haygan: Laverne, LaWaughn, Larnell, Kimberly, Raymond, Ronald and Donald [twins], and William, Jr.
Destiny – Pride: And he's the adopted son.
Ms. McCall-Haygan: Yes, that's my stepson, who I call my "bonus" child.
Destiny – Pride: What faith are you, and how has it affected you in the decisions you have made in your life's journey?
Ms. McCall-Haygan: Yes, as a Baptist, I grew up in Shiloh Baptist Church on 9th Street. We lived right across the street from it, so I grew up in Shiloh. When I moved to New York, eventually I became a Catholic. So I was a Catholic for a while. I'm now in what I guess you'd call a "non-denominational" church. It's a make up of different faiths.
Destiny – Pride: So has that impacted upon you in your decision making processes?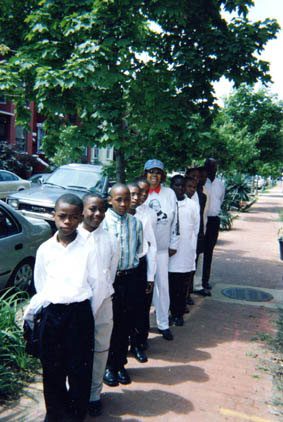 Ms. McCall-Haygan: Oh, my God, yes! My mother, who's very religious, taught us about God. She was a God-fearing woman – a southern woman. I always say that I lived off of her prayers while I lived in New York, because I went through a lot of changes there. I lived off of her prayers and her strong faith. My mother is 101. She's living in a senior citizens building and she has bible study every Friday night; prayer meeting every Thursday night. God is the "King," and she taught us that He could do anything. She taught me to believe, because I had low self-esteem, and she taught me to believe that you can do anything – you can do anything that you want to do. You've got to work for it, though. That's what she taught me.
Destiny – Pride: Oh my gracious! A hundred and one?
Ms. McCall-Haygan: She's a hundred and one years old. Courtland Malloy did a story on her.
Destiny – Pride: Did you tell us her name?
Ms. McCall-Haygan: Her name is Alma Matthews, and I still have her. I'm a caretaker, too, now, because I have to make sure that everything is right – her food; I take her to the doctor when she needs to go. My oldest daughter, who she raised as a child, takes care of all of the financial things; all of the bills are paid. She freed me up so that I can handle her. She won't come move in with me, but one day she said, "Well, if I get so that I can't talk or I can't think, blah, blah, blah, blah, then that's a different story."
Destiny – Pride: I know. They love their independence!
Ms. McCall-Haygan: Yes, she's a very independent woman, but she's a God-fearing woman, and that's all she talks about and tells me all the time.
Destiny – Pride: You have already told us about one, but maybe there are others: Name those individuals who have made the greatest impact on you and your life choices.
Ms. McCall-Haygan: Well, of course my mother first, and then I had a grandmother who helped to raise us – and especially me. My grandmother was altogether a different person than my mother. My mother was a quiet one. My grandmother liked to have a good time! Yes she did.
Destiny – Pride: What is her name?
Ms. McCall-Haygan: I'm named after her: Ella Owens. She sent me to church when I stayed with her – I used to stay with her on the weekends. She instilled in me, too, what you can do to help yourself; but both women always taught me to always reach back and pull somebody else up. Always be kind to people. My mother used to help the senior citizens in the neighborhood. She would cook for them. My friends, my daughter's friends and the children in the neighborhood would come to her house and eat. She was a fantastic cook; both women were. Sometimes people don't "get" me because I'm a free spirit. That's the thing. I'm not looking for anything. I don't need any validation; I don't need any press. I don't need anything. I just enjoy what I'm doing, and that's just trying to help these kids; trying to get these mothers together. That's my goal. And my mother and grandmother taught me that.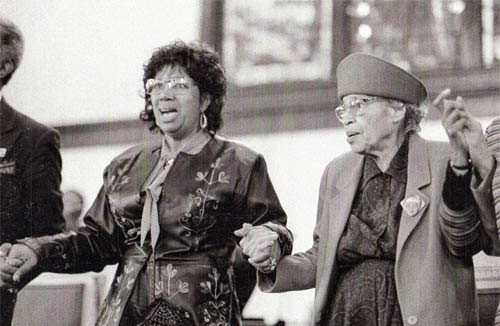 Another person was Ms. Rosa Louise Parks. I met her in 1990. They had a huge birthday party – you might remember – at the Kennedy Center for her. Dr. C. Delores Tucker sponsored it. Dr. C. Delores and I were good friends because of Cathy Hughes. Cathy Hughes, Ms. Parks, Dr. Tucker were my mentors who really came out to the community when I asked them to help, especially when I was working at the shelter. They came and did so much for my kids. Cathy and Dr. Tucker sent the kids to camp in Piney Woods, Mississippi, where Cathy Hughes' grandfather had built a school. So these were women that I admired.
As for others, I have to say – and I hope that I don't embarrass you, Rufus Mayfield – but Marion Barry and you had a major impact on my life because of Pride, Incorporated, the youth training and employment organization the two of you co-founded in the 60's. It was because of Pride, Incorporated that I am who I am and I'm doing what I am doing today, which is what I love. Neither you nor Marion will ever truly know the lives that were impacted in a positive and successful way by that program and I, for one, am truly grateful. Thank you! Thank you! Thank you! You all told us to get the education, but to bring our skills back into the community and that's exactly what I've done. All of my work has involved in working with children, the homeless and the disenfranchised who live right here in our city.
Destiny – Pride: Thank you, Ella, for those kind words! Pride, for me, was one of my greatest accomplishments and I'm glad that you and others benefitted from it. From research we were able to do, we found out about your interfacing with the historical figure that you've already mentioned, with whom we are very familiar and whose decision on the afternoon of Thursday, December 1, 1955 sparked a civil rights movement that changed history for Black Americans, for this nation and possibly for our world: Mrs. Rosa Parks. Tell us how you came to personally know Mrs. Parks and share with us any interesting stories or insights you received or experienced from your relationship with her.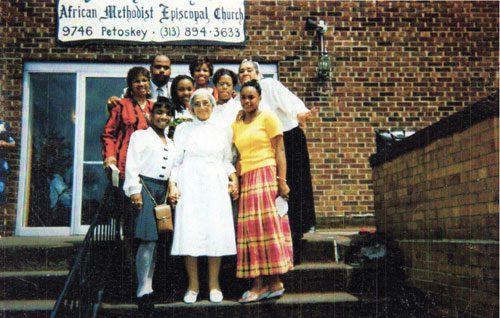 Ms. McCall-Haygan: As I mentioned, I met Ms. Parks when I was a volunteer host for Dr. Tucker who had sponsored a birthday party for her at the Kennedy Center. Dr. Tucker assigned me to look after Ms. Parks for that weekend. I was just thrilled – walking on air – because I couldn't believe I was with this beautiful lady! So I said, "Well it's for the weekend. I'm going to make the most of it." When Ms. Parks got back to Detroit, she called me. I dropped the phone, thinking, "What in the world is Ms. Parks doing calling me?" From then on – for 15 years – I was with her, until she died. When she came to DC, I would be the point person to make sure that she was picked up at the airport; that she had a place to stay, and all of those kinds of things. When Dr. Tucker was living, I would assist Dr. Tucker, who would always have Ms. Parks living somewhere or speaking somewhere.
Ms. Parks and her husband, Raymond Parks, also had a program called "Pathways to Freedom," where she would take the kids and they would retrace the Underground Railroad to the modern day civil rights movement. They would start south, because Harriet Tubman would start south and bring everybody up north. The last stops were Detroit and Canada. Ms. Parks would even sometimes ride the bus with the kids. They rode the freedom buses. She would inter-mingle the modern day civil rights movement with the Underground Railroad. She taught those kids about the civil rights struggle. They kept journals and they came back and were supposed to speak about it in their schools and to whomever.
In 1994, Mrs. Parks and Ms. Elaine Steele ask a small group of us who were youth organizers to set up a chapter in the DC/Metropolitan area. Today, I serve as the second Regional Director for the Rosa & Raymond Parks Institute for Self Development/Pathways to Freedom, which was co-founded by Ms. Parks and Ms. Steele. This institution's mission is to carry on the lifeworks of Rosa Parks in youth development and civil rights education/advocacy. Volunteers from professional, technical, community and international backgrounds are recruited and trained to share their knowledge and skills reflecting Mrs. Parks approach to self development. I have served Mrs. Parks, Ms. Steele, and the Institution from 1990 to the present.
A lot of people just think about Ms. Parks and the bus, but Ms. Parks loved children. She would say that nobody talked about the fact that she was going to have a youth rally on that Saturday because black kids were being turned away from the library. They couldn't go in to the library. Ms. Parks would take them, but they weren't allowed in.
Destiny – Pride: You said they were turned around on "this" Saturday. What Saturday was that?
Ms. McCall-Haygan: I'm sorry. She got arrested on Thursday, December first, 1955. The following Saturday was supposed to be a youth rally, and that was what she was concentrated on. That was what she was trying to do. A lot of people say, "Oh, well, she was with the NAACP . . ." but she told me that she was not trying to make history. She was trying to get home from work. She said her feet were not tired. She said she was tired of the injustice – she was MAD! She was tired of being pushed around, and that day [December 1, 1955] she was determined that she was not going to get up to give this man her seat. She said she was sitting in her "right" seat, where they told her she was supposed to sit. She wasn't sitting up front, like everybody says.
I have so much information about her. I talked to her; I have pictures of her and I together. She wrote four books on her own, and I don't know why people don't read her books instead of letting everybody else write about what they don't know. She told me, "One person can make a difference." She said, "Remember that." She said, "You don't have to wait for meetings or wait on people. If it's right, just go on and do what you're supposed to do." She said, "Always take care of the children." As I said, she wrote four books. And each of her books she autographed for me, and dated them. So I have historical books that are worth something, which I am keeping, but she always talked about the children, saying, "Thank you for working with the kids; thank you for looking out for the kids." That was her whole thing. That's why she left everything that she owned to the Institute – for the children to continue their education.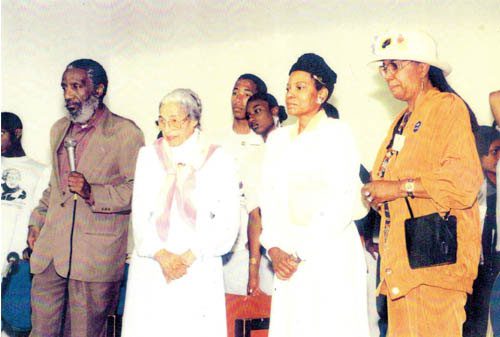 I know we don't have a lot of time, but there's so much I can talk about as far as my fixing her meals and all the other ladies from the civil rights movement. They're all sitting at the table eating and I'm thinking, "My God. What am I doing here? I'm feeding the 'movement' women who have opened the doors for me and so many others!!" I'm in the process of writing a book about all of this, and it will be factual, but it will be funny, too! Hannah's [Ms. Hannah Hawkins of Children of Mine Youth Center] kids went with her on the travel tracing the Underground Railroad's route. Those kids today are college students and they turned out really great.
Also, Ms. Parks was a vegetarian. A lot of people didn't know that. She loved vegetables. I don't know if you knew Brother Bey.
Destiny – Pride: I did.
Ms. McCall-Haygan: I found Brother Bey, and hired him to cook for her whenever she came. I used to drive an old beat-up, white van. I would pick her up from the airport, and she'd get in it like she was in a limousine! I would take her to the hotel, and sometimes she would want me to take her around town. Sometimes I would ask if she wanted to go to Brother Bey's and eat. She would say yes and I would take her over to his house on H Street, NE, and she would eat. People from "the hood" – because we were in "the hood" – would come and knock on the door: "We heard Ms. Parks is in town! Can we meet Ms. Parks?" And they would come in and meet Ms. Parks. She was so gracious to them!
On thing about Ms. Parks, she was down to earth. She was a peoples' person. You could talk to her and you could tell her anything. If you asked a question, she would answer you back. She was very polite. Sometimes, when we would go on speaking engagements with her, people would introduce her and say, "blah, blah, blah," but she would say very quietly and nicely, "Well, that's not the story. Let me tell you what happened."
Another funny thing that happened: We were at the airport. Elaine Steele was the lady that had been with her for 47 years – every since she was 16 years old. Elaine took care of her. She was her assistant. She was the daughter that she never had. She was her caretaker – she did everything for her. There was a young man from Florida who had a security agency. He was a former Marine Corps. He was great, really. He was like the security team that we have today. He taught me a lot. He taught me how to secure her. So I learned that, as well.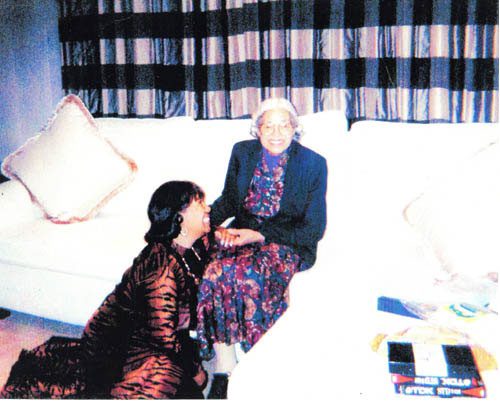 We were at the airport. Ms. Steele and Mark went into the airport to see about the tickets because Mark had to go back to Florida. Ms. Parks and I stayed in the car. I was in a wrong space because the parking place was way over there, but I didn't know whether, when they came out, that I would be able to get back over to them. So we were sitting in the car and, as you would know it, a police car came up and told me that I had to move. I said, "Sir, I can't move." I said, "I have Mrs. Rosa Parks with me. You know her don't you?" He said, "Yes." I said, "Well she's in the back, and her assistant went in to get some tickets for her and they will be right back. Please let me stand here." He looked in the back of the car, and Ms. Parks gave him the biggest smile. He said, "That is Rosa Parks!!" So we stayed there, and they took more than 15 minutes to come out! The officer came back to the car just to watch over her!
Destiny – Pride: Was it a black police officer?
Ms. McCall-Haygan: No! It was a white guy. That was at the National Airport.
Destiny – Pride: We skipped over Brother Bey, but he was a legend in this town. He was also on 89.3 Radio [WPFW] for the longest time.
Ms. McCall-Haygan: Right. Brother Bey was one of my closest male friends and we worked together in the community. We did coat drives every year. They call me and I still get the coats together for them. We did a lot of community things together. We fed people. He came out and fed the children. When we had the seminars and things for the children, he would come out and fix the meals, and you know how kids are: "Oh, vegetarian?" But after they at his food!
But let me tell you what Brother Bey did to me. He coined me. He called me "the social worker from 'the hood.'" That was the title that he gave me because I've been in the field all of my service years.
Destiny – Pride: Before I ask my next planned questions, I want you to explain how you made this quantum leap from not finishing high school to be becoming one of the city's most renown social workers. Where did you pick that up?
Ms. McCall-Haygan: As I said, I worked in New York and went through some changes there. I went back to school in New York. I went to night school at Wadleigh High School, in New York City and I completed my education.
Destiny – Pride: Social workers are supposed to have certain credentials. Where did you get all of that?
Ms. McCall-Haygan: Well, as mentioned earlier, I was with "Pride, Incorporated" which you and Marion cofounded. It was because of you all's insights into the potential that a lot of us back then possessed, if given a chance, that doors began to open for us to take advantage of opportunities that had not been presented to us before. Words can't really express what's in my heart about what you, Marion and the others at Pride did for us.
When I came back home from New York, I worked for UPO's agency, "PIC" – the People's Involvement Corporation – and I was a neighborhood worker, knocking on doors, going into all of the wards of DC. Pride had an educational program, but they expanded it by challenging American University, stating, "We've got some dudes here – because you remember it was an all male school and later on they let the women in – and we guarantee that if you give them a chance to come there, they will do it. Pride, Incorporated sent six dudes to open the door for us, and they went up there and they kicked butt. So they created this program – and I get very emotional when I talk about it. It was called "Youth Pride American University Program." They started that program, and after those six guys went there and did what they were supposed to do – all of the things that you taught them, too – they opened the door for about 100 of us.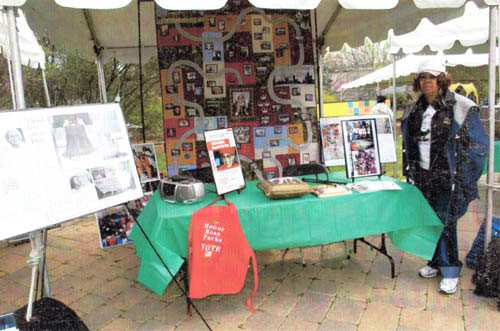 Destiny – Pride: I want our visitors to know that tears really are coming from your eyes, because you are really emotional about this.
Ms. McCall-Haygan: I am! Because they came to Pride and PIC – they formed a partnership, and they said, "We know you've got all of these community organizers." The program was to organize you. To teach you skills so that you could bring them back into the community and so that you really could do much better than you had been doing because you would have college skills and those kinds of things, and you would get a Community Development Certificate.
And that's what happened to me. I went up there and I worked hard. I had a couple of jobs and went to school part-time, fulltime, all of that and raising children. After I completed the Community Development program, they said, "Hey, they all did very well, so they can go on to undergrad school."
Destiny – Pride: Stop!
Ms. McCall-Haygan: I wanted to be a nurse. Out of the Community Development Program, I think I had almost an A, but at least a B+ average. So they accepted me into the School of Nursing, and I did the required courses. I have a Bachelors of Science Degree in Administration of Criminal Justice. You know how you change your major. I took all of the assigned courses almost; that's why I got that Bachelor of Science Degree.
Then I went to Criminal Justice – I thought I wanted to be a lawyer. I graduated in 1975 from American University with an Associate Degree and an Undergrad Degree for Criminal Justice – and the Certificate of Community Development. When I graduated, a friend of mine, who had just finished Catholic University and who wanted to be a social worker, kind of talked me into becoming a social worker. Pride, after they did so good with American University, also formed a relationship with Catholic University because some of the Administrators were going to Catholic University. I got accepted at Catholic University, with a full scholarship and a stipend – everything was paid for. So that's how I got my Masters Degree in Social Work.
Destiny – Pride: That's a journey! And an impressive journey! You are the founder of From Streets To Skills Social Services, Inc., a nonprofit organization. Tell us about it and what inspired you to start it.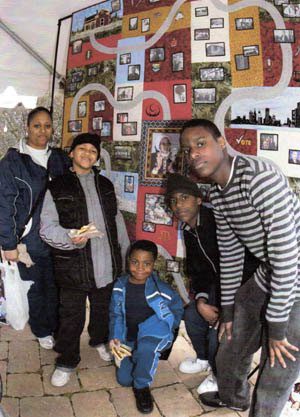 Ms. McCall-Haygan: Okay. I worked for the Department of Human Services and the Audrey Rowe Commission on Social Services. Ms. Rowe formed a task force and sent us out to work in the shelters. I worked in the Capitol City Inn and the Pitts and some of the small shelters.
Destiny – Pride: I know what the Capitol City Inn is and I know what the Pitts is. But for our visitors, talk very briefly about what they are. Also, at that time there was such a thing as "Initiative 17," which was eventually rescinded. Initiative 17 was a right to shelter, and individuals throughout the country were sending their homeless here to DC because if they came here during that time, we "had" to find housing. It was not optional; we had to find housing, and I think that was the genesis of the Pitts and the Capitol City Inn. So briefly tell our visitors about the Pitts and Capitol City Inn.
Ms. McCall-Haygan: Okay. I worked in the men's shelter first. Piers shelter was for men who were homeless. They would come in the evening and they had to leave early in the morning, and be out all day. We had services there. We had social workers there, and we would give them appointments to come back so we could try to find them housing and do whatever needed to be done. That's what I did fulltime. I worked with them. I found housing for them and was able to get them their entitlements – their social security and things. Things they had out there, but didn't know about. They didn't know whether they could get them or not. We had a team of mental health workers, too. So we had a team of folk who worked together so that we could help the men.
Then they moved me to the Capitol City Inn where we had 600 families, and we had almost a thousand children living in the rooms there. That came about because when they were evicted, then the Youth Protective Services had to do something. So, of course, to protect those children they had to put them up in hotels. That's why, with the families it got so big. So many things really happened there on my watch.
Destiny – Pride: So then how did you then decide in your later years to embark on the continuum of this youth program?
Ms. McCall-Haygan: Well, I worked with the youth there and I tried to find them resources. Do you remember when UDC had the radio station and Ernest White was there? Well Ernest had me on his show because he had been out to the Capitol City Inn and he was working with the Concerned Black Men. I challenged them to come out there and see all of these boys – all the kids, period, but especially the boys – and see what they could do to help me. So they did. They came out and formed a program called "Project North Star," where they would take them to tutor them. People then started coming to them after they saw all of the stuff that was going on there.
I left in 1994, one of the reasons being because I got frustrated because of the lack of follow up. You have to follow up on these clients. You just can't say "I'm going to put them in a house," and that's it. You can't do that! First of all, they have problems in the first place, so what makes you think that because you housed them and you can say "Well we got them out of the shelter . . ." that they're going to not do the same thing that they had been doing? I wanted to be able to look in and see that the children were doing okay, and to contact the schools and the teachers, and that kind of thing. Those were some of the things that I wanted to do, but of course my hands were tied because that was the Department of Human Services and they made their own rules and regs.
As for deciding to leave, let me tell you what happened. They sent me over to Valley Green. Do you remember Valley Green?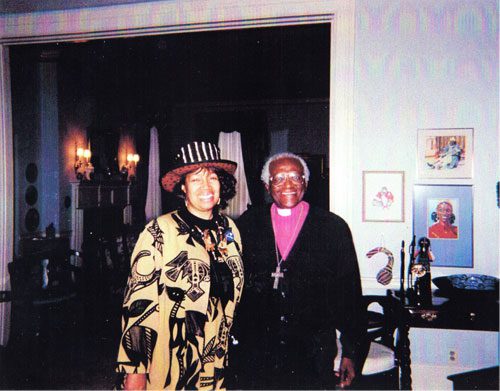 Destiny – Pride: Yes.
Ms. McCall-Haygan: Well they sent me over to Valley Green Projects, over in Southeast, where a senior citizen was being evicted. I had been sent over there to make sure that the Adult Protective Services was coming to house her. We got that straight, and as I was leaving out, there were some boys in a car who were running from the police. They were drug dealers and they hit that government car with me in it. It messed up my back and so I was out on workman's comp for a good little while. When I decided to go back, I decided I just couldn't deal with it.
Destiny – Pride: What timeline was this?
Ms. McCall-Haygan: It happened around 1992; something like that.
Destiny – Pride: Sharon Pratt was mayor then.
Ms. McCall-Haygan: Yes. She sure was.
Destiny – Pride: So when did you start your program, "From Streets to Skills Social Services, Inc."?
Ms. McCall-Haygan: I was doing volunteer work, trying to find resources and things. People would send people to me, telling them that maybe I could help them, and I would refer them, but I couldn't generate any money or funds for them because I couldn't – I didn't have a nonprofit. So, in 1992, that's when I started putting it together, but I became a 501(c)(3) in '93 or '94.
Destiny – Pride: What programs and services do you provide at From Streets to Skills?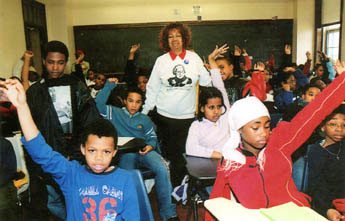 Ms. McCall-Haygan: Well, you know, when the client comes through, there is so much red tape that they have to go through. I remember when I used to do the intake for the children and families to get them into shelters. Early in the mornings there would be long lines and it was cold for the children. I just said that there must be a way that you can do it faster; get these kids in some warmth and whatever else. That was the main thing that was on my mind. I wanted to do it a different way – a speedier way. And that was one of the reasons I started the organization.
From Streets to Skills Social Services Inc.'s mission, since 1992, has been to prevent homelessness, to assist homeless families in crisis, and to provide free sustainable services to the working poor, children and teens at risk, the mentally ill, and seniors raising grandchildren. The program has prevented over 700 families from becoming homeless, impacting over twelve hundred children.
We have helped to decrease some family violence. Our youth programs have played a vital role in decreasing youth violence. Social Service on Wheels, provides counseling services, field visits, home and school visits, family and group therapy, family planning, parenting, self-sufficiency mentoring, drug/alcohol substance abuse, and HIV/AIDS counseling. We also provide preventive, supportive and emergency services, emergency financial assistance to prevent evictions, job training referrals, clothes and food for families; college registration fees to help youth apply for college; and farecards for local transportation for the working poor.
As an example, From Streets to Skills paid the down payment for a grandmother raising her 4 grandchildren. I was on a committee for Habitat For Humanity, and we were asked to choose a family for a house. I had to mentor her through the process and helped to build her house, along with her. She had a year's worth of hours to do, in order to build her house. I had to recruit volunteers. There is a picture of me standing at the finished house.
So we take referrals from workers. I've helped people at the Strengthening Families Collaboratives. For example for one lady who was moving, we were able to help her get furniture and for the children we helped get school clothes. This was for the DC Homeless Coalition, not the national one. At DC Village, one of the city's homeless shelters, I was working with the social worker and the counselor. If they needed me they would call me to come in and work with the kids.
Our youth after-school entrepreneurial training is call "Art on Wheels," and we train the kids how to operate computerized embroidery sewing machines and use digitized software. Custom designs are created for clothing, gifts and specialty items. Some of them can draw and I show them how they can embellish their clothes. They learn about production, marketing & small business operations. We also help to develop their people and presentation skills, job search skill, life skills, and we emphasize the importance of "giving back" thru community service, leadership and team work.
School counselors would call me for different things. I was trying to provide resources and emergency assistance, paying their light bills or pay some of their rent to keep them from being evicted with their children having nowhere to go. So my organization is mostly about trying to provide services. Fannie Mae was one of the biggest funders, so the funding has dried up, but I still try to have fundraisers and different things like that. Some of the things that we make, we will try to sell them.
Destiny – Pride: Yes. I lot of nonprofits suffered after the takeover of Fannie Mae. They used to do the Race for the Homeless where they raised millions of dollars.
Ms. McCall-Haygan: Right. We weren't able to do it for two years. We received some monies – but all the money is gone now – and we were able to give families a little stipend.
I'm still working with families in Southeast. On Alabama Avenue, I have some families around that area that I work with around Christmas. In fact, your program was able to help us for Christmas with those families. I have a lady who has five children. She is married, but her husband doesn't make much and she tries to work when she can.
As for the children, we take them on field trips, we give them historical education, I do a lot of Rosa Parks stuff and recruit kids for that. Part of the program is teaching them history. We mentor them; help them with homework – as you know at Hannah's I do help them with their homework. There are just so many things that I want to do.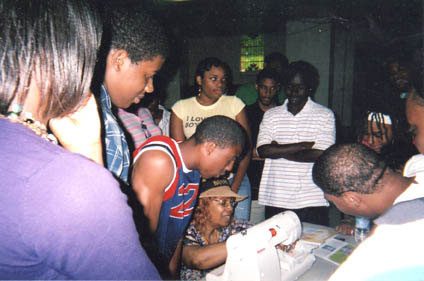 As you know I'm licensed clinical independent, so I can set up a counseling service. But I do pro bono. As a social worker, that's what I do a lot of. And I work in the field; I still go out into the community. I go visit; I go knock on doors. They can call me 24 hours if they need me. That's the difference, and that's why I did it.
Destiny – Pride: Where are you located and how might you be contacted by anyone about getting into any of your programs or by anyone who might be interested in making a contribution or volunteering?
Ms. McCall-Haygan: I'm located on 16th Street – 2024 16th Street, NW, Washington, DC 20009, at my church – Trinity Religious Temple Church – where I have the whole top floor to work out of. The telephone number is 202-483-0322. What I also do is I go out and do pro bono work for other agencies. Right now, I'm doing a lot of pro bono work for Hannah Hawkins at the Children of Mine Center. I also work with the youth from the Harry Thomas Recreation Center, and I'm working with a lady named Cleopatra Jones, and I don't know if you know Cleopatra Jones, but she coordinates a program called Neighbors of Seaton Place.
Destiny – Pride: So you do pro bono work for Harry Thomas on Lincoln Road?
Ms. McCall-Haygan: Yes, on Lincoln Road. The group that I work with is called "Young Men of Distinction," and Ms. Jones is heading that with another young man.
Destiny – Pride: And that 's the homeless shelter.
Ms. McCall-Haygan: No, it's not a homeless shelter. The Recreation Center is for the kids. The homeless shelter is right next to it. I haven't worked with them, but for CCNV, I do a lot of clothing for them. They have a thrift shop to raise money, so I do a clothes selection for them.
Destiny – Pride: How might anyone contribute or volunteer, since you are a 501(c)(3) organization?
Ms. McCall-Haygan: You can get in touch with me and I can give you a receipt for your donation or your funds, or whatever else.
Destiny – Pride: What would you list as your major accomplishment in life so far?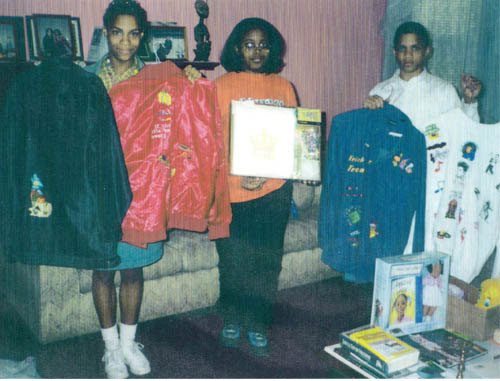 Ms. McCall-Haygan: Trying to be a good mother to all of my children, although they're all grown – trying to be an inspiration to my children and my grandchildren and my great grandchildren. I've tried to teach them by example; I've tried to show them to help people and not to be so important that you don't see other people's needs. To work with your kids and do anything that you can to help each other to love. This is what I walk with, the love of God; the love of His people. He said if you love me and you don't see me and you see your people everyday and you hate them, no, no. That can't be! So stop hollering that you love God . . . Hey, love your fellow man. I feel this way, I want to serve and I don't want to be served. That's what I'm all about.
Destiny – Pride: And what would you list as your major disappointment?
Ms. McCall-Haygan: Well, I think my earlier life. Even though there was disappointment, I learned and I can be an example or a witness for others and say, "Hey, I've walked the same road that you've walked. Myself, I was once homeless for a short time and that devastated me. This is why I'm saying that when you follow up on people, you say, "Well I got them a home," but it's more than that. You've got to look at the mental state. I've never had any counseling or anything like that. Trusting God, I just went on through it. But later on, I said, "Hey, I could have used some of that help," and I probably wouldn't have made some of the mistakes that I made. It was a learning experience. I wished that it had been another way, but I had to learn. I talk to women going through domestic violence because I experienced it, and I try to teach them how to cope and what to do and how to get out of it. Sometimes they listen, and sometimes they don't. But I went through that experience, and I can teach.
Destiny – Pride: What do you do to relax?
Ms. McCall-Haygan: I sew. I like to sew. I'm an embroiderer. With some top-notch teachers, I'm making quilts. I did a beautiful African mask quilt. Also, we have a Rosa Parks quilt that I showcase. It's unbelievable! You have to see the quilt. What I'm doing now is I am working with the kids. We're recycling jeans and embellishing them with the bling and just doing all kinds of things to design them like a designer. You can go into one of those designer shops and you can say, "My God, we can do that!" I'm working over at Ms. Hannah's now with boys and girls that can draw. These kids are fantastic! And I have another young artist that I'm working with. She has never had a lesson and she's beginning to do portraits. She's looking at you and painting you and that kind of thing. This is my way of relaxing, but when I'm really relaxing, I'm sewing; I'm trying to do embellishing and embroidering. People want me to do things for them. And I read a lot. I love to read.
Destiny – Pride: Have you any last thoughts or insights that you would like to share with our visitors?
To see the video of Ms. McCall-Haygan's response
To read her response, continue below.
Ms. McCall-Haygan: Yes. First of all, I'd like to thank Destiny – Pride for all their accomplishments. For allowing me to be able to tell the story about what I'm trying to do in the community today. A special thanks goes to Mr. Rufus "Catfish" Mayfield because he was one of the inspirations and the mentors formerly of Pride, Incorporated – one of the founders of Pride, Incorporated who helped us so much to reach the goals – the Education Department and everything at Pride, and I was able to get a second chance. I was able to get an education that I thought I would never be able to get. And his program, Destiny – Pride, means so much to me because there's not a time that I have called them when I need help for a client or something that they – they always come to my aide. So it's an honor and a pleasure for me to be – for them to spotlight me as the person of the month. Than, you so, so very much.
Destiny – Pride: We thank you, Ms. McCall-Haygen for being our Spotlight for July 2012. We've learned, in your sharing, that you have suffered and endured much in your lifetime. But we also see how you did not let those experiences defeat you, but rather determined that they would be catalysts for rising above your circumstances and turning those circumstances into stepping stones for the betterment of not only yourself, but also for the numerous individuals whom you have helped along the way. We applaud you for your courage, endurance and your commitment, and we wish you and From Streets to Skills Social Services, Inc. much continued success. Again, we thank you.
Did you enjoy our conversation with Ms. Ella McCall-Haygan? Let us know how much by leaving a comment in the box provided below.