Rev. Dr. Carolyn N. Graham

Our spotlight for the month of June 2012 is Dr. Carolyn N. Graham, with whom I have had the pleasure of working when she served here as the Deputy Mayor of Children, Youth, Families and Elders under Mayor Anthony Williams. With her prior years of experience as a human services professional here in Washington, DC and elsewhere, Dr. Graham currently is the Deputy Chief Administrative Officer for Human Services in Richmond, Virginia, which includes oversight of the city's Department of Social Services, Department of Justice Services and Department of Parks, Recreation and Community Facilities. In addition, she is on the verge of implementing, here in Washington, DC, a vision of hers that has been years in the making. We will talk with her about her life's journey, as well as her dreams and aspirations, which include this new and exciting venture.
Destiny – Pride: Good afternoon Dr. Graham.
Dr. Graham: Good afternoon.
Destiny – Pride: We are grateful that you have accepted our invitation to let us introduce you, and let our visitors know what has been going on in your life. We have worked together on a number of projects previously and are excited with you about this new venture of yours. But first, we want to find out about the Carolyn Graham of yester-year, so please do us the honor of telling us where and to whom you were born and any other interesting facts about your earlier life.
Dr. Graham: I was born to Doris and Chester Perine in rural Southern Mississippi. My father left my mother when I was about three months old. He was forced to leave Mississippi because, as I understand, his temperament was not to the liking of the local power structure there – i.e., the police force. He had to leave town, or be subject, quite frankly, to lynching or just out-and-out murder. We left when I was about three months old. My mother and I lived with my grandmother; and so I was co-raised by my mother and my grandmother. My grandmother was "mama" – "Big Mama," if you will. We lived in the country. We were about three miles from the nearest town, and about twenty miles from the nearest city.
Our life was a subsistent life. We raised everything that we ate, just about. I really didn't know what a grocery store was until I was probably around ten or eleven, because we raised our chickens; we raised a hog a year; we milked our cows; we grew our vegetables – we had two gardens. I learned to garden, and loved to garden with my grandmother, and we grew everything from flowers, to potatoes, to corn – everything. So I developed a great affinity for the out-of-doors and for what felt to me always like a movement of something holy in the surroundings. When I was probably about eight years old, I used to pick up a bucket and go into the woods picking berries, being there alone, and would have ongoing conversations – I guess with my angels, or the Holy Spirit. But it was a very mystical experience that I really didn't come to understand until I got older, and I'm still developing an appreciation for that experience that I had as a child.
My mother remarried when I was about ten or eleven, and had the other siblings that make up my family. I have a sister [Ora] and two brothers [Larry and Terry]. So our lives began to shift away from the country. My mother's husband was a soldier. But while in the country I had a strong church connection because my grandmother was very active in our little country church called Shady Grove Baptist Church. There were probably no more than about 10 to 15 members there, but we had church every third Sunday and Sunday School every Sunday. My grandmother was the pillar of the church. She used to be one of the bakers of the communion bread. The communion act in these country churches was a very sacred act, so the handling of that bread was very ritualistic. Only a few selected folk could do that. So I was raised in a family where a very strong connection to the holy was understood.
Destiny – Pride: So early on, you were the only child?
Dr. Graham: Early on, I was the only child of my mother and father's connection. My grandmother was raising two of the children of my deceased aunt. I also had two cousins, but I was pretty much a loner. I spent a lot of time with my grandmother. We milked cows together in the morning; she taught me how to quilt in the winter – she taught me how to put scraps together to make quilt toppings. That's how I learned to sew. I learned to cook by watching her cook and being in the kitchen under her feet. We canned in the summer. So I spent a lot of time with her.
When my mother got married again – she married a soldier – we moved to Jessup, Maryland because he was stationed at Fort Meade. Then he was shipped to Germany, and we moved back to Mississippi. When he came back, we moved back to Maryland, this time to Baltimore, and their marriage had begun to go sour. As a black enlisted man – actually he was a Sergeant – something had gone awry in Germany. I never knew that story in its entirety, but he was dishonorably discharged from the military. One of the things that I learned out of that experience is when you are "dishonorably" discharged from the military, you are cutoff from all benefits, and I mean everything. You're not even acceptable in terms of a hire, especially as a black person. It was almost like you had been to prison. The only jobs that he could get were jobs like a mechanic, and his weekly bring home pay was like $50. There were four children and a wife to support. Again, by the grace of God, we lived over a confectionery store, or what they called a "bodega," in Baltimore. We had a one-bedroom apartment with a kitchen and a dining room. The kids' bed was in the dining room. I slept on the sofa in the living room. My mother and father had the bedroom.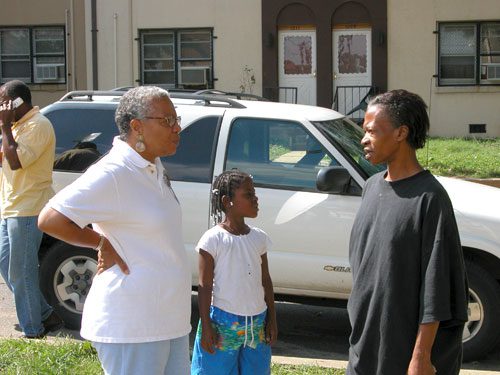 I remember one night where there was no food. There was no food for about three days because that $50 check had been used to pay the rent. So my mother went downstairs and the store was being purchased by a black man who still held a fulltime job. He didn't know how he was going to run that store. The day that he purchased the store and closed the deal, my mother went in and asked for a job, and he hired her. So she worked there, and that night she brought home . . .
Destiny – Pride: Some real food!
Dr. Graham: Pork n beans and hot dogs! Real food, right. Pork n beans and hot dogs – and white bread. So we ate for the first time in three days. We were so hungry!
Destiny – Pride: Did you ever reconnect at any time with your biological father?
Dr. Graham: Yeah, I heard from my biological father. I mean, the way God has moved in my life has been in such an amazing way! The day that my mother announced that she was remarrying, I got a letter from my biological father. Really quite ironic! Then I met him again, for the first time, when I was twenty-one. We visited once after that. When he died, I helped to do his funeral; I did his obituary and all of that. There were never any bad feelings or anything about that because I know that people do what they can do, or are capable of doing. I just firmly believe instances like that, that he was simply the vehicle that God chose to bring me into this world and perhaps that was all that he could do in my life, and that was okay.
Destiny – Pride: As to your higher education, what was the path from K-12, to Bachelors, Masters, Doctorate . . .
Dr. Graham: Yes, again, a very interesting journey! I was educationally deprived in Mississippi because I went to segregated schools. My elementary school was a little three-room schoolhouse in the country. We caught a school bus to that school. Junior high was a four-room schoolhouse. I was always a precocious kid; I was always bright – just sort of innately bright. I always got really good grades. I didn't know how dumb I was, and how deprived I was until we moved to Baltimore. Of course they put me in the accelerated classes because I had nothing but A's on my report card.
I remember the first day in my geography class. They were talking about craters. I had no idea what a crater was – craters on the moon. Craters on the moon? Who ever heard of any kind of conversation about on the moon? We even had secondhand books at the school that I came out of. Some books had missing pages; had been marked up, because we had the leftover books from the white schools. Blacks were really treated badly down south, and it has not changed a whole lot. But I had a thirst for learning – for knowing – and I never failed a grade, even though I had to study really hard just to catch up. Just to perfect reading skills; perfect speaking skills, because I was real "country."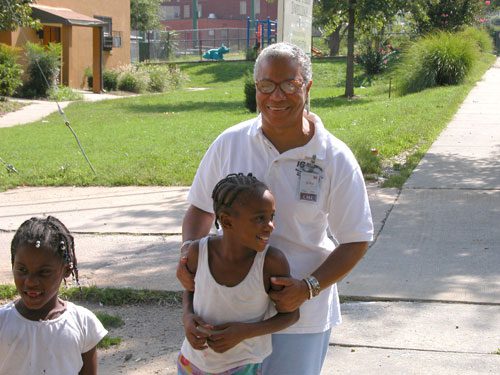 Destiny – Pride: I can't believe that!
Dr. Graham: I really was! I really was! And writing skills – I had to teach myself how to write. So God blessed. I finished high school; entered the University of Baltimore, there in Baltimore [MD]. I got to my senior year and was accepted in graduate school, so I didn't get a Bachelors degree from the University of Baltimore; I went right on into graduate school in Antioch in Education. So I got a Masters in Education Administration and from there I was accepted in the PhD program in Political Science at Atlanta University.
The next week after I was accepted into that program – it was a full ride, a full fellowship – I learned I was expecting, even though I was never supposed to have children. I learned, though, that I was expecting my son. When I told my gynecologist that I was pregnant, he said, "No. There's no way! You can't possibly be pregnant!" I said, "Yeah, I believe I am, though; I just believe I am expecting." So we did the test and – voilà– I was expecting! I was 28 at the time.
So he confirmed that I indeed was pregnant, and everybody asked, "so what are you going to do? Are you going to Atlanta on the scholarship?" and I said, "Of course I am; of course I am." I was walking heavily in the "Superwoman" thing. I was a liberated woman. I was a part of the whole women's movement, and still I'm very much a womanist; I'm committed to the principles of that.
So I went; knew no one in Atlanta. Didn't know that Atlanta didn't have a real public transportation system, and didn't know what that was about, because I'd always lived in a city. I left Baltimore and moved to Washington. I'd always lived in a city where I had access to public transportation. So there I was, real pregnant – I was about seven months pregnant – and I went down there. I just knew I was walking into an environment where relevant black folk were going to be really supportive and so forth, because we were all about "black power." We were all about nation building and so forth. It was one of the most isolated experiences I have ever, ever had in my life. It really was. I had a good network here in DC – lots of friends; lots of support. My family was there in Baltimore, so I didn't know what it was . . . it was really my first time being away from home, away from family, away from a network of support. It was very lonely, and it was very hard.
My son [Kofi] was born during my Christmas break from school. I was alone with his birth. Then began the process of trying to . . . raising him – not "trying to" but raising him as a single mother. I went back to school, but decided at the end of the academic year that I just really couldn't continue. I needed to earn a living to take care of us. So I did. I went to work, and we stayed in Atlanta until he was eleven years old. Then I got another school opportunity, and that resulted in me getting my Masters is Public Administration; so I was introduced to Public Administration at that time, and went into the public sector.
I intuitively knew that human services would be my calling because of my own journey from poverty to self-acceptance, to self-actualization, to a world overcoming. It was here in Washington that I did my mentorship, so Washington has had a certain affinity for me in my journey. So I came here, I left, and I came back. It was in the coming back this time that I really had begun to flower and understand myself as a woman with agency and purpose. It was about 1990 that I recognized that there was a special calling on my life that some would call – I would call – a "spiritual anointing" that took me to a whole other level of development. So I entered seminary school and I told my pastor . . .
Destiny – Pride: Let me stop you there, because I'm getting ready to go into that. You did touch on it, but were you ever married?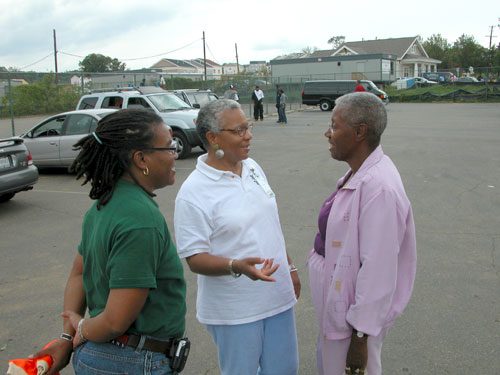 Dr. Graham: No.
Destiny – Pride: And only one child?
Dr. Graham: Yes, only one child.
Destiny – Pride: As an ordained Baptist minister, I know that faith plays an integral role in your life. Please tell us about your ministry and how your faith has evolved as a result of your ministry. You know everybody feels that deep sense of commitment when you're there and you find it very difficult to separate that human capital piece from your ministerial piece, so how did all of that evolve?
Dr. Graham: They're one and the same for me. What I've come to understand – and I think my journey speaks to that – is that I've been created to do what I do, and the work that I do is my creation calling. I come here to this plain, to this world, to this life, to do what I do, and that is to seek to restore humanity. I take that very seriously. In 1990, I was just lead to announce to my pastor that I knew I had a calling on my life and I was being called into ministry, and it was the ministry proclamation that required ordination.
Destiny – Pride: What was the pastor's name – and the church?
Dr. Graham: L. Charles Bennett at Gethsemane Baptist Church here in Washington. Well, he thought, "Oh, my God! Why would you want to do that?" I was working also in DC Government as the head of Health Planning at that time and had a very successful career there. I had actually ended up in that position by a stroke of the divine as well. The Director walked out in the middle of developing a long overdue health plan, which governed the health industry here in the city. He turned to me and he said, "Can you do this, Carolyn?" and I said, "Of course I can!" Without hesitation I said, "Of course I can deliver this. And I can deliver it on November the 26th." I think it was just before or just after Thanksgiving. And sure enough, we delivered it on that day, but I led the health planning effort here, issued certificate of needs for the expansion of health care services in the hospitals as well as the conversion of Capitol Hill Hospital into a long-term care facility. I look around and I see my hand prints on these things. So my pastor said to me, "You have a very success public career. Why do you want to go into ministry? Why . . .?
Destiny – Pride: Was that a shock to that he said that to you and tried to discourage you? What did he know that he wasn't telling you?
Dr. Graham: He said you have to talk God talk all the time" and really interesting stuff. So I said, "Okay, my calling evidently ain't your calling." He says, "Okay, okay, okay, you're going to do it; I see you're going to do it. This is how we're going to do it. You've got to start to school." I said, "No problem," and I went out and enrolled at Wesley Theological Seminary. It was the most exciting field of study I've ever done. The time went by quickly and I was just thirsty for the learning and the knowledge. It was a wonderful, wonderful time. Almost as soon as I enrolled, I was caused to make my announcement to the church of my calling. And I did. Then I as assigned to a catechizer [a teacher of the principles of Christian dogma, discipline, and ethics by means of questions and answers] who worked with me, and then my trial sermon date was decided upon. It was all very mystical.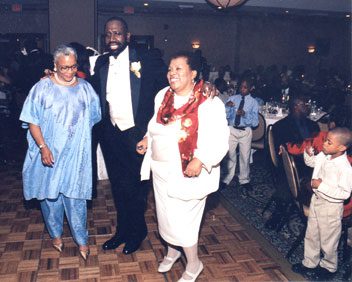 I had never written a sermon in my life and a sermon just came to me. One of the pieces that helped to inform that was the night before I was to preach the trial sermon. My mother suggested that I call a great-uncle of mine in Mississippi to tell him that I had been called into the ministry, and the next day I was going to do my trial sermon, and I really wanted his blessings. So when said to him, "Uncle Boyd, I've been called into the ministry and I'm going to do my trial sermon tomorrow," he said, "That's too bad!" I said, "Did you hear me? I said, I've called into the ministry and I'm going to do my trial sermon tomorrow," and he said, "I said that's too bad. Did you hear me? Because no woman can be called into the ministry." So, I took a deep breath and I said, "Okay. Thank you very much."
I hung the phone up, and just cried all over the place. I called my mother and said, "Why did you have me call him? I can't believe you had me call him, and he said this to me and ya da ya da ya. I just cried and cried and cried. She said, "Oh baby, I'm so sorry; I didn't know he felt like that." I didn't either. This is just how naïve I was about walking into this space, and why when I look back on it, I know it wasn't my doing. Because if I had known all of the obstacles I was going to face, no way would I have done that. It was just my being moved by the Holy Spirit as I did this.
So I cried, and then I wiped the tears from my eyes. It so informed my sermon; it just so informed my sermon! There's a text in the Gospel of Matthew that speaks to being willing to call out and speak on behalf of God from the rooftops, so that whomever will hear will hear. It comes from Jeremiah – "the fire burning in my belly." Those two texts are combined and preached my trial sermon. It was just a wonderful, wonderful experience. To tell you how naïve we were at the church, my pastor had not selected anyone to preach a sermon because there is sermon that is also preached by someone who sends you. That had not been arranged. They had not arranged for my bible or my song book; typically you would get that. It was all a very interesting "nontraditional" way – sort of almost haphazard – but I look back on it and at first it was kind of painful. I felt I had been slighted because when I look at other folks' ordinations, they were so polished and so huge. Mine was so tacky and so almost "ghetto." So I said, "All right, Lord. I know that you're in it and there's a message in this." But then when I look back on it, I fully understand that God didn't want me to be caught up in all of the foolishness around this stuff; around the rituals, in some ways, that come out of a context of the traditional church.
Once I'm in it, now – I'm ordained and I'm getting educated. So I go to Wesley Theological Seminary; I do two years there; I'm called to come to work in Broward County, Florida. I go, I study while I'm down there, and then I'm recruited to New York, and I get my Masters in Divinity in New York from New York Theological Seminary. Again, it's an urban focused piece of work. I'm working fulltime and I'm going to school.
I finish that and I get a call from Washington, DC that says, "Aren't you ready to come back home?" So I come back home and I'm working now for the Control Board – the last vestiges of it. Mayor Williams is getting ready to run for election. Now I'm not at all involved in his run for office or the election because I'm just getting back here. I don't even know who he is. I had been so far removed from politics. That's just never been a part of my life.
So he's elected, and everybody who was working for the Control Board leaves, but me. I'm asked to stay. Not only am I asked to stay, but I'm asked to become the first Deputy Mayor for Children, Youth, Families and Elders. I assumed that responsibility and was really, really guided. I've became affiliated with another local church here and I'm doing ministry in that church. In the meantime, I really wanted to pastor; I just really, really, really wanted to pastor. So I begin to compete for some of the churches, and I was never accepted, never accepted for some of the traditional churches. They were always looking for children to serve as their pastors – which was kind of interesting. So I was never selected.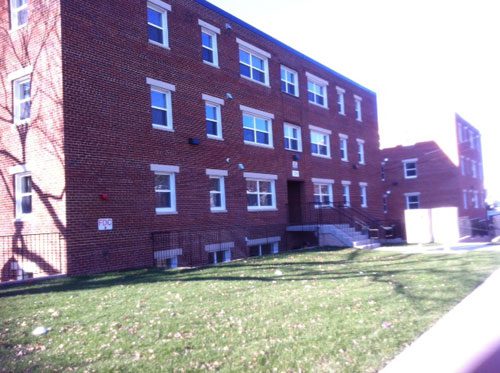 I was sitting in church one holiday. I had developed a women's ministry at this church, and I told the women that I wasn't into all of this Sunday women's ministry stuff; that you call a women's ministry a Sunday celebration where everybody got dressed up in white. Then you had a baked dinner downstairs and had somebody come and perform in the pulpit. That didn't' resonate for me. I needed for us to really be involved in ministry. Go and carry the title, but you've got to do the work. I told them that I was led to believe that we needed to support teen mothers in foster care. The numbers were growing, according to the national data, and– there are no "coincidences"; I don't believe in the Universe – just interestingly enough, right across the street in the Brentwood Apartments, there was a whole program that had nothing but teen mothers and their babies. I went over and introduced us and told them that we would love to be able to be supportive of the girls in the program. They bought it, so we started to mentor these young women, and as I began to track what was going on in the lives of these young women, I thought "They're aging out and they're going into the homeless system, they're going to go to prison, they're going to be on welfare for the rest of their lives." So I'm sitting there and I'm meditating on all of this one Sunday in church and it just seems like a light came down from heaven and said: "The Elizabeth Ministry," and the story of Mary's connection, as a teen mother, who carried the seed of Jesus in her womb, and her relationship with Elizabeth, who was the strong woman in her life. At that point, I started to develop the The Elizabeth Ministry with the understanding that we would develop a body of work that would support and nurture the development of young mothers. So when I look back on my life as a single mother, I know that that was a life not lived by mistake, but it was a life that really scripted the work that would have to be done in this Ministry.
Destiny – Pride: Who would you say have made the greatest impact on you and the life choices you have made up to now?
Dr. Graham: Certainly my mother and grandmother. In terms of national figures, when I began to do my dissertation for my doctorate in ministry – this work is what my doctorate is all about – Nannie Helen Burroughs and Mary Church Terrell were the women of national import on really whose shoulders I walked upon as well as those of my mother's and grandmother's. They both were very powerful and committed women; women committed to the development of our children and our women. Nannie Helen Burroughs developed the school for young mothers, and her place – again, no coincidences in the universe – God's Hill, right up the street from here, is where she developed that school. I've always wanted – and I believe the Lord is going to make that happen – I've always wanted to do something on that hill.
Mary Church Terrell founded kindergarten. Daycare centers came out of her work and her commitment to black children whom she saw in the ghettoes and alleyways as these black women came up from the south to live in cities. While these women worked, their children had no place to go, no place to stay. So they played in the alleys and the gutters, and she saw them playing in slime. This was before indoor plumbing and all of this; this was the turn of the century. And so little black children running barefoot in slime and in the gutters, and having to go without eating and all of that, while their mothers worked from sun up to sun down. So she, as head of the National Association of Negro Women's Clubs – there were 300 in this country – she charged all of them in developing what she called "kindergarten" programs because our children were flowers and they were planted to blossom.
Destiny – Pride: You did hit upon this earlier, but I wanted to find out if there was anything else you'd like to tell us about your interest in the human services field. Is there an incident or experience that led you to this path? You spoke about your earlier experiences as being a single parent. Is there anything else you'd like to add, or do you think you've captured it?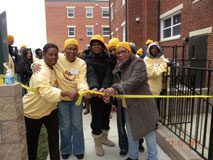 Dr. Graham: I think that recognizing that the way we have organized government to do human services is not an empowering strategy; that it is really a strategy that's based on the need for dependence. I'm not a social worker, and I find no problems with social workers, but I do believe that some of our thinking is "enabling" thinking. You have to blend these disciplines, and I know enough to be ready to take a risk, but I think you have to economic development – or economic empowerment – with the social services, with the social support.
Hence, this project here, which understands that you've got to stabilize people's lives; you've got to get them housing; you've got to give them a steady basis of support, but you also have to work to empower them and enable them. So this program here recognizes that. We believe in financial literacy. It's going to be a major component about this. We want our girls to develop a healthy relationship with money, and all of the resources that God gives them. All of them are energy; all of the resources that God gives us is energy. Money is just another form of energy, but for some reason or another, black folk don't develop a healthy relationship with that energy. It comes in, it dissipates. We don't understand it in the context of the universal law of exchange and how, if you put it out, it comes back to you. If you put it out right, it comes back to you blessed and multiplied. You do a tenth – you tithe into where you're getting your religious and spiritual support. You pay your bills. You give a tenth to yourself. Developing that kind of systematic relationship I believe is something that we have to do in teaching our young people.
This program is designed to have a strong financial literacy component. I believe that they have to be educated. They have to understand the importance of moving into being a part of a population that now must reside in a global community. That they will be citizens of a global community, so how are you to be citizens of a global community if you can't read, write and do a little bit of math? They have to understand that they're moving into a world that's now divided into the "have's" and the "have not's," and have's certainly at this point and time have far more power than the have not's, and they aren't interested in continuing to enable the have not's; and their perception is that they've been enabling the have not's. Our task is going to be to try to teach these young girls how to be the have's. Not the have's from a standpoint of "I've got to get wealthy for myself" and all of that kind of stuff, but yes, you've got to construct a decent life for yourself and your baby, and you've got to be willing to take your own life in your own hands and make that what you want. Not something that just happens by happenstance, but be intentional about the design of your life.
Destiny – Pride: I think that you started answering this next question, but from where you started out in the human services field to where we are today, overall, have we gotten better or have we lost ground? Expound on your answer. I think that you started it when you spoke about enabling and empowering someone. One of the things you said about The Elizabeth Ministry was the fact it was not only about empowering, but it's also about accountability – what you are to do and what you cannot do – to empower yourself to be successful. Tell us about that part of the component that you shared with us earlier about what is acceptable in this program and what is not, and that the "what is not" does come with consequences.
Dr. Graham: Well, we see every young woman as an individual with phenomenal potential. All of them are phenomenal individuals. We expect them to see themselves in that same vein. We intend to support them so that they can begin to have a vision for themselves and what they can contribute to the created order and the support that they need to be able to be real actors in the world in which we live. If they cannot buy into their own success, then it is not a program that they need to be a part of. I want every young woman that wants to come into this program to be a glowing example of who God says she is – what she and her baby are. That glowing example, in many respects in my view, represents who Jesus was. That whole "Christ" consciousness that says, "I can heal"; "I can walk on water"; "I can turn water into wine." So it is an empowering concept of who I believe they can be, that we want to instill in these young women.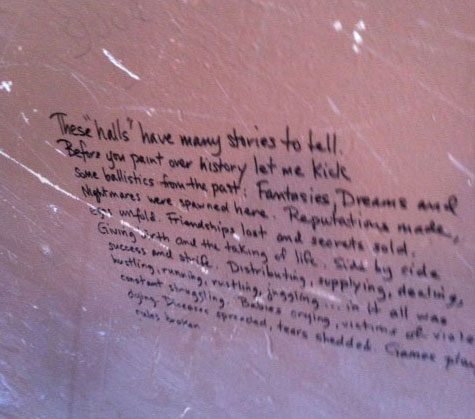 We believe that we've identified the fundamental aspects of what that is, from financial literacy to mentoring, to educational completion, to health – there's a whole health program that we've developed that they're going to have to be a part of; both physical health and psychological health and wellbeing – as well as employment and the child development and parent education piece. These are the fundamental pieces we believe that we've identified that we want to put in place that most middle-class children have access to that ensures success. We're going to surround them with a group of loving, nurturing women and men who will work in this ministry to ensure that they are reaching their goals and outcomes.
We will have an onsite state of the art child development center here where they and their children will be a part of. We want to make certain that these children, when they enter school, are ready to learn and that they are prepared to be successes. Not only will mother be a success, but baby will be a success.
We want to work with these young women in reuniting them with their families – their families of birth, because often these young women were removed from their families of birth and they need to know that they have another connection here. While we envision ourselves as a part of their family network, we believe that the family of birth, no matter what the issues are, has a place of legitimacy in their lives. No family is perfect and in the black community, the stresses of our families often give rise to them not being able to take care of their children. So, where possible, we want to begin to reunite and re-knit that family bond.
The other piece is that we want the young woman to have a healthy relationship with the baby's daddy, whether they are in an ongoing "lover" relationship or not. We want to work with them and let them know that they have helped to create something in this child that the two of them really can help to support and develop.
Destiny – Pride: In terms of whether we've gotten better or worse in human services, where are we today?
Dr. Graham: In terms of human services, I think that in each dimension of it – from child welfare to income maintenance to all of the programs that fall under that – but particularly those that really focus on human development or the human capital, I think that we've not thought about the model; we've not thought about the redesign of it. We accepted welfare reform as it was give to us, but there really hasn't been a whole bunch of successes in welfare reform. We created, I think it's the Income Maintenance here, but it's called the View there in Virginia.
Destiny – Pride: They changed it to Economic Security Administration. They brought it from Arizona.
Dr. Graham: Okay, but the performance data that I've looked at from around the country is paltry. It's tragic. Because what you've got – and again, I love social workers – but you've got non-workforce development folk working with and training these individuals to get them off of welfare. We need to rethink the model. Here in DC we also privatized the development of the work associated with developing these folk to get them off of welfare. We gave the biggest contract to Lockheed. Now Lockheed develops airplanes and guns and tanks, but develop people? Give me a break! So what was the success rate? When I left here a few years ago, the most successful model was really a faith-based model where they infused it with the support needed around the spiritual and the psychological because so many of the women who have lived in the states of poverty have taken it into every fiber of their being.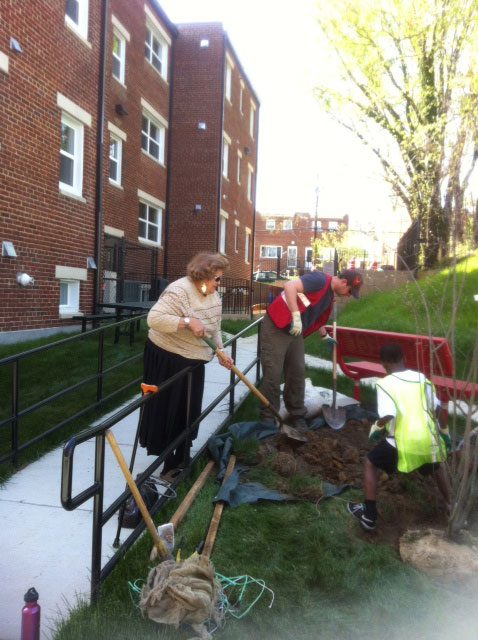 There's a story from the bible the comes to mind of the man living in the cemetery, banging his head up against the cemetery stones. When Jesus comes, Jesus casts out the demons and they run into the pigs who run into the sea. That's the kind of stuff that really has to be cast out of these women. There's a spiritual death – or spiritual possession – that many of them have about their own abilities, and that's not what God says about them. When we begin to accept the fact that they are loaded with potential – and none of the models that I've seen have accepted that but for a few – the fact that they have tremendous potential, but that you have to work with them to overcome the insanity that now has come to define their lives. When we can do that, they can achieve success, and the success can be sustained.
So I think that we have not rethought our models that we are using to develop people and redevelop people. We've been unwilling to think out of the box in doing that. We have not looked at the kind of people that we hire to work with the people in doing this kind of work. I think we need a far more eclectic and diverse workforce of people working in human services. You need people who understand economic development. You need people who understand education. You need people who understand psychology. You need people who understand social work. But we've been too narrow in the definition of the people that we will hire to do the work and so our outcomes are almost predictable.
Even in terms of the way we do homeless service. We presume that we should be sheltering all the time. We need to get out of sheltering. We need to really put people in housing and we need to wrap them around with services and support. It shouldn't be an assumption or presumption that you're going to sleep in a shelter for more than one night.
Destiny – Pride: One of the models when I reviewed some contracts, and what we are trying to do with Destiny – Pride, is also thinking outside of the box. Regarding the contract for a lead entity for DYRS, for all intent and purpose we came in with the emergency strategy of becoming the de facto parent because of the embodiment that they have accepted. Therefore, if we can go in there with that infusion of this de facto overseer, until they get their pump primed to think outside that they do not have to live within their self-imposed limitation, exhibiting the antisocial stressors that everybody else looks at as abnormal, but they look at as normal. How do we make that change? I think that's what I hear you saying. Correct me if I'm wrong.
Dr. Graham: No. It is. We are here temporarily, and our goal should be, with the providers that we work with, to seek to restore the family, to support the family and stabilization strategies. And certainly, certainly, we should never expect that if we go in and give you a month or two of counseling and some parent training, that you're going to be able to make it. No! No! You've got to look at: what grade did you stop in school? Most of them are functioning on a third and fourth grade level – if not second. You've got to make sure that they are ready to go to work so that they can be incorporated into the workforce.
You've also got to look at these demons that a lot of them are walking around with. A lot of our families in the black community are dealing with issues of abuse, child molestation. We still carry the burden of slavery. Our parents beat many of us; and are still beating our children. Like the slave masters beat their parents and their parents. Nothing troubles my heart so much as to hear – and I've heard this from the pulpit on any number of occasions – that if you don't beat that child . . . don't spare the rod; you'll spoil the child. Well spoil the child! So this notion of "beating" our children, and beating them brutally in some cases, is an inhuman act that has followed us since slavery.
We have been out of slavery for less time – think about this – than were in slavery. We were in slavery for 400 and some years, right?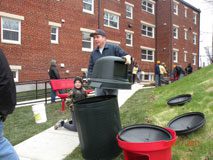 Destiny – Pride: Right.
Dr. Graham: Slavery ended in 1865.
Destiny – Pride: And is still going on . . .
Dr. Graham: In some cases, it is. So the point of the matter is how do we unpack – break the yoke, the insanity of this generational curse that many of us carry in our spirits. As we deal with broken lives and broken families, those who run these human service agencies have to have that understanding; you've got to have that willingness; you've got to have the passion associated with that.
Destiny – Pride: I think you are really hitting the nail on the head in what you're saying, because a lot of people really do not know that, for example when it was called Income Maintenance, that the individuals that the clients thought were their social workers were really only eligibility and determination workers. There were no programs of restoration. So eventually, they got the contracts, but the contractors were not dealing with those wide ranges of issues that you're talking about.
Dr. Graham: Right. Their thing was just to get them work, when you have never had a history of work, and especially working in urban environments. You might have worked on a farm, or your mother might have worked on a farm, but you knew nothing about getting up every morning, being at work at 7:00. So the model has to be rethought.
Destiny – Pride: You're right. There has to be a paradigm shift, and I'm glad you hit upon the fact that some of these individuals are reading at a second/third grade level, and have never had the type of mentoring that you may have had with your mom or your grandmother and other individuals that were in your life. Then the problem becomes, how do you "rehabilitate" something that was never there? You have to "habilitate" those people. You have to build the track, build the train – build everything!
Dr. Graham: Build while you're flying!
Destiny – Pride: I like that, because if you remember when you were with the Control Board and they sent Casey [Wayne Casey, former Deputy Director, DC DHS] and all of us out to Oak Hill because they wanted to outsource it and they created the "Strike Force Team." When the consultants came in, they said to us, "Look, we don't have the luxury of designing and building. We have the build and fly at the same time."
Dr. Graham: That's right!
Destiny – Pride: That's what I'm hearing you say.
Dr. Graham: That's right. And at this point in history, because we have so much lost time to make up for, we really have to "fly" while we're "building." And that's what this project is intended to do.
Destiny – Pride: That's what I hear.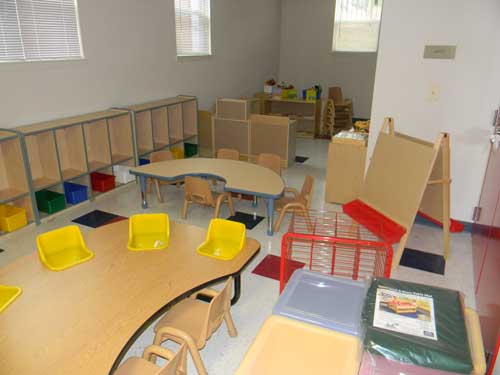 Dr. Graham: That is what it's intended to do, and I think that's one of the reasons why the city and others have supported us. We have private financing from United Bank and public financing from DHCD [Department of Housing and Community Development] and we are hoping to form a contractual relationship with some of the child welfare agencies in the area. Even human services from the homeless standpoint, because many of the children have aged out and they're in homeless shelters. I think you all had an article in the paper here not long ago about the number of teen mothers in the homeless shelters. So we are even open to taking some of those young women in this program and working to rehabilitate them.
Destiny – Pride: So give us some of the specifics about the Elizabeth Ministry.
Dr. Graham: The program is actually designed for 25 teen mothers who have one baby and who are largely or significantly near aging out of the child welfare system. The young women in this program will be between the ages of 17 and 21. We have 27 units. Two units will be occupied by house mothers who will be a part of this evolving or constructing community. The idea is that they can be with us for up to eight years and while they're with us they're developing skills; they'll be learning how to be who God says they are. Our understanding of them when they come to us will be that they are fundamentally endowed with tremendous potential. Our goal will be to help them understand what that potential is, to wake it up and to bring it forth, so that it indeed does flower in the world, and they can be real participants in this community that they live in and in the world that they know they will be a part of.
We have an onsite child development center for 25 babies and toddlers. The housing units are two bedrooms each – one for the mother and one for the child. They will be fully furnished. Everything will be included, but every young woman will have to manage the resources associated with her unit. We will teach her how to do that. When she exceeds her budget, the community will have developed the standards that will have to be adhered to. It may be that she has to volunteer extra time in the daycare center. It may be that she has to help clean the common space or do some extra work in the yard or in the community garden, because we will have gardens here.
But there is a consequence for mismanagement. Our work with her will not be from a punitive standpoint, but from the standpoint of using a misstep as a way to construct something new. If you exceed your utility usage, for example, your role might be to do a community meal or you might have to work in the community garden. So from the "error" or mistake, you are using that energy now to do something to put back into the community that which you've taken out. That's the idea.
Destiny – Pride: Here's something that you said earlier. The young women will own the property or the cooperative and when they age out, they will have some equity. Explain that.
Dr. Graham: Well, this is a coop. It's called the Talitha Koum Coop. The name actually comes from the story in the Gospel of Luke where Jesus is on his way to heal Jairus' daughter. When he gets there, the child is "perceived" to be dead and everybody's mourning. The mourners have already come ready to throw the dirt on the child. They're standing around crying. So Jesus excuses them and tells them to get out. He only allows the mother and father to stay. He reaches for the child and he says "talitha koum," which means, "little girl, get up." That's the name of the housing coop. It is a coop, and the idea is that when they move in here that their behavior, their work on who they are and who their baby is and all of that buys them interest in the unit that they live in.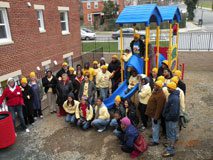 Every year, $500 from the Ministry is put away for them into an interest bearing account. We are going to be asking them to put some of their resources into that account, too. When they leave, the Ministry gives them $2,500. Hopefully, they will have been able to save that much, too, in five-years' time, and so they could conceivably leave with a check for $5,000, but at a minimum $2,500 from the Ministry that they must now use for education completion – hopefully their Masters – or a home, an apartment or home.
Destiny – Pride: How might anyone who is interested in finding out more about the Elizabeth Ministry contact you?
Dr. Graham: It's better to contact me through my email. Of course we have an office number here, but no one's in the office during the week. We're here every other weekend. And we have a website.
Destiny – Pride: What would you say have been major accomplishments in your life up to this point?
Dr. Graham: Being a mama! Raising a son, whom I love so much and who has blessed me with three wonderful, wonderful grandchildren [Ashanti, Amir and Sanaa], who are bright and precocious and loving and giving; and a great daughter-in-law [Rayna]. That is my major accomplishment.
Destiny – Pride: And what would you consider major disappointment?
Dr. Graham: My major disappointment, I think, I think, I think – I'm not sure, but my major disappoint is probably is that I really never married; never met a person who could tolerate me and me tolerate him.
Destiny – Pride: Well you know you have one of those A-1 personalities!
Dr. Graham: And it may not be too late. I'm not ready to throw in the towel, yet, but I think that if I had to do it all over again, I'm not sure that I wouldn't do it the same way that I've done, I'm really not. If I had gotten married earlier – I was engaged twice – I'd probably be divorced several times over, if the truth be told! But on the for real side, it would have been wonderful to have someone to take this journey with.
Destiny – Pride: Well, I have watched you go into a room and make the room melt; but then I've seen you be like a drill sergeant. That's a heck of a blend!
Dr. Graham: It's something pathological about that!
Destiny – Pride: I'm so thankful in my journey that I caught that part that you made them melt, and I've never been on the wrath of the drill sergeant. So I'm always thankful for that.
Do you have any hobbies or interests that help you to relax?
Dr. Graham: I love to read, when I can focus. I am enjoying my spiritual journey. I find time for yoga. I'm disciplined about exercise; I need to do that. I still enjoy sewing, when I can, but I don't have a set hobby. I love books; I love stories. I love to read
Destiny – Pride: Have you any last thoughts that you would like to share with our visitors?
To see the video of Dr. Graham's response
To read her response, continue below.
Dr. Graham: I am so thankful that Destiny [- Pride] decided to choose our project for the June Spotlight, and I see you all as one of the many angels that have come our way to help us craft this narrative that I think we need to project in this community of who we are and what we're trying to do to enable and empower young emerging adults who happen to be young mothers near aging out of this city's foster care or child welfare system. So I really want to thank you. My hope and my prayer is that this will be a body of work that's similar to the kind of work that the giants like Nannie Helen Burroughs and Mary Church Terrell crafted as they developed programs for children of African descent, and young mothers coming up from the south, in the context of Nannie Helen Burroughs, who needed to know how to live and to work in an urban setting. And so our hope is that this is going to be a historic piece of work that really gives testimony to what is possible when a community comes together and commits itself to the healthy development of our children and our youth, and I want to again thank you all for the great work that you're doing to create a footprint and a living history of the lives that are seeking to be lived in a meaningful way in this community. Thank you.
Destiny – Pride: We thank you, Dr. Graham, for being our Spotlight for June 2012. We hope that we have afforded our visitors a good opportunity to get to know who you are, what you have done and, of course, what you are doing now through the Elizabeth Ministry. We wish the absolute best for you, your organization and for the many young women and children who will be benefiting from the services they will be receiving from the Ministry. May their lives be uplifted and made all the better because of your love, concern and commitment to this cause.
Dr. Graham: Thank you.
Did you enjoy our conversation with Dr. Graham? Let us know how much by leaving a comment in the box provided below.