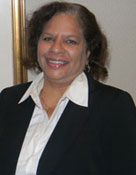 Our spotlight for the month of October 2012 is someone with whom I have worked for numerous years during my employment at the Department of Human Services, and I am very happy that she has accepted our invitation to be this month's Spotlight. She is Ms. Deborah A. Carroll, and she is an Administrator of the Department of Human Services' Economic Security Administration, previously known as "IMA" which stood for "Income Maintenance Administration." Ms. Carroll also served for a period of time as an Interim Director of the Department of Human Services. The Economic Security Administration determines the eligibility of DC residents to receive financial aid and family care services.
We will talk with Ms. Carroll about the various programs that are offered at the Department of Human Services. She will also share with us some of the experiences and insights she has gained during her life's journey. (Click on photos to enlarge them.)
Destiny – Pride: Good morning, Ms. Carroll.
Ms. Carroll: Good morning.
Destiny – Pride: Thank you very much for being our Spotlight of the Month for October. We go way back and have worked together on numerous projects over the years geared to assist many of our less fortunate in the City to become self-sufficient. As I said, I have known you for forever, but to give those of our visitors who don't know you a chance to get acquainted, let's start off by telling them a little about yourself – pre-DHS. So give us a brief synopsis of your early days, including where and to whom you were born, your siblings, and any other highlights you'd like to mention.
Ms. Carroll: I was born and raised in New York City, New York; born in Manhattan, raised in the Bronx. I am the proud daughter of Monica and Noel Cotterell, both of whom are Jamaican-American by birth. I have two sisters; one older than me – her name is Donna; and my younger sister is Denise. It's just us three girls.
After high school, I went to Temple University and majored in Therapeutic Recreation, with a concentration in services to persons with disabilities. I worked at Eugenia Memorial Hospital, which is a private psychiatric hospital, for about 8-1/2 years, during which time I served as the Clinical Supervisor for the Allied Therapies Department. I worked closely with occupational therapists, art therapists and music therapists and dance therapists; primarily working with mentally ill customers and helping them to find ways in which stress could be reduced, leisure activities could be enhanced, and ways in which they could cope with their disabilities better.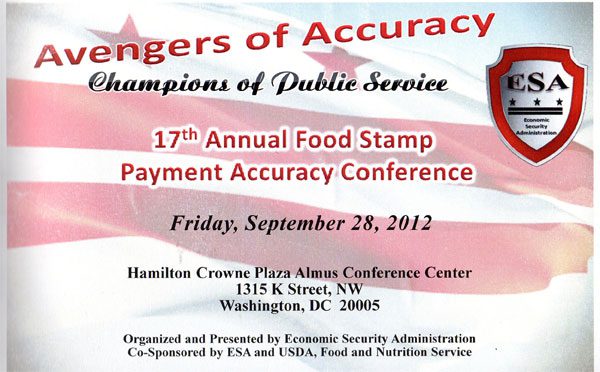 In 1988 I decided to go to law school and attended Temple University's Beasley School of Law, graduating in 1991. I clerked for a judge in the Court of Common Pleas, which was a trial court in Pennsylvania, as well as worked with a number of federal judges during my schooling. I then decided to go into private practice after I had completed my clerkship. I worked closely actually with her [the judge at Court of Commons Pleas] husband, who was an attorney in private practice at the time. That's where I really learned about trial practice, honed my skills as an attorney and then drew on my experiences of court practice to have a fairly decent private practice.
During that time, I worked closely with persons who needed Social Security's SSI [Supplemental Security Income] benefits, and found myself drawn towards working more with people in need. I was then appointed by the Court of Common Pleas to be a Review Officer in Mental Health with mental health commitments, and then found myself working with the State Solicitor's Office in handling those cases and training others.
Destiny – Pride: Let me stop you there. What about your marital status and are there any children?
Ms. Carroll: I am married; almost 30 years now – 29 years in October.
Destiny – Pride: Oh, bless your heart!
Ms. Carroll: . . to my husband, Jim. We went to undergraduate school together. And I have two children. My oldest daughter, Danielle, is at medical school at Boston University, in her last year. My youngest [Alicia] actually just started college this month at Emerson College, and her desire is to be a television producer.
Destiny – Pride: Go ahead!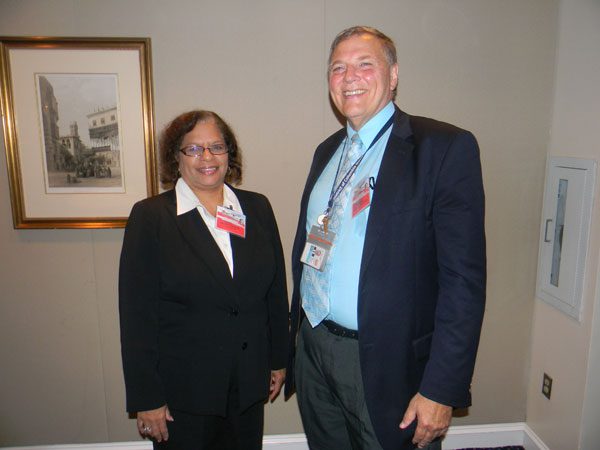 Ms. Carroll: So I am now an empty-nester, and spend all my time here in my office! It's been two weeks and I don't think I've gotten home before nine o'clock. But I love my job, so . . .
Destiny – Pride: You have to love this job to have been here for any length of time.
Ms. Carroll: Well, you know, I was fortunate.
My husband actually got a job in Maryland in a special program back in 2003, and was going to relocate here. Actually, he got his job in 2002; my oldest daughter was still in high school, so I stayed in Philadelphia during that time. After moving here, I was fortunate to get a job with the Office of the Attorney General in the Department of Human Services, in the General Counsel's Office. I loved it! I mean, I absolutely loved the work. I loved the people that I worked with and I felt like I was really part of a family here – and I learned a lot! So with my work with IMA [Income Maintenance Administration] at the time, as their attorney and also as RSA's [Rehabilitative Services Administration] attorney, I really began to learn about the challenges that agencies face – not only with the volume of customers that they serve, but sometimes the bureaucracies that are required as a result of federal laws and regulations – seeing the impact that occurs over years, and the changes that occur, but not having the resources to keep in step with some of those changes. That is probably when I made the decision that I really wanted to be more "hands on." Even though I loved the law, I really felt like I had something to contribute to IMA to be able to move it forward.
Destiny – Pride: You have already amplified on this, but you might want to do it a little more. You talked about your educational achievements. Is there anything else you'd like to put on the table about that?
Ms. Carroll: No, that's it. Those were my two.
Destiny – Pride: What faith are you and how, if at all, does that play a role in your life's decisions?
Ms. Carroll: I am Baptist. I was actually raised as a Lutheran, and joined St. John's Baptist Church by where I live. I think that the role my faith plays is, I guess, if anything, my willingness and my desire to give to people. I always feel like I have something to give. And there's so much need in the community. My faith in God and my faith in people and their ability to rise to the occasion motivates me to do the work that I do.
Destiny – Pride: Are there individuals who have impacted the major choices you have made in your life? If so, name them.
Ms. Carroll: There was a judge in Philadelphia. She was actually the first Black Pennsylvania Supreme Court judge. Her name was Juanita Kidd Stout. She was an amazing individual! Even after her retirement, when she served as a Senior Judge, I used to see her in the City Hall Library. She was always willing to talk with me.
I was a young attorney at the time. Even though I was over thirty, I was a young attorney! She always did her own research. She always drafted her own briefs. One of the things that she told me as I was growing in my practice was to make sure that you always listened to what people needed, and then do what's right. I took that with me through not only my law practice but also in dealing with cases I would refuse if I felt that I couldn't do the right thing by them.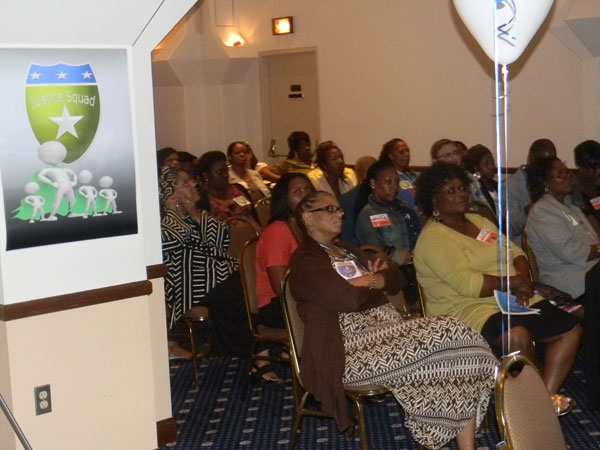 I think the next person was John Dodge. John Dodge was not only instrumental in my development, but also really helped me to understand what it was like to be in government; how to stay out of the traps. He helped me to understand the political landscape in DC, which is very different than any other jurisdiction that I've ever seen. He was one who represented the Agency with a lot of compassion. He loved working here, and I think being under his supervision and just watching how he worked, helped me to not only be a good attorney, but also to really feel compelled to be a part of what was happening at IMA.
Destiny – Pride: You've mentioned your practice a couple of times. What type of practice did you have?
Ms. Carroll: I had a pretty large practice in Social Security SSI cases. Then I would also provide a service to churches and talk with the members of the churches about estate planning, wills, and how preserving their assets was important; especially in Philadelphia where, despite the fact that people are low income, housing in Philadelphia was very inexpensive. I mean you could purchase a home for $6,000 at one time in Philadelphia. So all of their assets were tied up in their home, but they never had a will to then pass it on to their children, or to preserve it in any way. So we used to spend a lot of time just educating families and individuals about the importance of drafting wills or trusts to preserve what few assets they had.
Destiny – Pride: You talked about this, but you might want to amplify on it. What did you do before coming to the Department of Human Services?
Ms. Carroll: Well, when I was in Philadelphia, I was in private practice, as I mentioned, and then worked for the City Solicitor's Office, which is similar to the Attorney General's Office here in the District, but it was just a county-administered program. I represented the Department of Human Services there, which included child welfare, mental health, health and adult services. I was the in-house expert on privacy and confidentiality. I did a lot of work around HIPAA [Health Insurance Portability and Accountability Act] when it was first passed, and actually worked closely with the team of people in Philadelphia and did a treatise on interpreting Pennsylvania's mental health commitment laws.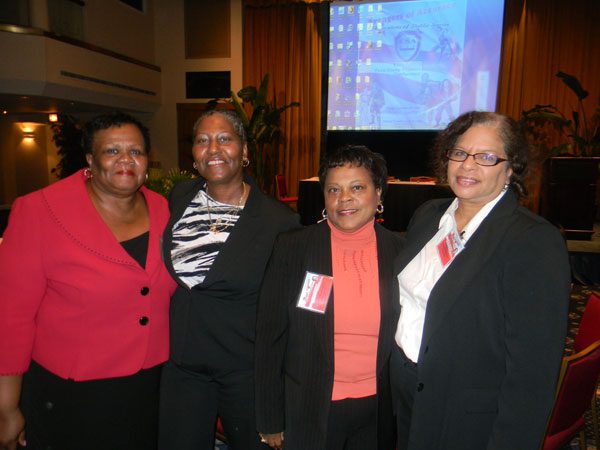 Destiny – Pride: What is a "treatise."
Ms. Carroll: It's a guide, I guess, to understanding and interpreting the laws, and that's because they were so poorly drafted that nobody really understood it. So we worked closely together to try and explain it in the best layman terms ever so that people could better understand it.
I also did a lot of work with the State's Forensic Mental Health Task Force. We were instrumental in working with CMS [Centers for Medicare & Medicaid Services] to get their approval to provide Medicaid. We were able to process Medicaid applications for people that were incarcerated so that by the time they were discharged, they could walk out with the Medicaid benefits. That change was occurring during that time.
In addition to working with the State's Forensic Mental Health Task Force, we also had a local one. I provided legal assistance to the program that ensured that clients who were mentally ill and incarcerated received their mental health treatment while incarcerated and upon their release. We set up a mobile team that would go to their home once they were discharged and provide blister packs of medications for them so that they could get them on a daily basis; they were pre-measured for the individuals. The whole goal here was not only to make sure that clients received medications that they needed, but also to educate judges on alternative ways of servicing clients with mental illness that do perform different criminal acts in the city.
We also worked very closely with the Police Department and provided training to them so that they had a better idea of how to respond and what the symptoms were before they reacted. There were a couple of instances where people with mental illnesses were killed by the police because they thought they were drunk and/or addicted, or something like that. So we worked very closely with them and they actually had someone trained and assigned to deal with those issues, as well as someone in the District Attorney's Office who was also trained to identify those issues so that the clients were not incarcerated for long periods of time.
Destiny – Pride: As I stated before, and you have already spoke on this, but I have known you for many years, but during those earlier years, you were serving in a legal capacity as a general assistant to the Director, and I believe you subsequently became the General Counsel. At that time, I was not aware of your social service background. How did you make that quantum leap? I now understand that it was not as much a "quantum" leap, but when I retired from the Department for Human Services, you were the General Counsel.
Ms. Carroll: Well . . .
Destiny – Pride: What woke you up that day?
Ms. Carroll: What woke me up that day? I think at the time we had a new Director who had a vision of providing services to the residents in the District that I've always felt was an important way to do it.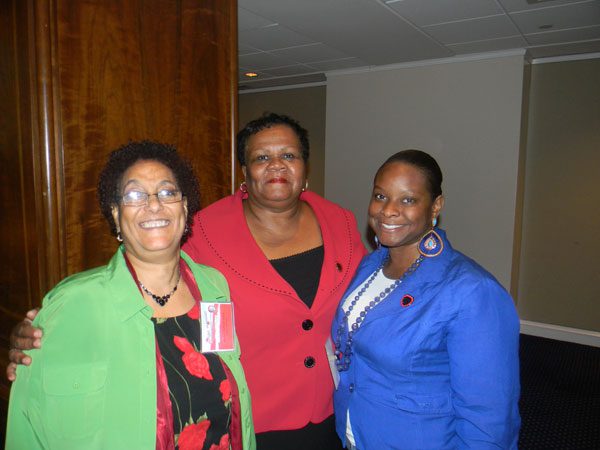 While I was in Pennsylvania, we had a Commissioner, Estelle Richmond, who eventually went to be the Secretary for the Department of Public Welfare – working under the Clinton Administration, I believe – who felt very strongly that when you deal with individuals, you've got to deal with their family issues as well. The use of technology and integrating case management is critical to the success of any family. While I was in Pennsylvania, we actually began the work of developing a system to do just that – to send alerts to case managers to identify where people are being served so that you don't have them dropping through the cracks.
Director Carter had a very similar vision, and he asked me at the time that Kate Jesberg left ESA [now Economic Security Administration; at that time it was called Income Maintenance Administration or "IMA"] whether or not I would consider coming over. It took me a little while. I actually spent about a year on a detail in working closely with Sharon Cooper Deloatch before she retired, before I ultimately made the decision that it was something that I actually wanted to do. It wasn't a "huge" leap for me; it was just "big." Big in the since that ESA is a huge organization and had been underfunded, in my opinion, for many years. The challenges were great, given the number of people coming through the door and the resources were dwindling each year.
I literally spent my first few years in this position fighting for every penny we have. It was challenging – and somewhat demoralizing – for this staff because as we were going through the RIFs and retirements, we weren't able to backfill all of those positions. We found ourselves in positions where we were doing three, four and five people's jobs and the compensations for managers and higher-level staff weren't changing. Each year I thought there was something that I felt that I needed to do, but I didn't' know what that was. I talked to other states and other counties about how they did their Cost-Allocation Plans to figure out other ways that we could generate revenue. I talked with our consultants that the District uses for our Cost-Allocation Plan to see if there were ways that we could squeak out additional revenue. And then on the heels of that, the law changed under the Deficit Reduction Act and it caused us to not then be able to use TANF dollars in the same way we had been using it before. We found ourselves in the hole by $5 million dollars. So it was hard, year after year, when staff was saying "we need help; we don't have the people to get the work done," and I'm completely understanding that and feeling at times somewhat powerless.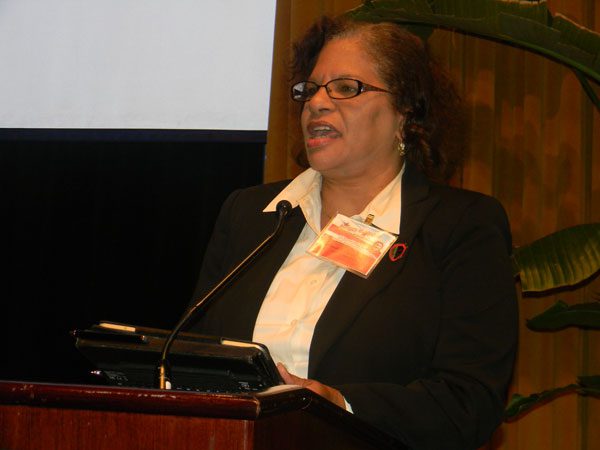 And then in come David Berns and Mayor Gray and his team! I won't go as far as to say that they were "knights in shining armor," but I think, for the first time I can honestly say that we have the full support of the Administration – in many different ways. We're not scrutinized or challenged the way that we were in the past. The staff is much better appreciated for the work that they do. And it's not like we don't have high standards for our staff, but I think that we finally have a Mayor and a Director who understand how hard it is to be the person that interfaces with the public on a daily basis – people who are stressed and have horrible stories.
They listen to them everyday, and they don't have any relief. So we've been very fortunate because they've closed the budget gap for us. They've also provided the resources for the changes in the TANF Program that we felt very committed to. I think we're well on our way. That, coupled with the technology changes with our new DCAS [DC Access System], will really help to modernize the services, provide better services for the District, and get us to a baseline.
Destiny – Pride: You made two observations and so that our visitors can understand, one was the "Cost Allocation." What is that? Then you mentioned the new . . .
Ms. Carroll: The new system?
Destiny – Pride: Yes. Explain that.
Ms. Carroll: So cost allocation. ESA is funded based on a few things: (i) we receive TANF funds, which we can use up to 15% of in our administrative costs, subject to cost allocations; (ii) food stamps, where they reimburse the District 50% of our administrative costs; (iii) Medicaid, 50% of our administrative costs; and then (iv) local dollars for those purely local programs.
We participate in a sample every quarter – about 24/25 hundred samples every quarter. Staff is required, when they receive a sample request, to document exactly what they're working on at the time that they get that piece of paper. That information is then brought in and tallied. They use that to determine the percentage of time that our staff participates in any of those other – what they call – "benefitting" programs. What that means in essence is that all of our money is not local money. The federal money that we receive is based on the percentage of the work that we do for those particular programs. That's how our budget is set up.
So with the changes in the Deficit Reduction Act, the law was changed. We used to be able to use TANF dollars to pay for everything else. That changed. It says, "No, you can only use up to 15%, but only as it relates to those that are TANF-related. That meant that all the TANF cases we were able to pay for, but Disability Assistance, the Alliance Program, all those other programs that we had, we had to have local dollars to pay for them. That's what caused us to into a deficit, because over that period of time, to close the budget gap they had taken approximately $40 to $47 million in local funds, and we didn't have the local dollars to put in there. So this past year, and beginning this fiscal year, the Mayor's Budget Office has put that money into our budget to then equalize our funding.
Now, about the new system. As a result of the Affordable Care Act, the federal government was providing states funding in order to create the Health Benefit Exchange. They also wanted and mandated that our systems be interoperable. That means that they are going to have to talk with each other. So they provided what's called "90/10 funding." That means for every $1 that the District spends, they'll spend $9 towards the development of a new system. We're actually in the final stages of the RFP process in selecting a vendor to literally purchase and implement the system. By the end of 2015, we will not only have replaced ACEDS [Automated Client Eligibility Determination System], but we will have a completely brand new online eligibility system.
What that means for our residents is that they won't have to come into the Service Centers to apply for benefits. There's only a few programs where you're going to be required to come in. Over time, what they will see is, first, the Medicaid Program will be online, with all of the changes related to Medicaid and the Health Benefits Exchange. Then, at the end of 2013, our goal is to have the other programs – TANF, Food Stamps, and the other parts of Medicaid – in the new system. All of the other programs that we're bringing on will then be at the end of 2015.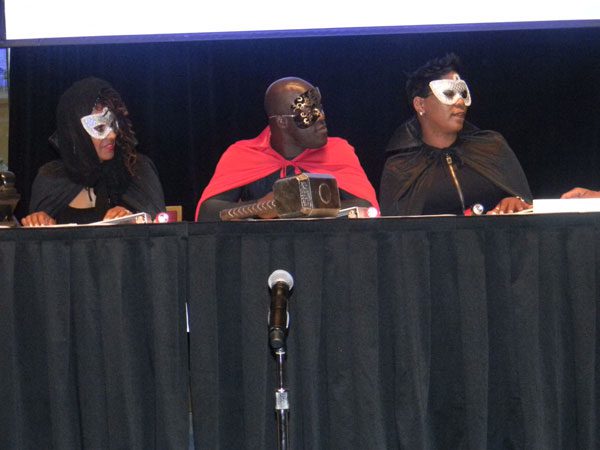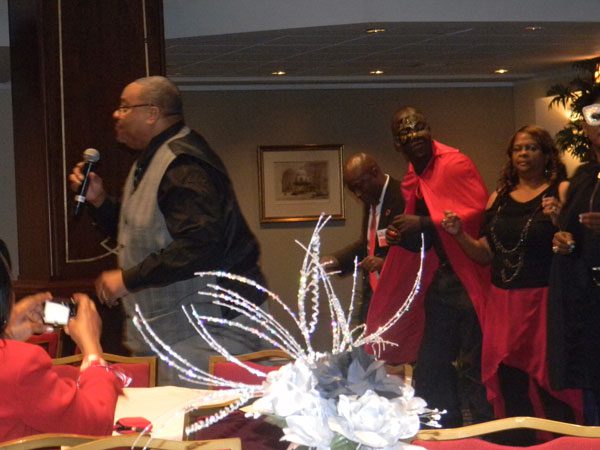 Employees at the Conference perform a skit as "Avengers of Accuracy" in superhuman form
There will be a "My Account" feature, so customers can literally go online to check the status of their accounts. They can recertify online. In the Medicaid Program, there won't even be a requirement for most residents to recertify; there'll be a passive recertification every years. The changes are substantial. We're getting a new Call Center and we're about to test it in the month of October. With that new Call Center, clients will get robo call reminders when their recertifications are due. We'll be able to send information to them and share new information about events that are happening that the District is sponsoring. Clients will be able to call and report changes as they do now, but there will literally be a system that works. Not only will the system work, but if they get a busy signal or somebody is not there, there's a "call-back" feature, so that they will be called back in the morning if they call at the end of the day. They'll receive a call back from the system when someone logs on. Many of the challenges relating to customer service will be remediated.
Destiny – Pride: What is your customer base?
Ms. Carroll: Well, we serve 40% of the District – about 240,000 people. The majority of them, of course, are on Medicaid and the DC Healthcare Alliance Program. Then the next largest group is our food stamp recipients. There are about a hundred and twenty-or-so thousand (120,000) individuals on food stamp benefits, or "SNAP," as the federal government now calls it. After that, we have about 17,700 customers on TANF benefits; it's gone up slightly this summer. We have about 500 customers receiving Interim Disability Program benefits and cash assistance; a little over 350 on the General Assistance for Children Program. General Assistance for Children is for non-relative caregivers. The Interim Disability Assistance Program has had some recent budget cuts, but fortunately, we've been able to preserve it over the last two years.
Destiny – Pride: I know what it means, but would tell our visitors what the Interim Disability Assistance – IDA – System is?
Ms. Carroll: Interim Disability Assistance is a cash benefit to individuals that are waiting for an SSI. So it's a short-term benefit. They also provide assistance to those customers that are not represented by someone, to help them get SSI benefits. They'll help them with navigating the documentation that's required by SSI, and things like that. So these are individuals with pretty severe disabilities who, through the initial screening, meet the Medicaid eligibility for disability benefits.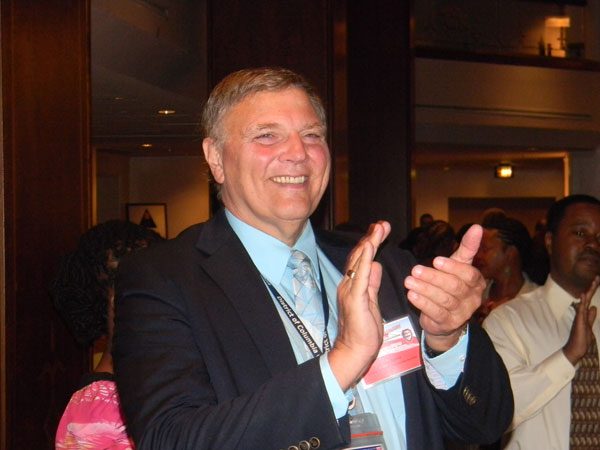 Destiny – Pride: Because of the hard economic times, not just in this area, but in the country as a whole, how large of an uptick has the numbers of individuals needing services here been?
Ms. Carroll: When I first came to IMA, we had a little over 100,000 Medicaid recipients – I think it was somewhere around 140,000 – and now we're at 210,000. We had about 87,000 food stamp recipients; we're at about 140,000 now. At the time we had a little over 14,000 TANF recipients, and we're at 17,000. The economy has had a huge impact over the last few years on District residents. If they're not "unemployed," they're "underemployed," because as you know, in the District there's very few resources in terms of "affordable housing." With our new assessments that we have in the TANF Program – just to give you an example – about 30% of those that we had assessed as of the Spring of last year, were either doubled-up or living in shelter. We did a match recently with DCHA [DC Housing Authority], and about 2,000 of our 6,000 TANF 60-month families are living in subsidized housing. But that just means that 4,000 of them are not.
We wrap services around a lot of underemployment – families that work part-time, just to try to make ends meet – but what we were finding when we decided to change the TANF Program, for example, was that the retention rates of our TANF households were very low. About 30% of them were coming back within 30 days and 60 days of their employment. So they were getting short-term – like "event-type" – employment, working in these short-term jobs, but nothing really sustainable that they can give their families. So we've been working really hard to change that trend and we're hoping that our TANF families will really get onboard and partner with us, because it really is a partnership in ending that cycle. But we have to gain their trust as well. I think that that's the direction that we're trying to move in.
Destiny – Pride: What do you see as being the greatest obstacle or obstacles in addressing the needs of the individuals or families who are involved in the programs and services provided by the Department of Human Services?
Ms. Carroll: I think first and foremost that one of the biggest challenges for our families that we serve, as well as individuals, is the low educational attainment. It's a significant number of our families that either have only a high school education or no GED, and even with that high school education, they're still behind the eight ball. In order to end the cycle of unemployment, we have to help them get ready to deal with the new technologies that are out there now, and be able to learn new things and work in an environment as the needs of the District change. That's hard to do, especially when you couple that with, sometimes, depression or addictions. It just makes it that much more challenging. I think that for us as an organization, one of our challenges – and I won't call in necessarily a "barrier," but just a challenge – is that we have a workforce, 60 percent of which can retire now. So we have to begin succession planning. We also have a big job in helping our staff then embrace very, very new technology.
Destiny – Pride: In February of this year, we introduced our visitors to the Department's current Director, David Berns, who at that time had been the Director for approximately 8 months. He gave us great insight into his vision for the Department going forward, which he said was not necessarily to eliminate welfare, but rather to eliminate poverty in our City. There also was a recent article in the Washington Examiner about the overhauling of DC's current welfare program, which I believe was very much inline with Director Berns' vision. Tell us about that, and how things are going with it.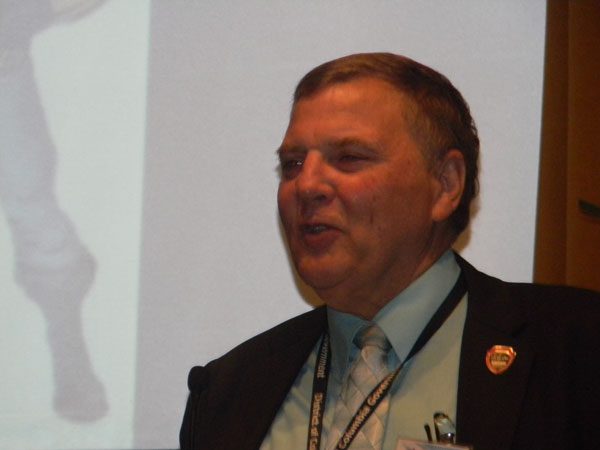 Ms. Carroll: It's been very exciting work. We've already done some research and have work closely with the advocates to come up with a program model for the TANF Program. He helped us take it to completely new heights. I think the biggest changes are: No. 1, the flexibility that we baked into the TANF Program so that families can get credit for working on the things that they need to work on. The federal guidelines are a lot stricter. We have a reporting requirement that we have to abide by, and we can't always claim the activities because they don't fit within the model that the federal government has laid out. But what he feels firmly is that if you work on those things that they need, and you build them up as individuals, and they gain the confidence, the rest will take care of itself.
The second big change, which we recognized was crucial to the success of the redesign is that you get better results if it's not a government "top down" approach. Our families are already working with community nonprofits, like Destiny – Pride, right?
Destiny – Pride: Right.
Ms. Carroll: They are already working in the community and the people closest to these families are the ones that are usually the most instrumental in helping to pull them out and staying on top of them, ensuring that their goals and objectives are met. So we built our tools and we built our structure to be able to reach out into the community and engage them and see if they're willing to document the activities that they're providing to our TANF customers in our system so that the customers get credit for those activities. In August, we started officially, literally going out to the nonprofits and providing presentations and then following up with training on our systems. Ultimately what we'll have are partnership agreements that will formalize our relationship with them, but also give them access to those tools that we have for client reporting.
What we've found is that I think many nonprofits have been asking for this for a very long time. They just didn't know how to articulate or "operationalize" – I guess is a better word – something as massive as this. And we're taking it one nonprofit at a time.
It will start with our homeless families. We're working pretty hard with the Community Partnership for the Prevention of Homelessness, which is the contractor for the District to provide and manage the homeless services. We've already started working closely and collaborating with some of our nonprofit contractors and subcontractors in the Housing Counseling Corporation and the like, which recently was awarded a grant from Freddie Mac that we will be collaborating with them on. It's some very exciting work and we can't, of course, serve 17,000 people that way, but if we can help fifty families, a hundred families, two hundred families, you start to bite off at the apple. If you have enough nonprofits doing those kinds of activities or who are willing to put information in the system that will give the clients credit, then we want to do that.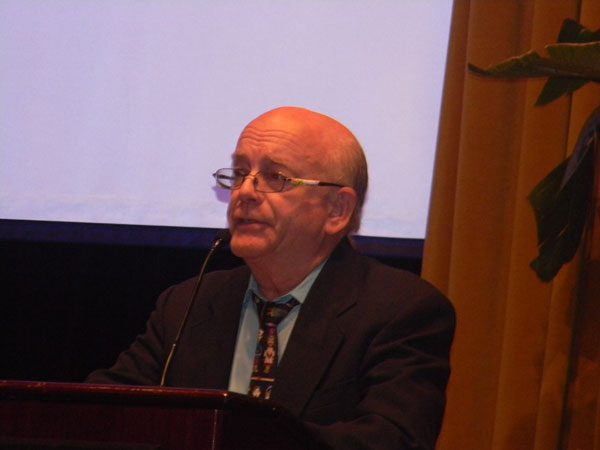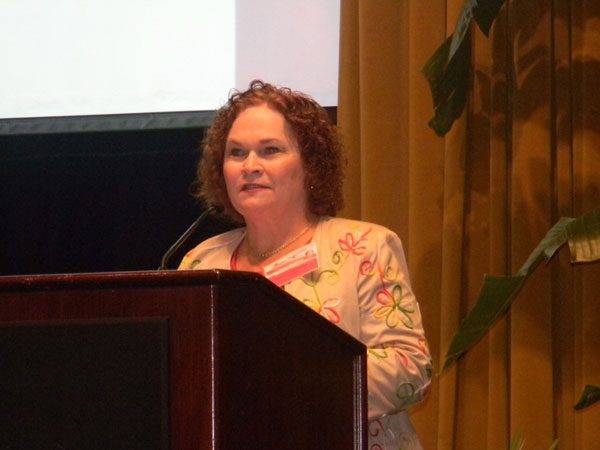 Others speaking during the Conference were Mr. William Kluxen, Regional Director of SNAP [Supplemental Nutrition Assistance Program] and Ms. Catherine Pemberton, Director of the Pawhatan Department of Social Services [Powhatan, Virginia]
Destiny – Pride: What would you consider to be your greatest accomplishment so far? Not including meeting me.
Ms. Carroll: Well, in addition to meeting you, I think even though we're not done yet, the issuing of the contracts for the TANF redesign and helping to build the model, implement it, and starting to see the benefits of it is probably my biggest accomplishment so far.
Destiny – Pride: And so far what you be your major disappointment?
Ms. Carroll: I think that if there was something that I could do more of, it would be to go out and meet with staff more. I find it challenging because my days are full. Oftentimes there are back-to-back meetings from one to the next. I try to bake in office hours to allow for that, but they're getting eaten up now with meetings. When I have a chance to interact with the staff, I really enjoy it! I really enjoy it!! I think that they are a creative bunch. They're very committed. I would like to be able to do that more.
Destiny – Pride: What hobbies or activities do you do that help you to relax?
Ms. Carroll: I love music. I'm a big jazz aficionado. I read anything I can get my hands on. I enjoy ice skating and playing tennis.
Destiny – Pride: Stop!
Ms. Carroll: I've been ice skating since I was nine.
Destiny – Pride: Oh my gracious! If I tried that I'd probably kill myself!
Ms. Carroll: My dad learned when he was 55, so there's always hope.
Destiny – Pride: Not with these knees after thirty-something years of jogging, I doubt it. Are there any last thoughts or insights that you would like to leave with our visitors?
To see the video of Ms. Carroll's response
To read her response, continue below.
Ms. Carroll: I want to thank Destiny – Pride for taking the time to interview me today. I thoroughly love the District of Columbia, working with the residents here. We as an agency are committed to ensuring that we can lift the lives of the families that are here. It's a partnership, though, and we need your help, both as a consumer of services or a provider of services to reach out to us and we will walk hand-in-hand in raising the skill levels and the achievements and the lives of our families here in the District.
Destiny – Pride: Ms. Carroll, thank you so much for accepting to be our October Spotlight. Our visitors have not only gotten to know a little more about you, but we've learned more about what the City is doing to give everyone an opportunity to improve his or her position in life, as well as the positions of the other family members. We know that there are those who try to "game" the system for ill-intent, but there are many others who truly are grateful and who are taking advantage of what is available to better themselves and their families. For those individuals, we applaud what the Department is doing and we hope that you will be able to realize the vision of eliminating the poverty that is in our City and bringing as many of those individuals as you can from dependence on the system to self-sufficiency and self-reliance. Again, we thank you.
Ms. Carroll: Thank you, Rufus.
Did you enjoy our conversation with Ms. Carroll? Let us know how much by leaving a comment in the box provided below.