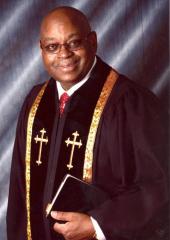 Our spotlight for the month of September 2011 is Rev. Dr. Frank D. Tucker, Pastor, First Baptist Church – Washington, DC; Chairman, National Black Leadership Commission on AIDS; former Board Member, United Planning Organization; and the recipient of numerous recognitions and awards for the work he has done and is still doing in the community, which we will discuss with him.
Destiny – Pride: Good morning, Pastor Tucker. Destiny – Pride is honored to have you as its Spotlight of the Month for the Month of September 2011. We want to give those of our visitors who don't know you an opportunity to get to know you, and for those who do know you, we want to bring them up to speed on what you are doing now and how those in our community and city are benefitting from what you're doing. We would also like to hear about any future plans you may have. As is our pattern, we'd like to start by getting you to tell us about yourself – where and to whom were you born, and a little about your family background.
Pastor Tucker: Thank you so much and thank you for this opportunity. I'm, of course, Frank Tucker. I was born in a little town called Blackstone, Virginia – about 159 miles from here. I spent my high school years there, with the excitement and anticipation of coming to Washington, DC to go to Howard University. I was in this little town, but I had big dreams and I thought that I would go to what I thought then was the "Mecca" of black academic development. So I headed my way to Washington, DC to go to Howard. Fortunately, I had an uncle who was here and he made it possible for me to stay in his home while I matriculated to Howard University.
I came with the idea of going into studying business and from business administration to go into law school. But in my first semester, I had an experience that convinced me that God wanted me to go in another direction. We call it "a call to preach," so I immediately changed my course of study and headed in the direction of studying for the ministry. It has been a wonderful journey since that time.
Destiny – Pride: Do you want to share with us what that epiphany was?
Pastor Tucker: It's a rather lengthy kind of thing, but I really don't mind doing it. I'm excited about the idea of the possibility of doing it.
Destiny – Pride: You can give us the "Readers' Digest" version. [Laughter]
Pastor Tucker: Well the first thing I want to say is when I was a kid in that little town, growing up, I really did not have any desire to go into the ministry. My father was a minister, and there was nothing there that I saw that really turned me on. In fact, my vision of what life was supposed to be like was totally different. But there were those who would say to me, "Boy, you gonna be a minister." That's what they saw, but I would get angry at the idea of them talking about I'm going to be a minister. [Laughter]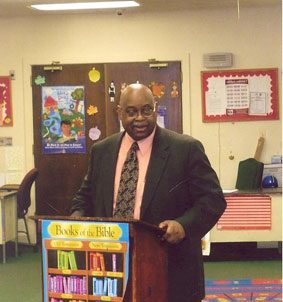 So I came here, and it happened that I was in service one Sunday morning. In that service, the question came to me: What is it that the Lord would have to do to convince you that he wants you to preach? I thought that was totally ridiculous; that question came, and I thought it was totally ridiculous! So I tried to get involved in the message and for some reason that question still came back to me. I had already said to the Lord . . . I had changed my posture and had come to the point where "now" I could say to the Lord, "Lord, listen. If you want me, just tell me. I don't want no houses to fall on me; I don't want to get sick; don't want no accidents; I don't want to get knocked off of no horse or nothing like that. Just let me know." But it wasn't really clear to me as to how he was going to let me know.
In that service, I had an experience that assured me that His presence was with me and that He was desirous of me going into the ministry. I had this experience where there was a sense of peace and calm on the inside, but I could see that my hands my body were having a traumatic kind of experience. My hands were just shaking, and I put them in my mouth to just test them to see what was going on. I was very conscious of it, and the idea came to me, "The Lord wants you to preach." As I began to yield to that idea, the calm came. The peace came. And as I began to reject it, saying, "No, I'm not going to do that, that's not what I want," the reverse came. That happened about three times and when I yielded, there was complete joy, complete desire, complete commitment, and I went to the front and said to the minister, "That's what I wanted to do."
For several days, I stayed in that sense of peace, that sense of holiness – that's the only thing I could say – for several days. Going to class – still in that. I wanted to hold on to it for as long as I could. I knew I couldn't let it go, but I wanted to hold on to it. And there I was in that experience. It subsided, but I have never looked back from the idea that God wanted me engaged in this ministry. And He has guided me all the way.
The only way you can know the prophecy and the reality of a call is to look back at history. And when I look back at the history of my life, I can simply say that God has guided me all the way and enabled me to overcome so much stuff. Only because I had the faith and confidence in God. He got me through school; He got me into the church, and the church is all that I've been in. I had one little job when I finished seminary. I went down and worked at the Community Services right behind Shiloh, in their Community Services Project. I did that for about one year. And then Dr. E.L. Harrison, who was the pastor of Shiloh Baptist Church at that particular time, invited me to become his assistant and the Director of Christian Education. I was there for just a short period of time. I was recommended then to go to a college to become the college minister in a little college in Florida, and Assistant Professor of Religion at that school, at that early age.
Destiny – Pride: What was the name of the school?
Pastor Tucker: Florida Memorial College.
Destiny – Pride: Is it still in existence?
Pastor Tucker: It's still in existence. It's in Miami. I participated in the early stages of the development of when it was getting ready to move then from St. Augustine down to Miami. It's still operating; still going on. And then the Lord brought me, right after that, to pastor at a church in Philadelphia. I was there for ten years, and after ten years, I came back to the church where I was licensed and ordained, and have been pastoring there for 36 years.
Destiny – Pride: And that's First Baptist.
Pastor Tucker: First Baptist.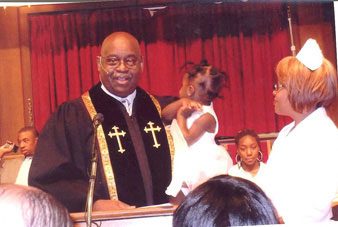 Destiny – Pride: What about your parents and your siblings?
Pastor Tucker: I had three brothers and one sister. There were five of us siblings who grew up together. I'm the baby boy. There were four boys. The girl is a couple of years younger than I. My mother was a school teacher. My father was just an energetic guy, who was also a preacher, who never pastored – at least formally – but he was a great leader in the community in the early stages there. The longer I live, the more I recognize and have a greater appreciation for his creativity, for his forwardness and to understand that he was way ahead of his time in terms of what contributions he made.
Destiny – Pride: Are you married and do you have any children?
Pastor Tucker: I am married. I've been married for 47 years and I have one daughter.
Destiny – Pride: And their names?
Pastor Tucker: My wife is Brenda Barbour Tucker, and my daughter is Lisa Elizabeth.
Destiny – Pride: What are your academic achievements?
Pastor Tucker: Well, as I indicated, I finished my undergrad degree at Howard as well as my bachelor of Divinity agree at Howard – that was back in the '60s – and I've done some work on my doctorate degree.
Destiny – Pride: So you were one of those "advocates" at Howard at that time in the '60s.
Pastor Tucker: Amen. That's right!
Destiny – Pride: What in your upbringing do you attribute to helping to shape you into the person you are today?
Pastor Tucker: I think primarily it was the religious instruction; the moral value that was found in my home and in my parents. Their desire for excellence and their pursuit, concern and love of others. Their love for God. It was in that kind of atmosphere. I've always thought of reaching for the best that I could be, and that was out of the context of where I lived. I had some excellent school teachers who put in us the principle that you've got to be better than the best. You've got to excel. Just to measure up, you've got to be better.
I remember walking to elementary school, passing by the big brick school where the white folks went, passing by it going on down to this wooden, shabby little school to study. That reminded me that I had to excel – I had to do better – and I was determined to measure up in this world that I'm in. Teachers taught you. They took the hand-me-down books and materials that we had and taught you values to excel, and to use what you have and make the most of it. It is that kind of backdrop, a clear indication, and very early I had this awareness of the divine. That there was some being other than me, outside of me, that I drew upon and wanted to know better and to explore better. It was all of that that was a part of my early journey. I always had a sense and a desire to be well thought of, to be respected. And I think that that guided my moral behavior and my conduct. Not that I didn't have some of the desires and feelings that other folks had [laughter], but I just didn't want the other folks to know that I had them [laughter].
Destiny – Pride: Who are some of the individuals in your life who have had the greatest impact upon you and the choices you have made? You talked about your daddy. What about you mother?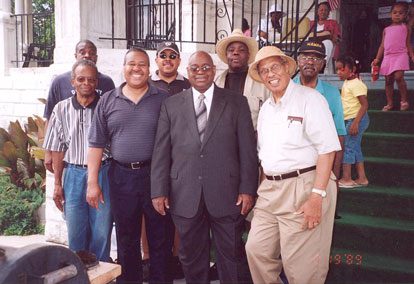 Pastor Tucker: My mother had a tremendous influence on me as well. She taught me well. But I lost my father when I had just entered into college. He passed. In fact, I had an uncle that passed one week, and we had his funeral. At his funeral, my father said, "When I go, I don't won't y'all to be crying over me. Move on. Do what you got to do. Proceed on in life. A week later, he passed. His sharing that with me stayed with me, and I did as he said. I moved ahead; didn't shed a tear, but I had a growing kind of appreciation and adoration for who he was as a person inwardly and the quality of his being. That was important to me.
But then I had another uncle in whose home I stayed in during the time I was in college. He had a tremendous influence. I watched him. I observed his pastoral responsibilities – his duties. He was a minister also. In fact, he pastored the church that I'm in now before I did. He pastored for 34 years. It was his influence I think that impacted me most. And then I learned from everybody. I mean, people enter into my life that I draw strength and insight from.
Destiny – Pride: Although you have been affiliated with the church for numerous years, you also have been very committed to a number of community organizations that have provided services and opportunities for some of our most disenfranchised individuals to change or better their station in life. A couple of those are the United Planning Organization and the National Black Leadership Commission on AIDS. Tell us about these organizations and how they are addressing the needs of those in our communities.
Pastor Tucker: Well, of course, my first exposure to United Planning Organization was back in the late or middle 60s when it first got started. It was about mobilizing community and relating to community and believing that there were resources and assets within the framework of the community that could help itself, if given a chance, and given the added resources that needed to take place. That was certainly right down my line in terms of what I saw as to what the ministry was all about. My sense and awareness at that time was a social ministry anyway in terms of reaching out beyond the household of the church, per se – the stain-glass windows, for that matter. So the degree to which we can strengthen, mobilize and enhance and empower the people in the community to address their problems, that's right down my line in terms of my thinking. It's organizing and coalescing and people getting together to work together in that way.
Destiny – Pride: Where did you go from the 60's and the United Planning Organization, because there's a big gap in there in terms of the years?
Pastor Tucker:  Well, my journey took me to Philadelphia to a church called Jones Memorial Baptist Church.  My notion of going into Jones Memorial was, again, a providential thing.  I believe God led me into that situation.  I thought after one year there that I had done what God wanted me to do there – after one year.  And that was to just show the people another relationship between a pastor and the people, and to serve them and to do the routine things – priestly things – that ministers ought to do.  I thought I had done that.  So, I said, "Okay, God.  I've done that.  Now tell me what you want me to do."  He told me nothing.  He said nothing.  My uncle, who was the pastor of First Baptist Church, said to me when I was there, "Wherever you are, sink your roots deep, and if the Lord wants you to go somewhere else, He'll take you somewhere else.  He'll move you.  He'll show you that's what He wants you to do."  Having heard that, I proceeded to say, "Okay, I don't know what He wants me to do.  I'm here.  Let me look at this situation and see what it is."  So, I mobilized the congregation.  Had them to make a survey of the needs in the community, to examine those needs and what the people in this sort of deteriorated North Philadelphia community needed.  We came up with several things.  Number one, you could see that there was a housing need.  Number two, there were some health issues that had to be addressed.  What I did was I decided to mobilize that church – that small church community – to then develop housing for the people in the community.  I think we developed the first and only 21-DC housing.  It was a scattered site housing property through HUD in that North Philadelphia area.  We developed that.  We formed a corporation and got that going.  We developed 42 units of housing there.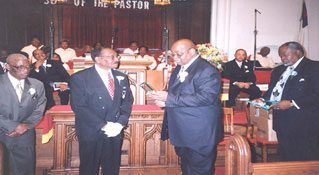 At the same time, we moved on to develop a woman's health clinic, where we would help women. We'd give them counseling in healthcare, prenatal care and provide information in those areas. We recognized that there were a number of persons who were mentally challenged and needed some help – young people. We developed an initiative that put three houses that we converted into homes for mentally challenged individuals, and they were able to come into the community, live in the community and do some of the ordinary things. So we operated that.
Then we pursued another initiative. There was lady who was a member of our church. I went to see her. She was blind and was there in her home by herself. It kept me fascinated on the idea that this person needs to have a place that she could go and have proper care and support. That moved me into the development of a nursing home. So I pursued in that situation the development of 180-bed nursing home in Philadelphia, that they eventually named the Tucker House.
Destiny – Pride: Is it still operating today?
Pastor Tucker: It's still operating.
Destiny – Pride: Is the church, Jones Memorial, still there?
Pastor Tucker: Jones Memorial is still in business. It's still operating. I was leaving and was in transition about the time it [the nursing home] was being developed, so we developed a community board that took over the management and the operation of that facility, and it's still going on.
Destiny – Pride: So all of those initiatives are still going on today.
Pastor Tucker: They're still going on today.
Destiny – Pride: So when did you get a calling to leave?
Pastor Tucker: Now, in the midst of all of that, I get the call to come to First Baptist Church in Washington, DC. This is where my uncle was. This is the church at which I got that original call on a Sunday morning. The church was located in Southwest, Washington, then. In '58 it moved to New Hampshire and Randolph Street, where it is presently located. They extended to me the invitation to come back. This is where I was licensed; I was ordained as a minister; and I had worked in the church and developed, while I was there, what we call a "junior" church, which was really a replica of the senior, or larger, church. I guess we started with 23, 24 young people and it ended up being over 200 young people participating in a service while the adults were having their service.
Now that was really a vision and a baby of my uncle, who had also pastored a junior church in the church that he came from, which was Mt. Airy Baptist Church, in '47 when he first came to First Baptist to pastor the First Baptist Church.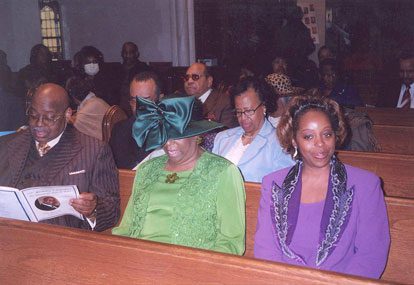 So I'm in Philadelphia, with all of that going on. Feeling good about how things are moving. My ministry is going. The work is going. I'm not hungry. Things are going pretty well. And here there is this call – invitation – from this church to come back. I had a decision to make as to whether I was going to come. That was a challenging time at that moment. More than I knew. The truth of the matter is, to this day, I am not disturbed, not bemoaning the decision that I made. But there is yet a question underlying my spirit whether or not that was a better move for me. I don't know. Providence has yet to speak to me on that matter. But I'm not mad with it. I am very happy with the journey. I'm grateful for the journey. And then we have proceeded to do a number of things here at this church.
Destiny – Pride: Well when you finally get a chance to see Christ and the Lord, you just might raise your hand and say, "May I ask you a question about that." [Laughter] Okay, so you're now the Pastor of First Baptist Church here in Washington, DC where you minister not only to the spiritual needs of those in your congregation and community, but also to their mental and physical needs. Tell us about some of the things you're doing at First Baptist Church.
Pastor Tucker: Over the past 30 plus years, we have developed something here called the Church Association for Community Services. That was organizing churches in every ward to address the issue of substance abuse, violence, social service, education, afterschool programs, and all of those things. We were assisting churches in doing ministry in that vein. We had groups of churches in each one of the wards of the city that had those programs and were involved in those programs in a real way, working collaboratively together to make it happen. Though we no longer have the funding and we no longer have the kind of synergy that we once had in making that happen, some of those programs are still going on in churches around the city. Covenant Baptist Church was a major church in that. Israel Baptist Church was another church that was involved. Pilgrim Rest Baptist Church was another one that was involved. Ward Memorial Church was one that was creatively involved in the whole process around the city. We were working together. I put a lot of energy, a lot of effort in making that happen.
In the meantime, at First Baptist we expanded for a period our Child Development Center, to make it a premiere kind of development – a training institution in our community. We also purchased a facility across the street from the church, a big house that we call our Senior Comprehensive Center, where seniors come on a daily basis. They get a little snack in the morning and then lunch and a variety of activities that they have during the day, so that kind of a thing is going on. We have a vibrant youth activities/youth ministry that's going on in the life of the church. We are constantly engaged in trying to reach out to the community to address the issues there.
That brings us to the piece on the Black Leadership Commission on AIDS. We've got that problem. Now that's an interesting little piece, too, because I found myself going into Africa on behalf of the Foreign Mission Board of the National Baptist Convention, going there to explore how we could address the issues of HIV/AIDS around the mission sites that they had going on. After doing that for a bit, and taking care of that, I discovered when I got back that we had a major problem here in the District of Columbia – in my own hometown there's this whole problem with HIV/AIDS. So we decided that we would pull together the leadership of the major religious institutions in the District of Columbia to see if we could collaborate in changing the tone and attention on this problem. The reality of it is that the face of HIV/AIDS has changed, and we have to address it. We can't walk away from it; it's happening all around us. So this was an effort to address that problem and to make sure that we could move on it in a big way. We believe that the church is the place in which that can take place, and ought to take place.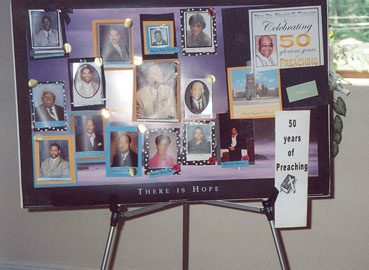 The Black Leadership Commission on AIDS, therefore, has been working over the past couple of years to mobilize churches and pastors who will work at bringing down the stigma related to HIV/AIDS; to establish initiatives and programs in the church; to have testing opportunities and health fairs and those kinds of things that would focus and encourage people to come and get tested because that's the only way they are going to be able know their status, and the whole idea is to get people to know their status. So that's what we are attempting to do. Also, we are looking to be advocates, to make sure that the resources are going to where they need to go. So we're looking at our efforts to address that. We're working with doctors and people who can assist with the media and the other forms of community support and involvement, that we might attack the problem from a holistic standpoint. That's what we're attempting to do.
Destiny – Pride: You all are located in areas more than Washington, DC, right?
Pastor Tucker: Yes. We recognize that AIDS does not know where Southern Avenue is, and doesn't pay any attention to the river. It just moves on across there. So what we've done is tried to collaborate with our brothers and sisters across the county lines. We recently held a regional conclave [March 25, 2011] where we had people from Prince George's County, Virginia, Montgomery County, coming together. We had the Governor from Maryland, the Executive from Prince George's County; all of the Health Directors from each of the regions.
Destiny – Pride: The Mayor of the District of Columbia.
Pastor Tucker: The Mayor of the District of Columbia was there. It was a major presentation, and all of them indicated that they were committed to dealing with this problem. What we have to do now, of course, is to make sure that we carry out the well-intended proclamations that we make. We talk the game, but now how do we make sure that we can really put some meat onto the bones of this structure that we're trying to pull together?
Destiny – Pride: Are there any other organizations that you would like to expound upon?
Pastor Tucker: Well I might share with you that I'm what they call the "facilitator" for a group called "The Wednesday Morning Clergy Fellowship." That's a group of about 60 or 65 pastors and ministers who come together every Wednesday; we have an hour of prayer; we fellowship around a meal; and then we discuss the critical issues that's going on in our community. We determine strategies out of which we can, individually or collectively address them in our community. We often have public officials to come in and address us and anybody else who's doing anything worthwhile in the city to come for our counsel and advice and for them to inform us that we might be able to inform our constituency.
Destiny – Pride: You have really amplified on the fact that you are trying to do things that are "worthwhile."
Pastor Tucker: You are exactly right.
Destiny – Pride: Are there any other things you're doing at First Baptist that you would like to share with our visitors?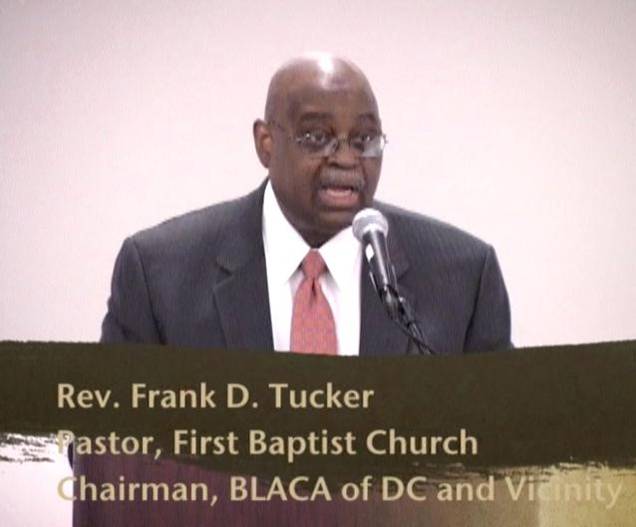 Pastor Tucker: Well, basically, we do those traditional things that foster the health and strength of our members. We're focusing heavily on their education in terms of health, and getting them to practice that. There isn't a Sunday that goes by that I don't speak something about the health issue and them taking care of themselves, addressing diabetes, prostate cancer, breast cancer, HIV/AIDS – there's always something that's going on that looks at the health and wellbeing of people. I also try to keep them abreast about the economic situation that we're in. That's a critical issue at this particular time. How do we get them involved in such a way as to assist them in those areas? There are a number, of course, of social issues that are still hanging out there that we touch on – one way or another – in terms of our ministry and our support.
Destiny – Pride: What would you say have been your greatest achievements in your life's journey thus far?
Pastor Tucker: That's a very, very, very good question, because I just feel that it's yet to be done.
Destiny – Pride: That's why I said, "thus far." [Laughter]
Pastor Tucker: In spite of all of what I believe that God has called me to do, all of the journey that He's taken me across, and all of what I sense and feel at this particular point of my being obedient to Him and responding to His Way, I still don't think that I have done anything particular or special. I'm just excited to be on this planet doing a little something for the Lord as I move along.
Destiny – Pride: Well I'm not going to let you get away with that answer, so I'm going to restructure the question. I'm asking the judge for permission for me to restructure my question. [Laughter] What are some of the greatest things that you have been "excited" about that you have done in the course of your journey? So not your "greatest" achievement, but some things that you started and the next that you know, you've seen some great impact of change.
Pastor Tucker: Well I'm certainly happy about the accomplishment of the development of that nursing home completely. I'm excited about that. I think that we have made some strides in terms of the mobilization of people to address social ills as well as the mobilization of people to address HIV/AIDS. My passion right now is to address the health issue that's in the black community, and I'm feeling real excited about that. I just think that the excitement that I have most of all is simply about helping people become aware of their potential in God, and I see it unfold everyday. I see young men and women whose lives have been helped, who are out achieving things. Pastors who are excelling in a great way and they just pass by and I had a little something to do with the process. That's exciting to me, and that's a sense of gratification and satisfaction. Every now and then you see a youngster that came your way into the fellowship and they're excelling in terms of the corporate world – a lawyer, for example. That's exciting to me, to see them helped in this way. One other thing: I have about six young men right now that have just finished high school. I look at what was poured into them and the potential that they have in going to some of our premier colleges, moving on, and just the idea of what they might do in the future.
Destiny – Pride: I knew if I restructured it, I'd get it out of you! [Laughter] What about your greatest disappointments, if there are any? Dr. Cain Hope Felder said during our conversation with him [July 2011 Spotlight of the Month] that his greatest disappointment, which I thought was very powerful, is that love has its limits. No matter how much you can love something or someone – because you can't control the desired outcome of it – and although the love will never dissipate in your heart, you still might not achieve your desired outcome.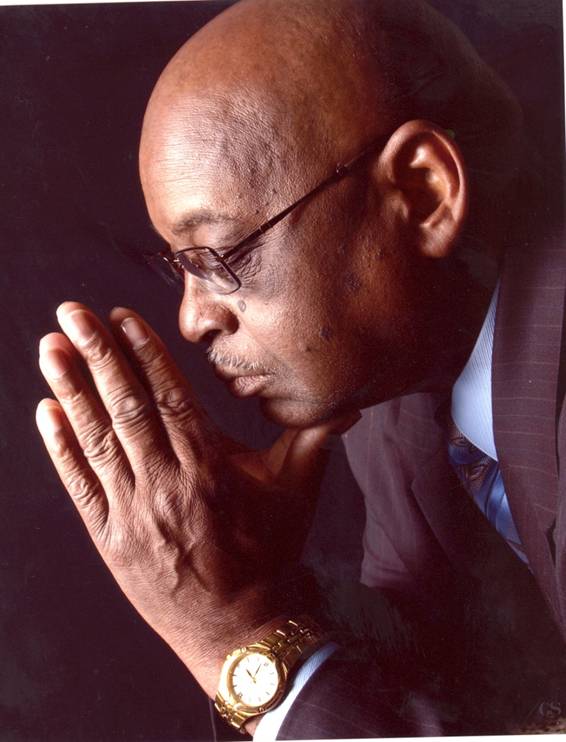 Pastor Tucker: That's a very powerful statement, and it's a stimulating statement. To recognize the gravity of the force of love and then realize that you can't act it out; that it requires something else and somebody else for its complete fulfillment, and you can't bring that to pass. That's a very deep and very critical point. As likewise, there are just a lot of things and challenges that I've attempted. I've reached out to do, to achieve, and to simply discover that the resources, the capacity to achieve them escapes me. The fact that you can do so much and desire so strongly to achieve them only to discover that you can't do it. But as I think about that, I recognize also that that is also a moment for the individual to grow a little more in the recognition of the significance of the Divine. That the world and the resolution of what you're engaged in is not limited to you, and you may not fulfill every dream. You are only a speck. Your perspective of who you are and where you are on the planet and in the scheme of history is only connected to where somebody else will come along and pick it up. The significance of all of this is totally connected to the eternality of God!
Destiny – Pride: Please give any last and final thoughts that you would like to leave with our visitors.
Pastor Tucker: What is in my heart right now is the love of God, the love of people and the willingness to do God's bidding to make this a better world. I have discovered that people have lost the sense and value of life. The value of living. The privilege of that. And no matter where you are in the structure and strata of life, it's a privilege that has been given to you, and you have an obligation to make the best and most out of it.
Destiny – Pride: Pastor Tucker, we at Destiny – Pride thank you for taking the time to converse with us. You have accomplished so much in your life's span. We wish you continued success in all that you are doing now, and in all that you hope to do in the coming years to continue to enrich the lives of those in our neighborhoods, our communities, and our city. Again, thank you very much.
First Baptist Church is located at:
712 Randolph Street, NW
Washington, DC 20011
(202) 541-5000
---

Besides the keynote speaker, Rev. Dr. Dwight, C. Jones, Mayor of the City of Richmond, Virginia and Sr. Pastor of First Baptist Church of South Richmond, speakers at the 2011 Regional Conclave on HIV/AIDS included distinguished individuals such as Maryland Governor Martin O'Malley; Maryland State Delegate James E. Proctor, Jr.; and Prince George's County Executive Rushern Baker. Also present was District of Columbia Mayor Vincent C. Gray and numerous other high-level regional stakeholders who were very concerned about addressing and dealing with the devastation caused by HIV/AIDS. For more information on the National Black Leadership Commission on AIDS, click here.