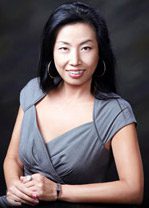 Our spotlight for March 2012 is Ms. Soohyun Koo, or "Julie" Koo, as she is known to most of us. Ms. Koo is the Director of the Office on Asian & Pacific Islander Affairs (OAPIA), which is under the Office of the Mayor of DC. I have known Director Koo for quite a number of years, going back to my days at the Department of Human Services. We will talk with her to learn about the purpose, the work and the services that are being provided out of the API Office. We might also learn about the diversity of the API population – its different cultures, languages, challenges, etc.
Destiny – Pride: Good morning, Director Koo.
Director Koo: Good morning, Mr. Mayfield.
Destiny – Pride: Thank you for agreeing to be our Spotlight for March 2012 and to talk to our visitors about your work at the Office on Asian & Pacific Islander Affairs. As I said earlier, I've known you for some time and am aware of the outstanding work you are doing there. You've gotten nothing but rave reviews from everybody that I know who has worked with you and your programs.
Before we get started on your work experience, however, we first want to find out about the early years of Ms. Soohyun Koo. So let's start out by your telling us where you were born, to whom you were born, whether you have any siblings and any other interesting tidbits about your earlier life.
Ms. Koo: First of all, thanks so much for giving me this opportunity to be interviewed. This is a great honor for me to be a part of your website and a part of your organization. As you mentioned, I've known you for a long time. You are a good friend, and you have been a good partner of our community for a long time. So, again, I thank you for being such a supportive partner of our community and of our office.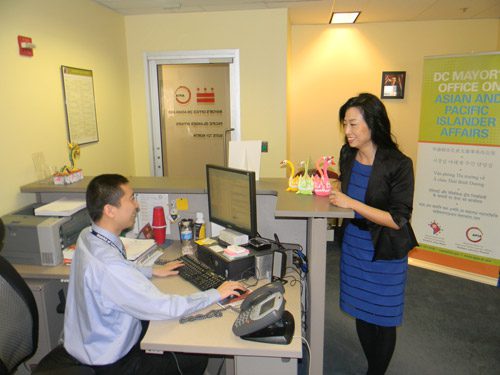 I was born in Korea. I'm not going to say what year [laughter]. I was born in Korea . . .
Destiny – Pride: In 1995?
Director Koo: Oh, 2000 [more laughter].
I grew up in Korea, so I finished my schooling all in Korea. I came to the United States at the end of 1998, so I am a visa immigrant still. Right now I don't have any siblings in the United States. I have cousins in the Chicago area, but in this area I'm alone. My parents are still back in Korea. My siblings are all back in Korea.
Destiny – Pride: How many sisters and brothers do you have?
Director Koo: I have one sister – a younger sister – and one older brother. I'm the middle one.
Destiny – Pride: So you're the spoiled one?
Director Koo: I don't know about that! [Laughter] And I don't have any children.
Destiny – Pride: What about marital status?
Director Koo: I'm single.
Destiny – Pride: Name those individuals whom would you attribute as having the greatest impact on you and your life choices.
Director Koo: Absolutely it's my parents. I still talk to my mom everyday. Every morning. Every single morning.
Destiny – Pride: Stop!
Director Koo: [Laughter] She's my best friend and she's my best advisor. She's a great person to talk to. I always consult with her about many things. So I'm going to say that the person that I really look up to and the person who really has influenced my life is my mom.
Destiny – Pride: Is your father still living?
Director Koo: Yes, my dad is still alive. I have a great relationship with my dad, too, but I especially have a better relationship – and my dad probably will not like this statement, but yes, I have a better relationship with my mom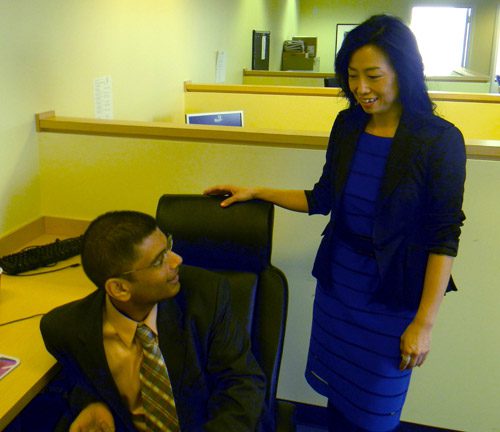 Destiny – Pride: You know it's strange, but a lot of times, even in the African American community – and I thought it was just an African American thing, but if you talk with us, the person that we really talk about is our moms. She's the matriarch, the structure and all of that. The dads, a lot of times, provided for us, but its generally the matriarch who gets the acknowledgment.
Director Koo: Well that's definitely my case, too! I think that my mom definitely had a great impact on my life.
Destiny – Pride: Do you subscribe to any particular faith, and if so, what?
Director Koo: I do not actually – I can't really claim that I am Christian, but my brother is a reverend and my family does go to church. I don't go to church often or regularly but, coincidentally this past Sunday I went to church. So I do not have a religion at this point, but I'm leaning towards Christianity.
Destiny – Pride: Was there any experience of religion early on in your life?
Director Koo: I went to church when I was young, yes.
Destiny – Pride: And it was Christian then, also?
Director Koo: Yes, it was Christian, but now I'm at a point where I may go back and have a religion. At this point I'm not an atheist, but I do not have a religion per se.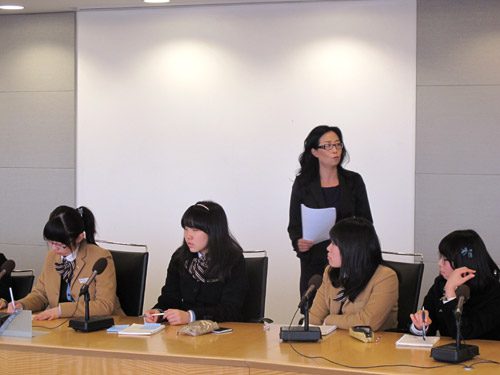 Destiny – Pride: Would you consider yourself an agnostic, where that you believe there is something that really controls this universe?
Director Koo: Well, it's a deep conversation, right? [Laughter]
Destiny – Pride: Okay. I'm going to let you go [more laughter].
What were the circumstances that brought you to Washington, DC?
Director Koo: I was married to an American. Actually, in fact, I was married to an African American person.
Destiny – Pride: Okay. No wonder you're so nice! [Laughter] Oh, I'm sorry. I wasn't supposed to say that [more laughter].
Director Koo: I came to the United States because of that reason. I am no longer married to that person, but yes, that's why.
Destiny – Pride: Now tell us about the Office on Asian & Pacific Islander Affairs. Why was there a need to have an office of this type?
Director Koo: One thing we are trying not to provide is "special" access through our office to our community. What we try to ensure is that the "equal" access that everyone has in the City can be also offered to the community that we serve, which is the Asian and Pacific Islander community. The reason why is that many of our community members are recent immigrants, so they have language barriers and cultural barriers. Oftentimes they do not know where to go and seek out services. So we are here to be an access point for them, so that if they do not know how to access services they can actually, through us, access different government services and programs.
Destiny – Pride: How is the office staffed?
Director Koo: We have a total of six staff members, including myself, and we have a Commission of 15 members. Commission members are not paid.
Destiny – Pride: When I was here [with the Department of Human Services], you would have an annual affair at the Martin Luther King Library.
Director Koo: For the May Heritage Month, yes.
Destiny – Pride: Tell us about that.
Director Koo: Yes, May is the Asian and Pacific Islanders' Heritage Month – nationally recognized. So every year, as you remember, we have different themes. Sometimes it's in the format of a town hall meeting; sometimes in a format of a cultural fair. One thing that we do every year, though, is a May Heritage Month Mayor's Community Service Award. I think you were one of our Service Award recipients before. So we do that every year and we have different celebrations. Like last year, we started something called "Cultural Dialogue." Oftentimes when we do this event, we have it in MLK [Martin Luther King] Library, which is located in China Town. We often get many Asian American members from the community, but what we realized is that we really wanted to make sure that we bridge the cultural gap and we wanted to bring this experience to the East of the River community.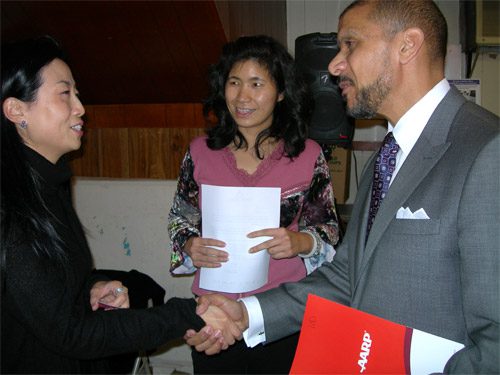 So we went there and had a small dialogue session with the community. We especially thought it would be good for the business community – mom and pop grocery store owners – to get together with the community members there to talk about their differences and similarities also. Maybe that way they can actually have better understanding and we can provide the opportunity for them to understand each other better. It was a great event, and so this year we're going to actually continue to have that. We'll probably have two events in both Wards 7 and 8 to have cultural dialogue sessions.
Destiny – Pride: I can really firsthand testify to that. If you can remember – it's been many years ago – that I had a problem with an API-run grocery store on 15th and Pennsylvania Avenue, Southeast. I brought it to your office and your attention and you helped to facilitate that dialogue. So I can testify firsthand, especially with API businesses that are East of the River. I know that you have been out there and have fostered the giving of donations by the businesses to community affairs activities that were going on in the communities there. So you're doing a tremendous job.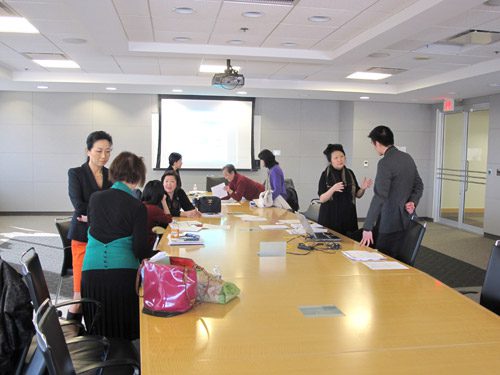 Now tell us about the people that you service.
Director Koo: In DC, according to Census 2010, we have about 25,000 people who live in the City, which is about 4.5 percent of the entire population. You probably know really well, so I don't have to explain to you, but the Asian and Pacific Islander community is really diverse. We have Chinese, Asian Indian, Korean, Vietnamese, Filipino, Japanese, and also we have other South Asian communities. There are emerging populations also in the city, too. We have Pakistani, Thais and others. So it's really a diverse community, not just culturally, but also language wise, too. In just China alone, as you know, there are so many different dialects, so even though I myself speak Mandarin Chinese, there are Shanghainese, Cantonese or Fujinese, which are totally different languages . . .
Destiny – Pride: Traditional . . .
Director Koo: Yes, so it's a very diverse community.
Destiny – Pride: Later on I want you to amplify on that a little more. What are some of the challenges that confront you?
Director Koo: The diversity of our community is a great advantage, but at the same time a challenge for us because there are small pockets of different communities. So in our office, we speak a total of probably about six or seven different languages. However we don't speak all 150 or 200 different dialects and languages, so when it comes to providing services, we need to connect with the community or we have used language-line services to connect with our community members to provide services. So I will still say diversity.
The second thing is still we always have new immigrant communities coming into the City, and we have to educate them about how to access government services and programs, so it's a constant challenge, again, to educate people about the services available so that they can actually get them.
Destiny – Pride: You briefly touched on the language access line. Tell our visitors what that is about, because a lot of people come in with different dialects that maybe you do not have. So share with us what the language access line is.
Director Koo: DC is actually very progressive in this matter. In 2004, as you remember, DC passed something called "Language Access Act," so according to that every agency has to provide services. Of course, there are different criteria, and I'm not going to get into the details, but at least if you call any agency – whether it's DCRA or DHS – and if you have any language issues, you can request a language line – you can request for different languages. Every agency has a sort of phone-line interpretation service they have contracted with. So they can connect with this phone-line interpreter to provide interpretation service live. So it's going to be like a conference-call base and you will be able to still communicate with the service rep with each agency.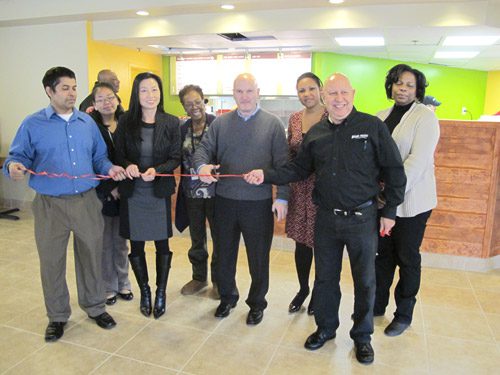 Destiny – Pride: Within the API community itself, as you have mentioned previously, there are distinct differences in language and cultural practices. This is what I said I wanted you to amplify on, so please expound on this and tell us what the API office does in that regard.
Director Koo: Do you mean the cultural part, mainly?
Destiny – Pride: Well let me go ahead and collapse it with the question that's getting ready to come up. When you talk about the dialect and the difference of languages. One of the problems that we had, especially in Spanish, is that you could translate the information within this lane of interpretation, but it could be offensive – some of the words that were used. So eventually, if you remember, they took that away from the agencies and tried to centralize something that would be applicable to the majority of the demographics. Those challenges.
Director Koo: Right. I think you got it right exactly. There are some words – for example, domestic violence – that are hard to translate in some languages because there is no such concept. Or maybe some other words. If you do a literal translation, it could be offensive to that culture or they may not accept that word. So that's also another part that when it comes to translation, it's not just the translation of the language, but you have to understand the cultural background – where they're coming from.
So the bottom line of translation is that you want to get the information out to the community. If that's the purpose of translation, we have to make sure that they actually understand what we try to convey. So sometimes we try to educate and that's one of the parts that we're doing in terms of our agency work: that we also educate and advise different agencies about how to approach our community when it comes to servicing our community.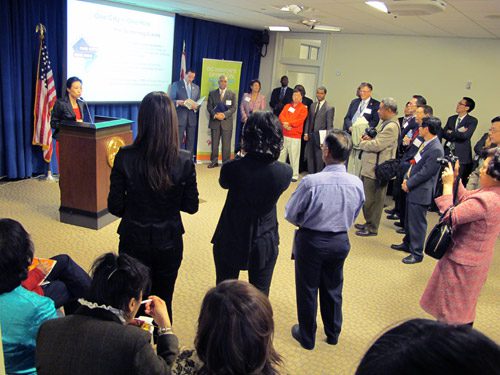 Destiny – Pride: What is the population of the Asian Pacific Islanders, and what percent of the DC residents do they represent?
Director Koo: I think I mentioned earlier, according to Census 2010 I think it's 24,857 people in the District who are Asian and Pacific Islanders, which is about 4.5 percent. I believe that Asian Indian is the largest population, followed by Chinese, Filipino, Korean, Vietnamese and Japanese.
Destiny – Pride: Explain to our visitors, first, what was the LAP Act.
Director Koo: LEP?
Destiny – Pride: LEP; I'm sorry.
Director Koo: Oh, you mean the Language Access Act?
Destiny – Pride: No. The Limited English Proficiency Act. You remember that's what we were under initially. Then we passed the DC Act – the Language Access Act. But it was initially called the "LEP" – the Limited English Proficiency Act.
Director Koo: I think that was actually an API Initiative. I think that's probably what you're referring to.
Destiny – Pride: Yes.
Director Koo: So that was under Mayor Williams; it was an Executive Order back then. It was called API Initiative, so that was mainly for people who are limited English proficient and also who are Asian and Pacific Islander community members. It's a special initiative. I believe that later on that was also implemented to the Latino community as well; and the African community, too. So the initiative, mainly, I can summarize quickly three things. The one is to provide translation and interpretation for the limited English proficiency population. The second part is to hire bilingual employees. The third part is to partnership with these LEP-serving organizations to better serve the community. The challenge was to become a trusted advisor of the community or to connect with the trusted advisor of the community to serve the population.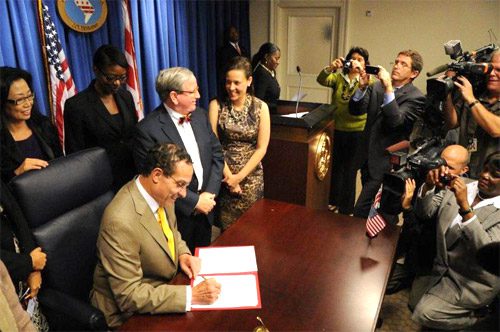 Destiny – Pride: Now explain to our visitors the DC Language Access Act of 2004.
Director Koo: As you mentioned, the Asian API Initiative was sort of a starting point of the Language Access Act. There are different community members, along with different agencies. Constituent-based agencies got together to push this forward, and in 2004 the Language Access Act was finally passed I think under, back then, Councilmember Jim Graham's leadership. So basically, if your agency is serving 500 people or 3 percent – whichever is greater – you have to provide interpretation or translation service for that particular document or particular program.
Destiny – Pride: All of the primary documents.
Director Koo: Right.
Destiny – Pride: As you know, I was designated as the API Coordinator for the Department of Human Services when I was there. Tell our visitors what you think has been the greatest impact on the API community to take them out of the shadows and put them in the forefront.
Director Koo: I have to really say it was the community leaders and members. They were really active – now also, but back then, even more, to really push that forward. I think it's not just for the API community, but I think the main concept was that there are other languages. We have the great benefit of the Latino community leading many of the efforts to get the Language Access moving forward. But at the same time, for the API community, mainly what it brought – whether to DC or DC government – was that there are also other languages or there are also people from different countries who are immigrants. Whether you speak Amharic or French, or whether you speak Vietnamese or Chinese. They still need also to be served. So I think that was the bigger message. It's not just for Asian languages, but also it's more for other immigrant populations who speak other than Spanish, who also need service, whether from DC government or Federal government. I think that's sort of the awareness for our community.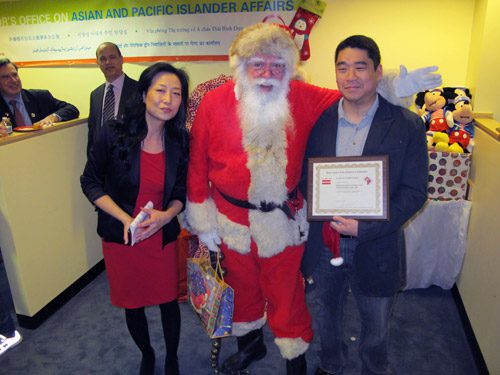 Destiny – Pride: I can recall one time that I got "spanked" because of the former Director, Greg Chen. I missed a timeline of getting my report in and Greg, when he did his report out at the Cabinet meetings, would tell what agencies did not get their reports in on time. I thought I had an agreement with him that I was hiring Jate Pan and that we would be late, but he still reported the Department of Human Services as being out of compliance. My Director spanked me something terrible and told me "Don't you ever have me called out in a meeting about something that should have been done." And that never happened again. So you all were on the forefront. You downplayed it in this conversation, but you all were on the forefront of where we are today.
Director Koo: Well I guess that right now, our approach is a little different because we all work together. That probably could be done as a last resort [reporting an agency as being noncompliant], but we have a really great working relationship with all DC agencies. It's also two ways. We provide them with guidance and they also ask us questions or they also work with us. Right now, I would say our working relationship with all District agencies, when it comes to serving our communities, is really good.
Destiny – Pride: How might someone get in contact with the Office on Asian and Pacific Islander Affairs if they should have some concerns or need information or to have you come out and talk to people?
Director Koo: There are so many different ways. One definitely is to please visit our website, which is www.apia.dc.gov. We have different resources, information on organizations or media reports. So whatever you would like to see, we have a lot of information there, so please visit. We also have our Facebook. We also have a Twitter account. We also are very much into the social network, and we are very advanced in that matter. So whichever way and also of course by phone call (202-727-3120); we have a list of numbers; and fax (202-727-9655). Visit whatever way you would like to contact us; we'll be available.
Destiny – Pride: You are still a young lady, but looking over your accomplishments thus far, what would you say have been one of your major accomplishments?
Director Koo: I want to say that I brought our Agency's services beyond just certain communities. I think in the past we were focusing on three major communities, which were the Chinese, Korean and Vietnamese communities. Again, we're a very diverse community, so when I took over, I wanted to make sure that we are servicing everybody. We are not just serving one particular or just a couple of particular communities, so now we are more known to diverse communities, whether they are Asian Indian, to Filipino, to Thai, to other communities. So I would say that's one thing.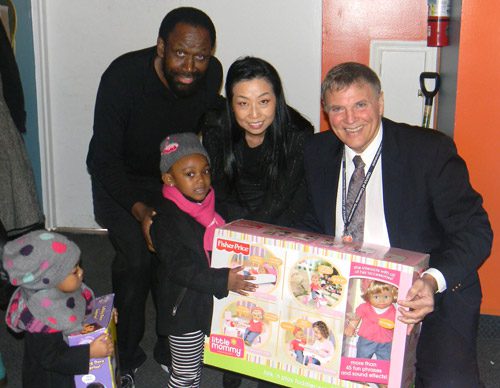 At the same time, also, just what the Mayor is always saying – and it is actually the Mayor's vision of One City – is that we really want to make sure we're not doing our own thing here and not be connecting to the mainstream community. We want to really work with everybody, so what we want our community members to learn – even though some of them are immigrants – more about what America is about. At the same time, we want to also let people know about our community more, so we can actually reach them better – understand better. I think a lot of issues and conflict come from misunderstandings.
Destiny – Pride: Do you have any major disappointments? You're too young probably to have any, but are there any major disappointments that you might have?
Director Koo: I don't want to sound too optimistic, but it's just my personal philosophy and I would say I don't believe in regretting something. I'm always looking forward, and if there are any mistakes that I've made, it's going to be my lesson point to get better. So no, at this point, no. I don't have any disappointments I can talk to you about.
Destiny – Pride: Are there any last words that you would like to leave with our visitors?
To see the video of Director Soohyun's response
To read her response, continue below.
Director Koo: I really want to thank Destiny – Pride for giving me this opportunity to introduce our community and also to introduce our work. I'm especially thankful because Destiny – Pride really understands the importance of diversity. As Mayor Gray said, we are one City – we are one "diverse" city.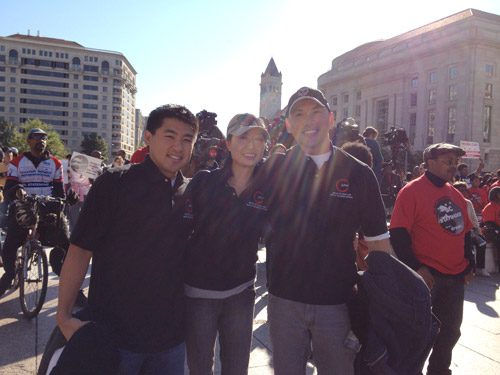 We have about 25,000 Asian and Pacific Americans in DC, and we have Latinos, and we also have immigrants from African countries, too. That really makes about DC, and that's what makes DC really special. We are such a diverse community that we can really learn about each other to make each other better. So, given this opportunity through Destiny – Pride, so you can learn a little bit more about ourselves, hopefully you can actually learn to get better, and also please give us an opportunity to learn more about different communities so that we can actually learn from different communities so we can all become better and just be a great contributing member of this one diverse great city. Thank you.
Destiny – Pride: Once again, on behalf of Destiny – Pride, truly we would like to thank you for all of the efforts that you are now doing, and we congratulate you and the API community for being a part of this One City. We thank you.
Director Koo: Thank you very much.
We welcome your comments on our conversation with Director Koo. Please feel free to leave one in the comment box provided below.