Our Spotlight of the Month for the month of January, 2010 – and the first Spotlight feature on our website – is Pastor Anthony L. Minter and his church, First Rock Baptist Church, located in Washington, DC at 4630 Alabama Avenue, SE.
Destiny – Pride: We welcome you, Pastor Minter, as Destiny – Pride's first spotlight feature. Would you briefly tell us about yourself, your church and your ministry?
Pastor Minter: First Rock Baptist Church is an inner-city congregation. Our mission is to transform the community. We believe we were called by God for such a ministry. An interesting dynamic about our location is that as you exit the doors of our church, when you look to your right, you see single-family homes that consist of retirees and middle income residents. However, when you look to your left, it's a totally different scenario. What you see there is a public housing dwelling named Benning Terrace, and the lifestyles are vastly different, with most of its residents generally on some type of subsidy. We need to bridge the gap between each other. Both segments need each other – more than they realize. We need to bridge the gap and unite the community. As it relates to us, and in general, I don't believe in "coincidence." I believe that God strategically placed us there to be a transforming agent in this community for such a time as this, and so our goal is to continue to press to honor that calling, and to do it as best we can.
I was 9 years old when I started at First Rock, which was then under the leadership of the church's founding pastor, Pastor Joseph W. King [founded in May 1957]. I became a member there at the age of 12. During those years, I served in numerous capacities, including a bible teacher, a choir member and a junior deacon. I was a junior deacon before I accepted God's calling into the ministry. Pastor Richard C. Corbin became the leader and Pastor of First Rock after the death of Pastor King. He recognized the calling that God had placed upon me, and with his recommendation, I was installed as Assistant Pastor [1999]. I became the pastor of First Rock [in 2004] after Pastor Corbin, at an early age, was stricken with Alzheimer's.
Destiny – Pride: As so many local black churches have abandoned the city and have opted to move to Maryland, why did you make the decision to stay where you are?
Pastor Minter: We stayed because of the calling of God upon us. We didn't just come up with the mission and vision statements; our calling was ordained of God. To transform a community, we must be a part of that community. While many ministries generally come to these types of areas, known as "hot spots," they eventually move on. First Rock wants to be a stabilizing force in this community. We will not leave this community!
Let me also say that another component to our success at First Rock is our commitment to develop strong and strategic partnerships with community and outreach organizations, such as Destiny – Pride, and with other pastors and their congregations. This is important. No one ministry does everything well. We must attempt to get together with pastors – to work with each other and not against each other – to develop one another's ministry in a way that will have a greater impact on advancing the Kingdom of God.
Destiny – Pride: When we last saw you, you were accompanied by some of your staff members and two of your children, Christina and Anthony J. [The staff members were Deborah Marie Joyner and Deborah D. Nix.] We took an opportunity to visit your website at http://www.firstrockbaptistchurch.org/, and saw a picture of you with your family. In addition to your wife, there were "three" children with you. Please tell us a little about your family: Where and when did you meet your wife? What are the ages of your children, and anything else you would like us to know about them?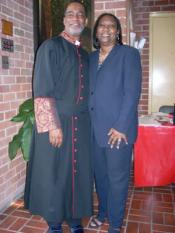 Pastor Minter: My oldest is Vashti Naomi Minter, who is 22 years old. She is currently in grad school at Virginia Commonwealth University and is working towards her Masters in early childhood development and elementary education. My next daughter, Christina Joy Minter, 17 years old, is a senior in high school. She goes to Grace Brethren Christian School. My youngest is my son, Anthony James Minter (age 15), who is currently in the ninth grade at Grace Brethren Christian School.
I have actually known my wife [First Lady Wanda J. Minter] since we were in the third grade. We went to elementary, junior high and high school together. Of course we were not romantically involved at those times, but our families knew one another. When she went away to college, there was a while where I guess you can say there was a break in our friendship. Then she returned from North Carolina A&T – which I don't hold against her – and as the Lord would have it, we hooked back up, but still really just as friends. One thing led to another, and that relationship blossomed into what we now have as husband and wife. In April 2010, we will be celebrating our 24th Anniversary.
Destiny – Pride: That's a great story. Congratulations to you. In visiting your website, we saw that First Rock Baptist Church has numerous other ministries aside from its general church ministry. Would you briefly expound on some of your major ministries?
Pastor Minter: We have a very active outreach ministry, in which we have had the opportunity to go out and do things in the community. One of our major things is that we have an annual "Back to School" ministry where we have, over the past number of years, given away a thousand book bags each year. We also partnered with the "Mo Better Man" and we host a semi-annual Spelling Bee. We get the kids from the community and bring them together to do a spelling bee. They are made up of elementary age kids; they win hundreds of dollars in prizes; and it becomes exciting to them. We're even seeing the parents really getting involved. It's really growing, and that's beautiful.
I believe that education is very important. We have a scholarship ministry. Each year we give away scholarships. We have people to whom we have given scholarships, who have gone to college, graduated, and then have come back to work in the scholarship ministry. That's a major thing that we do.
We have a very active women's ministry, a men's ministry and a seniors ministry. We also have a very active married and engaged couples ministry. All of these I think are very key components to developing the church into the body of Christ that I believe He would have us be as representatives of the Kingdom of God.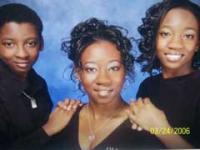 Destiny – Pride: That sounds great, and it appears that you are dealing with the whole family structure and not just one particular sector of the family. Destiny – Pride intends to take that same approach, for it finds that as you delve into the lives of these "at-risk" youths, you generally discover there are "dysfunctional families" attached to them, and so it is very good that your ministries are touching the lives of the entire family and are not just focused on one particular aspect of the family.
Pastor Minter: Yes. And while I believe very strongly in youth ministry – I think it's a very important component as well – I think that one thing that we have to be aware of is, if we do only for the youth and don't try to address the issues of the family in general, we end up sending those youth back into, as you've said, a dysfunctional environment which, many times, has been very counterproductive to what we're trying to do.
Destiny – Pride: Pastor Minter, would you please name for us individuals who have been of major influence in your life and who have contributed to it to make you the person you are today?
Pastor Minter: The founding pastor, Pastor Joseph W. King, certainly was very instrumental in my development, not only in ministry, but also as a person. And of course my parents had a major, major influence on my life – both my mother and my father. My mother's name is Ada B. Minter, and my father's name is MS Minter. My mother, thank God, is still here with me; my father passed in my first year of college. Even in school I had a hard time getting folks to understand that my father's name is MS Minter. They would ask what do the "M" and "S" stand for, and I would tell them it's just MS Minter. He also had an uncle named "UB."
Destiny – Pride: Is there a story behind that?
Pastor Minter: Not that I know of.
Destiny – Pride: That would be interesting to know. What has been some of the challenges, as well as the milestones, turning points and trying times during your ministry?
Pastor Minter: I think some of the greatest challenges have come in the death and illness of the leaders in the ministry. Of course our church was very heart broken when our founding pastor [Joseph W. King] died. And, then, in a reasonably comparative short period of time after having a new pastor who was both a great man of God and a very good friend to me, Richard C. Corbin, who was our second pastor, became sick at a very young age. He was stricken with the early onset of Alzheimer's. That was a hard blow for the church as well as for me personally. But the Lord has given us the grace and strength to go on in the midst of those very serious challenges.
Destiny – Pride: Could you give us a general number of your congregation?
Pastor Minter: I would venture to say a fair number would be about 300, and we're trying desperately to grow that number. And it's amazing to me – I mean it's never really struck me that way – but a lot of people are afraid to come into the area where the church is, and I find that out simply by inviting people to visit us. Some of the responses I get really catch me off guard. They want to know if I will have somebody guarding their cars, or if we'll have a police escort. They say those things half-jokingly, but it's their way of expressing some apprehension about coming into the area.
Destiny – Pride: Do you think their apprehension is based on their own experiences, the experiences of their friends, or is it based on folks hearing you say you're located in "Southeast"? Unless it's "Capital Hill," "Georgetown" or "Downtown," people automatically believe that, in Southeast, you have to always be on guard, keeping your doors locked and your purse close to you – just generally being fearful.

Pastor Minter: I think a lot of it has to do with media coverage. Because of our involvement in the community, we've had some very high-profile funerals at our church. My experience has been that whenever we have those high-profile funerals, we have media from everywhere who want to interview and do different types of things. But there are a lot – and I'm not exaggerating, there are a lot – of great things happening in the community that people don't get a chance to hear about. So their opinions or their views of the community are very lopsided. It had gotten so bad to the point where I stopped giving interviews, because a lot of the work that we do people don't want to cover. They don't want to cover a lot of the positive things that happen, but they're so quick to want to cover those negative things. Because I've stopped giving interviews, I now say "I won't give an interview unless you are willing to cover some of the positive things." And so The Washington Post has done some positive articles. And Channel 5 has covered some of the positive things.
We put out press releases when we do different things, like when God allowed us the opportunity to develop some homes. We built some affordable housing; we built our seniors building – things that were very much needed in that community. Those types of things the press generally does not want to cover. But as soon as somebody gets killed or we have any kind of tragedy, it seems like the press comes from everywhere. I just think that it has given a really poorly balanced view of who we are as a community. I had a real problem with the fact that people were talking down on the image that Bill Cosby was portraying as the Huxtables. They were saying that that was unrealistic and so forth, and that black folks don't live like that, and I thought that was terrible. I thought it said so much about how we feel about ourselves, and that's a big problem.
Destiny – Pride: Yes, but you and your ministries are working to change that, especially as you work with those among us who are fragile and less fortunate, correct?
Pastor Minter: Absolutely! And it's important because a significant part of our congregation at one point lived in the community, even in Benning Terrace – a housing project. Over the years, the Lord has blessed us to move on. I think there's a careful balance that has to be struck because I don't think that people should be ashamed of where they are; I think you just have to realize where you are and then be willing to take a really good look at what it would take to make the next step. I have always believed that public housing and the like should serve as a help to us – a stepping stone, if you will – and I don't think it was ever intended to be our lot in life because there is just so much more out there that we must learn how to develop if we're going to continue to be the great people that God has called us to be. The level of talent and brilliant minds that are in the community is just amazing – I'm telling you, it's amazing! I think that much of that talent, as well as those minds, often don't get the opportunity to be developed as they ought to. And it's a shame because I think we all lose when that happens.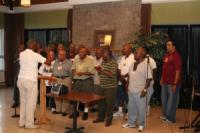 A lot of what we do is spend a lot of time in the area of education. We were instrumental in helping an organization to get started – which still actually holds its office on the premises of First Rock. It's called Learning Communities, and the whole idea is that we would develop our community into a community that values education and is excited about learning. We have a number of ministries in our church that speak to that because I, again, believe that education is an important part of transforming the community, which is what we are called to do.
Destiny – Pride: Do you have any final thoughts, insights and impressions you want to leave with us?
Pastor Minter: I often take the time to remind our people in the community that it's very important for them to be involved in the whole political scene because they have seen some of the changes that we have been able to bring about. What I often say to them is "if you want to continue to see those kinds of changes happen, then it's very important that you get involved politically – that you show up at the polls." I think it is nothing less than dismal as to what we have seen previously as to the kind of turnouts we have had at the polls. When I began to look at those figures, I couldn't believe it. I just could not believe it; it was awful! When I have to go downtown to confront a politician; when I have to go downtown to speak on behalf of the community, I try to keep people reminded that they will listen to me a lot more if they know I represent a block of people who will show up at the polls.
One of the ministries that is active in First Rock is a ministry by the name of WIN, the acronym for the Washington Interfaith Network. What it does is it gives us opportunities to really speak for our people – to advocate for the different needs in the community and to confront our politicians with things that ought to be happening in our community which are not happening, and to be able to intelligently express to them the things that we, as the people of the community, want to see happen. I think that that has been a very, very important piece in all that God has given us to do. It helps us to encourage our community to awaken politically, because I think it's very important for the faith community to be active in politics because I believe that is our opportunity to be "salt" and "light." If we want to really have our community and our laws and so forth reflect our values, then we have to be willing to get involved and let our voices be heard – by our politicians as well as by our constituents out in the community; to share with them what we believe would be the greatest blessings for us as a community.
Destiny – Pride: First Rock Baptist Church is the savour of "salt" and a beacon of "light" for the hopeless, and through your great work, Pastor Minter, we look forward to the continued great things you and your congregation are doing for the community – indeed, for our city.
Destiny – Pride is ecstatic to partner with you and your congregation at First Rock Baptist Church as you endeavor to work on the restoration and habilitation of some of our city's most disenfranchised and fragile residents, in attempting to make them whole spiritually, socially, economically and politically. We thank you, Pastor Anthony L. Minter, for being Destiny – Pride's Spotlight of the Month for the Month of January 2010.
In addition to the ministries addressed by Pastor Minter, First Rock Baptist Church has numerous other ministries, including its Christian School; its Child Development Program; an HIV/AIDS Ministry; its Love and Care Outreach Ministry (L'COR); and a Food Bank Distribution program, just to name a few. Visit its website www.firstrockbaptistchurch.org to find out more.
Did you enjoy our conversation with Pastor Minter? Let us know how much by leaving a comment in the box provided below.